Thinking About Summer? We've Got a Hot Activity for You in June
Join us in sunny Atlanta June 16 – 18 for a gathering of 5,000 people on a single mission – to strengthen communities and change lives through volunteer service. The 2014 Conference on Volunteering and Service will showcase those who have new ideas and proven solutions to tough community problems.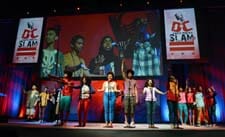 Come learn, share and have fun. (See what participants have enjoyed at past conferences here!)
Interested in a scholarship? If you apply by March 24, you could get your registration fee waived. With support from The Community Foundation for Greater Atlanta, Points of Light is offering 50 scholarships to Conference. We're looking for applicants with community involvement experience who exhibit the potential to assume senior leadership roles within organizations in the volunteering and service sectors. Click here to apply.
Waiting for you at Conference will be inspiring sessions, powerful special events, service projects and dynamic workshops. Check out what we've got lined up:
There are more than 80 other sessions from which to choose, focused on five tracks: volunteer engagement, business, capacity building, innovation, national service, and youth service and leadership. You can pick sessions from more than one track and go deep into one (or more!) of eight impact areas: economic opportunity, education, emergency preparedness and response, environmental, faith, global, higher education, and veterans and military families.
For significant savings on registration, register by April 25. And make sure you get the latest news about Conference by signing up under "Join Our Mailing List" here or following us on Twitter or Facebook.
Share this post