Do Good for a Chance to Win $10,000 for Your Favorite Charity
On Oct. 25, millions of volunteers across the nation will unite with a common mission – to improve the lives of others. For more than 20 years, USA WEEKEND magazine, in collaboration with Points of Light, has brought you Make A Difference Day, the largest national day of community service.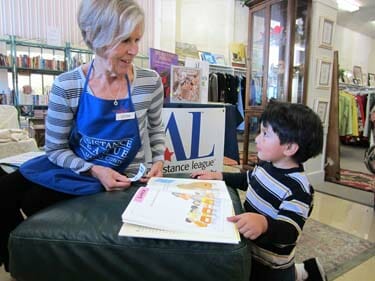 An Assistance League volunteer from San Mateo County,
Calif., bonds with a child over a donated book during a Make A Difference Day activity last year.
For a chance to win a $10,000 grant from Newman's Own for your favorite charity you simply need to register your project here.
After completing your project on Oct. 25, fill out a simple form describing what took place and the impact you made in your community.
Need some help getting started? Visit the Make A Difference Day website for tools and resources.
Like Make A Difference Day on Facebook, share your Make A Difference Day story with us and invite friends and family to join you in service. Get inspired by the stories about last year's Make A Difference Day honorees.
Follow @MDDAY on Twitter and use #MDDAY for news, updates and to participate in contests and giveaways.
Contact Jen Geckler at [email protected] for more information.
Share this post