Emmy-Winning and Nominated Speakers to Explore Racial Equity at Points of Light Conference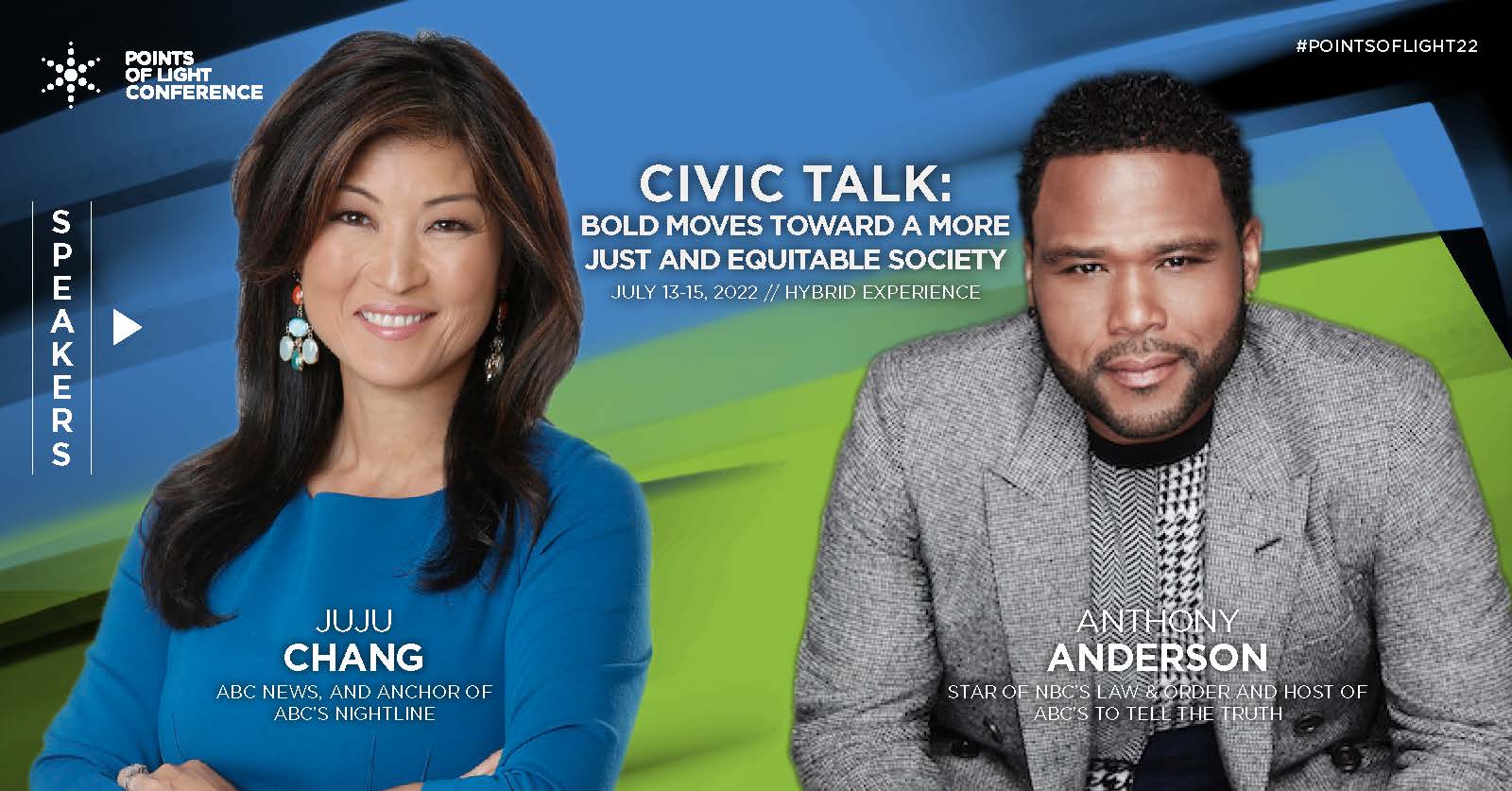 Racial equity: a concept that has been prominently featured in dialogue across America, particularly for the last several years. But what does this look like in practice, for both individuals and organizations?
This year's Points of Light Conference will feature a special Civic Talk with Emmy and Golden Globe-nominated actor Anthony Anderson, star of NBC's "Law & Order" and host of "ABC's To Tell The Truth," and ABC News journalist and anchor of ABC's "Nightline" Juju Chang. 
The event will explore the bold moves that individuals and organizations are making to address racial equity, hate, barriers and solutions to the complex issues that communities face. Through their own personal narratives and storytelling, these two inspiring speakers will also delve into how leaders are leveraging their platforms to champion social change.
Anthony Anderson is the star and executive producer of ABC's multi-award nominated sitcom "Black-ish," which aired its final season on ABC in May of 2022. He has won two NAACP Image Awards and earned two Emmy nominations for his role as Dre, a family man who struggles to gain a sense of cultural identity while raising his kids in a predominantly white, upper-middle-class neighborhood.
Anderson is currently hosting his sixth season of the ABC game show "To Tell the Truth," a popular primetime reimagination of the beloved classic game show of the same name. He also produced "Grown-ish" for Freeform and "Mixed-ish" for ABC, both "Black-ish" spinoffs. Anderson is currently executive producing "Road Trippin'" with Rickey Thompson and Denzel Dion, which airs on Snapchat.
Juju Chang is an Emmy Award-winning co-anchor of ABC News' "Nightline." She also reports regularly for "Good Morning America" and "20/20." Chang's decades of reporting converged in two hour-long specials about the rise of hate crimes toward the Asian American and Pacific Islander (AAPI) community in 2021. She co-anchored an ABC News Live special, "Stop The Hate: The Rise In Violence Against Asian Americans." After the mass shooting at three spas in Atlanta, Chang co-anchored and reported from the scene for an ABC News 20/20 breaking news special, "Murder in Atlanta." 
Chang has been recognized for her in-depth personal narratives set against the backdrop of pressing national and international news, from natural disasters to terrorism and racial equity. Chang's award-winning report "Trans and Targeted," on violence against transgender women of color across the country caps a series of her stories on LGBTQ issues. Chang won a GLAAD award for her story about Matthew Shepard's murder and the legacy his parents built in his honor. 
Chang is also an avid proponent of volunteerism and a co-founder of The Korean American Community Foundation (KACF), which has grown to become one of the largest AAPI nonprofits in greater New York. KACF has awarded more than $10 million in grants to community-based organizations working to empower individuals, strengthen families and transform communities. She has supported this and other organizations by emceeing and hosting events, including The Asian American Legal Defense Fund, The Asia Society, The Korean American Story, Strive, Meals on Wheels and more.
With featured guests like these two, this talk is sure to provide valuable insights and actionable solutions for all participants to incorporate into their daily lives, as well as for organizations to consider incorporating into their nonprofit missions or corporate social responsibility strategies.
Be sure to check our agenda for other workshops with sector experts that address specific issues and strategies around racial equity. Join us for these power-packed discussions yourself by registering for the 2022 Points of Light Conference. We'll see you July 13-15, 2022!
Share this post