Economic Empowerment and the Power of Black Women Entrepreneurs: Our Next Conversation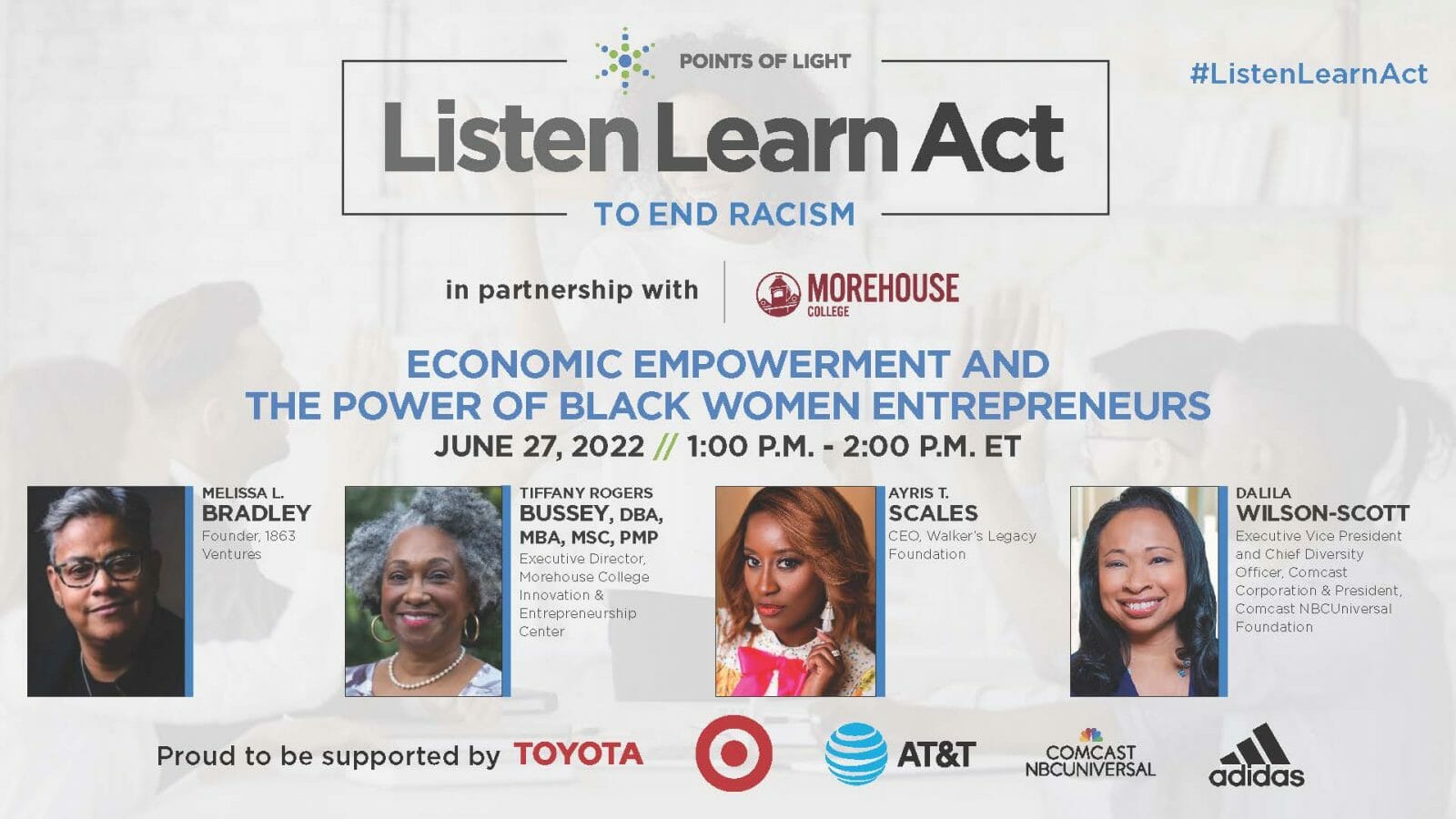 Each month, through our Listen. Learn. Act to End Racism initiative in partnership with Morehouse College, Points of Light co-hosts a conversation with racial and social justice experts. These discussions offer opportunities to dive into the details regarding specific topics in the racial equity space. They're designed to empower businesses, nonprofits and individuals to use their influence to fight against systemic racism.
On Monday, June 27, from 1-2 pm EDT, we will host our next Listen. Learn. Act to End Racism discussion with Dalila Wilson-Scott, executive vice president and chief diversity officer at Comcast Corporation and president of Comcast NBCUniversal Foundation. She'll be joined by Ayris Scales, CEO of Walker's Legacy Foundation. 
The conversation is titled, "Economic Empowerment and the Power of Black Women Entrepreneurs." It will explore how the success and growth of small business owners and entrepreneurs of color can transform individual lives and be an engine for building a more racially equitable economy and society. 
Data show that Black women lead the surge in entrepreneurship gains and that investing in Black women can be a catalyst for economic growth and community development. At the intersection of sex and race discrimination, the barriers on the road to economic empowerment for Black women can be significant. 
This discussion will focus on the investments that companies and organizations are making to support the economic empowerment of Black women and how the right opportunities and ecosystems can mitigate the effects of these systemic obstacles. Valuable insights and experiential knowledge will be shared from our speakers. 
Dalila Wilson-Scott oversees all Diversity, Equity & Inclusion initiatives and philanthropic strategy for the Comcast corporation, with a focus on advancing digital equity through Project UP and the company's $100 million pledge to advance social justice and equality. 
Ayris is a tri-sector executive who brings years of experience designing and executing fundraising strategies, culturally sensitive communications & equitable tragic initiatives. She has been called on to provide team-building, crisis management, policy development and turnaround operations for prominent elected officials, global brand executives. and highly recognized nonprofit organizations.  
With their collective well of deep expertise and passion for sharing their experiences, this is sure to be a rich conversation. 
Register here. If you're unable to join us live, there will be a recording you'll be able to access later, along with applicable resources to help you on your journey. 
Share this post