Employee Spotlight: Learning to Build Community Strength Through Service
Each month, we shine a light on a Points of Light employee who is making a difference in their community. These stories of service highlight the individual volunteer efforts of our dedicated staff, what motivated them to get involved, and how service has inspired them.
Through her service with AmeriCorps and various other programs throughout her life, Morgan Levey has collected a wealth of experiences that showed her the impact of volunteerism on communities.
Volunteering became a habit for Morgan at a young age, thanks to the influence of her father. This habit continued into adulthood as she served a term as an AmeriCorpsVISTA, and then became involved with Reading Partners, an organization in Washington, D.C., that supports childhood literacy. For Morgan, these service experiences were an opportunity to network, meet people and contribute to her community.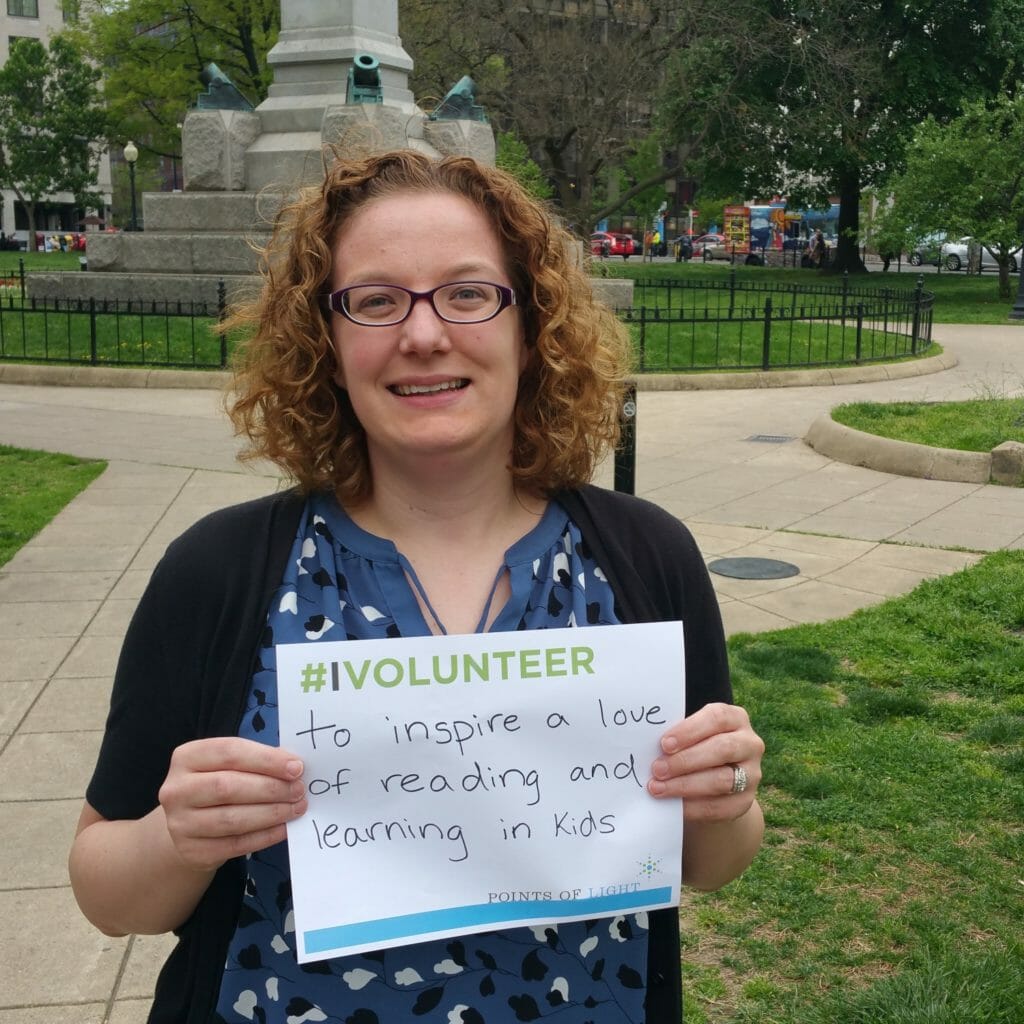 Morgan joined the Points of Light #ivolunteer campaign for National Volunteer Week 2017.
Now, Morgan's day job – senior marketing and communications manager in Points of Light's Washington, D.C., office – keeps her busy supporting several departments and enterprises, including the HandsOn Network, AmeriCorps Alums, programs and national days of service. However, Morgan still finds time to give back and she is involved with her local Points of Light HandsOn Network affiliate, Volunteer Alexandria. We connected with Morgan to learn more about her evolving role with the organization and the impact that this service has had on her.
1. Who first got you involved in volunteering?
When I was a kid, my dad ran for city council in our small town of Longview, Washington. Every weekend we went canvassing door-to-door. As you can imagine, this was not my favorite activity. I asked him why we had to do it. He didn't say it was to win (although I am sure this was part of the reason), but that he wanted to hear from people what changes they wanted to see in local government. He had some ideas, but he wanted to get the best ideas from lots of people to help the community.
2. What inspired you to get involved with Volunteer Alexandria?
Over the years, community has become really important to me, both as a physical place and a network of people. When I moved to Washington, D.C., for graduate school in 2009, I knew one person. I had just finished a term in AmeriCorps and kept accidentally meeting other AmeriCorps alums. I reached out to AmeriCorps Alums to see if there was a formal chapter. When there wasn't one, a group of us got together and created it. We formed a board and committees and quickly built a local group centered on service, professional development and fun! Our group became a welcoming committee to people just finishing their AmeriCorps term or moving to D.C.
When I moved to Alexandria, Virginia, right outside of D.C., I decided I wanted to get more connected to the local community. Volunteer Alexandria seemed the perfect place to start.
3. How has your work with this organization evolved over time?
After attending some Volunteer Alexandria events, they invited me to volunteer on their board fundraising committee. As a committee member, I help plan events like their annual community service day and business philanthropy summit. It has been a great way to meet new people and learn more about our community's pressing issues, like hunger. I feel like I have just touched the tip of the iceberg in getting to know my new home.
4. How have your past experiences with service informed your volunteerism?
Serving in AmeriCorps really deepened my commitment to volunteering. I joined in 2009, serving with Oregon Campus Compact at the University of Oregon in Eugene. When you start your term of service, you take the AmeriCorps pledge, which starts with "I will get things done for America – to make our people safer, smarter, and healthier. I will bring Americans together to strengthen our communities." I witnessed the power of people when we come together.
As part of my role, I was responsible for growing relationships with local nonprofits to increase service opportunities at the university. In one instance, I became involved with an effort to transform an empty lot into a community space. A local judge proposed turning the lot, which was next to the courthouse and filled with trash, into a community garden. She brought together community leaders, representatives from the city and student volunteers from the Oregon Campus Compact. The college created a service-learning course where agriculture students learned about urban gardening and helped care for the garden, and within a year, we had a garden. It was completely volunteer-run and all the food grown in the garden was donated.
AmeriCorps not only taught me that volunteering works, but that it's essential for creating and maintaining our communities.
5. What have you learned through your experiences as a volunteer?
I have learned that change doesn't happen overnight, but every action has an impact. When I moved to D.C., I got involved with an organization called Reading Partners, a wonderful nonprofit that focuses on unlocking student potential by raising reading achievement. Reading is a personal passion that didn't always come easy. With Reading Partners, students don't learn to read overnight or in one session. Yet, each session provides a piece of the foundation to support a student.
6. What's been the most rewarding part of your volunteer work?
Seeing the positive impact you can have on another human being – both direct and indirect. Seeing someone smile and knowing you played some small role in that.
7. Has your work with Volunteer Alexandria inspired you to get involved with any other causes?
It has helped expose me to several other local nonprofits that serve my community. It has also inspired me to challenge myself to do more pro bono volunteering, leveraging my communication skills to support the community.
8. How does volunteer work intersect with your career?
When I was younger, volunteering was a great way to build professional skills. Now I try to apply my professional skills to support nonprofits I work with. It's also a great way to network. As an introvert, networking events can be very overwhelming, but I love volunteering with people.
9. What advice do you have for others who are looking for ways to get involved?
Don't be overwhelmed by all the options. If you are unsure how to begin, start small by looking for one-time service projects through your local volunteer center. Try volunteering with a couple of different organizations. You can also ask your friends and neighbors if they volunteer and if you can tag along sometime.
10. What's next for you as a volunteer?
This year I have challenged myself to do more fundraising in support of nonprofits I care about. Fundraising has always intimidated me, but after getting more involved at Volunteer Alexandria, I have seen what a critical need it is to support organizations. It will also help me continue to step out of my comfort zone and learn some new skills.
Read more Points of Light employee spotlights, and find volunteer opportunities in your area using All For Good.
Share this post