Employee Spotlight: Matching Passion with Purpose to Empower Youth
Each month, we shine a light on a Points of Light employee who is making a difference in their community. These stories of service highlight the individual volunteer efforts of our dedicated staff, what motivated them to get involved, and how service has inspired them.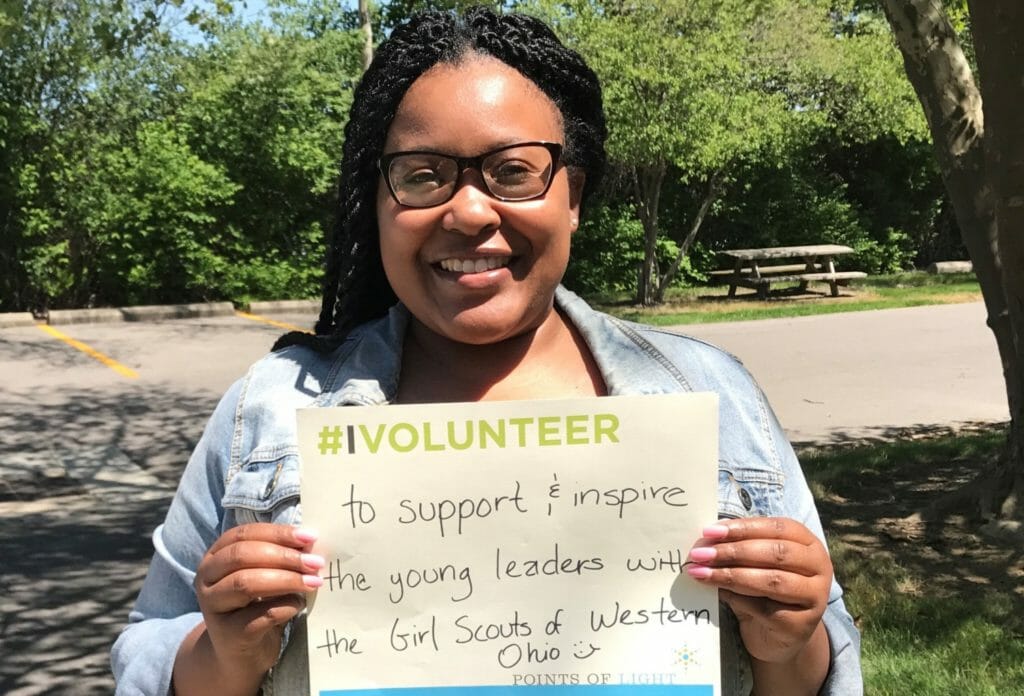 Chatoya Hayes participated in the 2017 National Volunteer Week #ivolunteer campaign.
As program manager for corporate employee volunteerism with Points of Light's HandsOn Network, Chatoya Hayes connects corporate clients with local HandsOn Network affiliates and other nonprofits – helping them find opportunities to serve their communities through projects that align with the company's and employees' interests and skills. In her spare time, however, Chatoya gives back to her own community through opportunities that match her own passion – youth mentorship.
Chatoya joined Points of Light in 2014. While working in our Atlanta office, Chatoya spent time as a volunteer with Hands On Atlanta's Discovery program, providing tutoring, homework help and structured enrichment activities for students at Belmont Hills Elementary School. Now working remotely from her hometown of Dayton, Ohio, she has continued to follow her passion for youth development and empowerment as an assistant troop leader with the Girl Scouts of Western Ohio. We sat down with Chatoya to learn more about her work with the Girl Scouts, and what being a volunteer means to her.
1. What was your first volunteer experience?
One of the most memorable experiences was with my church when I was about 8 years old. I remember there was a group of church members that would visit a nearby homeless shelter to bring them hygiene kits. There was an age requirement for volunteers to help on-site, but my church allowed the young kids to help with packing snack bags and hygiene kits to benefit residents of the homeless shelter. I remember feeling excited that I was old enough to help with the kit packing, even though I could not physically go to the shelter to volunteer.
2. What inspired you to get involved with youth and education programs?
While growing up in Ohio (both Columbus and Dayton), I always had a strong support system from my church, school, friends and family. This support system was, and still is, very instrumental in my life and I understand the importance of just being there for a child. I want to be a supporter and share my experience as it relates to my educational journey, just like so many in my community have been there for me.
3. How has your work with this cause evolved over time?
I started out as a peer mentor and tutor in college and as my passion for education evolved, I began to find ways to support this cause through my career as well. In 2012, as manager for the volunteer center at United Way of the Greater Dayton Area, I created the Youth Changing the World program. In addition to in-school service events and Global Youth Service Day promotion, the program also had a youth council component, which allowed students ages 10 to 18 to create volunteer events and recruit their peers at school to join them.
4. What have you learned through your experiences as a volunteer?
I have learned that there is no such thing as a small or minor volunteer task. Every thoughtful act of kindness really counts and goes a long way. It does not matter whether it is for 30 minutes or an ongoing opportunity, you can make a difference. Everyone can find a way to share their passion with their community by being a volunteer.
5. What's been the most rewarding part of your volunteer work?
Doing something nice for someone else humbles you and can provide a fresh perspective on life. If I am having a rough day, all the stress and anxiety goes away after spending time with kids. Having a bad day? I strongly suggest coloring with a kid or talking to a teenager about their day at school. I promise you will get some good laughs!
6. Has your work with Girl Scouts of Western Ohio inspired you to get involved with any other causes?
My experience with GSWO has been great, and from this I have looked into serving on a board for nonprofits with programs that encourage leadership among young girls.
7. Has your experience with volunteer service influenced and/or affected your career? How?
I have about 11 years of experience volunteering with youth in some capacity, and it has made a positive impact on my career. I have learned that you can have multiple passions and goals, with many outlets for sharing them with others. Although I do not work with youth directly through my position with Points of Light, I am able to fulfill this passion by being a volunteer. From my many volunteer experiences, I have learned that I will always strive to work for an employer that values youth development, education and, most of all, volunteering – which are all great benefits of working for Points of Light.
8. What advice do you have for others who are looking for ways to get involved?
Ask your neighbors, coworkers, family and friends if they have suggestions for opportunities you can join. Use social media to put yourself out there as well. For example, share your interests with your friends on Facebook and see who has upcoming events or connections they can make. In addition, of course, reach out to your nearest HandsOn Network affiliate for ways to get involved. If you can't find an opportunity already established, why not create it yourself? You can do it!
9. What's next for you as a volunteer?
I will continue my role as an assistant troop leader with the Girl Scouts of Western Ohio when the 2017-2018 school year begins. Beginning this fall, I will also be a board member for The WAI (Who Am I), an organization founded to empower the youth of Ohio's tristate area to become confident, competent citizens and leaders through mentoring and character development.
Read more Points of Light employee spotlights, and find volunteer opportunities in your area using All For Good.
Share this post
---