Employee Spotlight: Turning Business Acumen into Social Impact
Each month, we shine a light on a Points of Light employee who is making a difference in their community. These stories of service highlight the individual volunteer efforts of our dedicated staff, what motivated them to get involved and how service has inspired them.
For Tanvi Jain Patyal, her passion for social change stems from her family's own culture of service, and has grown as she combined it with her natural business acumen to start making the world a better place.
A recent graduate from Harvard Business School, Tanvi joined Points of Light as part of its Leadership Fellows Program that places graduates in high-impact management positions at nonprofits for a one-year fellowship. As director of business innovation, Tanvi will be working on new business opportunities and bringing her strategic acumen to the development of new business products. She is extremely dedicated to creating social impact, and her goal is to make a long-term, meaningful impact in this space.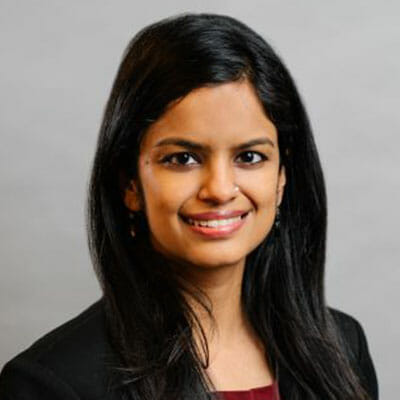 Prior to business school, Tanvi worked as an associate program officer at the Bill & Melinda Gates Foundation for approximately three years, and prior to that, as an associate at the Boston Consulting Group for almost two years working on strategy, marketing, and operations-focused engagements for clients across different industries. While studying economics at Lady Sri Ram College, Delhi University, she started a nonprofit called Parivartan with five of her friends, impacting the lives of 120,000 people in southern India through community development programs.
What was your first volunteer experience?
When I was 19, I volunteered at a microfinance institution in Bangladesh during my sophomore summer. I researched microfinance and helped loan officers give micro-loans to underprivileged women in remote villages of Bangladesh. I created a documentary explaining the concept of microfinance based on my experience and sent it to Nobel Laureate and founder of microfinance, Professor Muhammad Yunus. He was impressed and extremely encouraging; that was the beginning of my volunteering journey.
Tell us about Parivartan, the nonprofit you founded.
Parivartan (meaning change) is a social enterprise that I co-founded in 15 villages of southern India after receiving seed funding from the Goldman Sachs Foundation. Through this enterprise, we implemented community development projects focused on computer training, healthcare, education and farmer support for the marginalized poor. For example, we set up a computer center that has trained more than 2,500 people in basic computer skills and built a 400-ton grain storage facility to support farmers.
You worked for the Bill & Melinda Gates Foundation. What did you learn there?
I worked at the Gates Foundation for about 3 years in a four-member team responsible for impacting maternal and child health outcomes in rural India. We deployed grants to build accountability at the state government level to improve quality of care at health facilities and change adherence behaviors. My time at the Gates Foundation helped me pursue my passion in social impact. It was extremely fulfilling to have played a role in saving lives of mothers and babies – in two years, we helped reduce number of stillborn babies and babies with low birth weight. At the same time, this experience made me realize the lack of access to quality healthcare in rural India and the tremendous work that still needs to be done.
You went back to business school – how do you see what you've learned there impacting your career in the social impact space?
Early in my career I found that in the social impact space, we often struggle to find strong solutions to complex issues such as poverty or inequality, and when we do, we don't always pressure test it enough and plan for potential challenges. I also personally found several business leaders who were not only creating business value but also tremendous social impact. This made me realize that I want to develop and leverage a business skillset to create social impact. This realization inspired me to work at The Boston Consulting Group, where I learned how to break down and solve complex problems from first principles across a variety of industries and functions. Then, at business school, I expanded my horizons to cut across cultures and geographies to further hone my problem-solving skills in case discussions with inspiring professors and classmates. I also had the privilege to work with diverse, global teams through internships and school projects. Most importantly, I grew personally as I gained exposure. Business school reinforced in me that an application of business skills to create social impact is how I plan to live my career.
What inspires you in your work in this field?
I was born and raised in a family with values deeply rooted in a culture of service. My great grandmother founded a skill development institution for women in the 1950s. My grandmother went on to lead and grow that institution, also volunteering her time towards eradication of leprosy. My mother founded a nonprofit to provide holistic education to 70 disadvantaged children living in slums. Following in their footsteps, I began to contribute to my community early on. These formative experiences reinforced my goal to become a leader in social impact and enable the disadvantaged and vulnerable to lead happier, healthier and more empowered lives. I am very excited to be at Points of Light as I deeply resonate with it's belief that the most powerful force of change in our world is the individual and that even the smallest actions have an important impact. I am also deeply inspired by our President and CEO Natalye Paquin's belief in the force of human kindness.
What advice do you have for others who are looking to turn their passion into action?
I have always admired people living their passion – artists, entrepreneurs or business leaders. At business school, I took a class on authentic leadership development, where I learned about sweet spot vs passion. Sweet spot is the intersection of one's extrinsic motivations, intrinsic motivations and motivated capabilities. Extrinsic motivations could be monetary compensation, public recognition, social status, power, etc; while intrinsic motivations could be doing a good job, being with people you care about, helping others and making a difference in the world. Motivated capabilities are both your greatest strengths and developmental needs. I think each prior experience has enabled me to learn more about my motivations and capabilities. Some find their sweet spot early on but many don't. To me, the goal is to keep experimenting, learning new things about oneself, refreshing our hypothesis on our sweet spot, and taking a step closer towards realizing it. I try do this and hope to keep doing it until I crack the code on my sweet spot, as I'm sure that'll help me live my dream of "tap dancing" to work every day!
Share this post