The Extra Mile- Points of Light Volunteer Pathway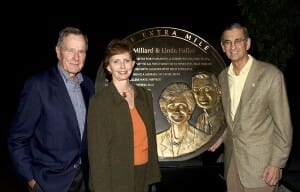 President George H. W. Bush with Linda and Millard Fuller at unveiling of Points of Light "Extra Mile" bronze medallion in 2001
The Tribute event on March 21st showcased President George H. W. Bush's commitment to volunteering service and civic engagement.  Those who attended the Tribute in Washington or watched the broadcast on NBC could see President George H. W. Bush is truly dedicated to volunteerism and civic engagement as displayed through the famous "1,000 Points of Light" speech and the creation of the Daily Point of Light Award to recognize individuals who are making a difference.  The Tribute was a great moment to highlight not only President George H. W. Bush, but also the volunteer movement as a whole and the power that individuals can have in making massive changes in their communities.
Next time you are in Washington, D.C. you can visit the national monument dedicated to civic service and recognizing individual contributions to the nation.
Since 2005 The Extra Mile- Points of Light Volunteer Pathway has stood as a permanent representation of President George H. W. Bush's enduring spirit and service in America.
The Extra Mile- Points of Light Volunteer Pathway was created in honor of George H. W. Bush on October 14th, 2005 dedicated to the spirit of service in America. President George H. W. Bush was in attendance at the opening dedication ceremony.
The Extra Mile is a national monument dedicated to America's belief in the power of individuals to make a difference in the world.  It embodies the spirit of service in America and reflects our democratic ideals, values and traditions around social change and citizen participation.  And it is the only monument in the nation that has been created to honor regular citizens for the work that they've done for their country.
The monument is just blocks from the White House and begins at the corner of Pennsylvania Avenue and 15th Street and continues north on 15th Street to G street, NW.  Formed by a series of bronze medallions creating the one-mile historic walking path the monument honors individuals whose actions and commitment to service have transformed our nation.  Their legacies are enduring social movements that continue to engage and inspire us today. Thirty-three honorees have been inducted and a total of 29 medallions have been installed into the monument – 5 of which were installed this year with 4 more that will be installed by the end of this year.
M.V. Jantzen photo
Some of the honorees include William Edwin Hall, Founder of the Boys & Girls Clubs of America, Ballington & Maud Booth, Founders of Volunteers of America,  and Edgar Allen Founder of Easter Seals to name a few.
To see all the honorees click here.
For more information on the Extra Mile click here to visit the website.
Click here for a map of the monument.
"Your life and mine should be valued not by what we take… but by what we give." Edgar F. Allen
Share this post