Get a Jump on Your Career by Helping Others Get a Jump on Theirs
This post is by Melissa Grober-Morrow, senior director of economic opportunity programs at Points of Light.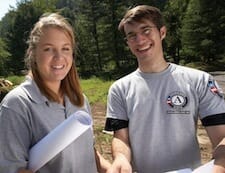 Here's your chance to find out what 830,000 AmeriCorps members have already learned: AmeriCorps is a great way to serve others, while learning a lot about yourself and the strengths that can propel you into a meaningful career.
Points of Light is searching for 50 people, who believe in the power of volunteer service to change lives, to serve with us as AmeriCorps VISTA members for one year in one of 10 cities – Boston, Chicago, Dallas, Los Angeles, Miami, New York, Newark, San Francisco, St. Louis and Washington, D.C.
You'll be helping us launch ServiceWorks, a new AmeriCorps VISTA program that will engage low-income 16- to 24-year-olds in training and service to increase their employability and prepare them for college and careers. ServiceWorks – powered by the Citi Foundation, AmeriCorps and Points of Light – will deploy 225 national service members over three years. You'll be getting in on the ground floor!
By serving as an AmeriCorps VISTA member, you'll learn about the community you serve, make connections to nonprofits and city agencies and see firsthand the resilience and struggles of people trying to succeed. This opportunity isn't right for everyone, but if you are the type of person who likes to make connections that benefit others, build programs and build capacity within communities to solve problems, I hope you'll consider a year of VISTA service.
After college, I served as an AmeriCorps VISTA member in a Chicago public elementary school. It was a challenge, running a reading program and serving as a parent coordinator in a school with low parent engagement, but I was given opportunities and responsibilities that few people are given in an entry-level position.
I grew so much during my year as a VISTA and learned a lot about my strengths. And, after completing my service, I received a $5,000 education award that I used to pay off student loans.
AmeriCorps was a good move for my career, too. I was able to leverage my experience to get a job at New York Cares, New York's leading volunteer agency. Through the years, I have drawn upon my VISTA experience many times and continue to do so in my current job, creating new economic opportunity programs at Points of Light.
This year marks the 20th anniversary of the AmeriCorps program. Since 1994, AmeriCorps members have provided more than 1 billion hours of service addressing critical challenges from poverty and hunger to disasters and the dropout crisis. Sure, AmeriCorps VISTA service is a big commitment to community, but I think it's one that provides dividends for years to come!
To apply to become a ServiceWorks VISTA, go to https://my.americorps.gov and search for "ServiceWorks"
Share this post