Giving Women Entrepreneurs a Place to Refine and Expand Their Civic-Minded Ideas
While serving as executive director of the NASCAR Foundation, Sandy Marshall noticed a worrying trend for girls. They are consistently left out of opportunities in science, technology, engineering and math, though emphasis within schools in these areas is growing.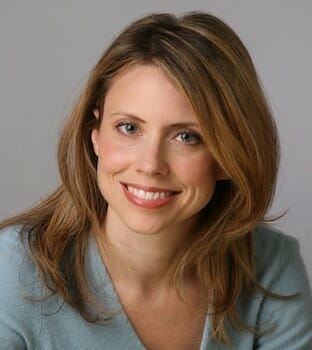 Sandy Marshall
Recent research backs her observations. According to the American Academy of University Women, stereotyping and unconscious biases continue to block girls from male-dominated fields.
So Marshall started the nonprofit Project Scientist. Through summer camps, one-day programs and mentoring and volunteer opportunities for women and girls, Marshall is bringing like-minded girls together for education, mentoring and encouragement.
Just like she got from the Points of Light Civic Accelerator.
Since 2012, the Civic Accelerator has supported and invested in innovative, civic-minded social entrepreneurs, providing a rich curriculum in lean start-up methods, networking opportunities, as well as mentoring and coaching. The boot-camp-style program gives these leaders a place to test ideas in the early stages of their nonprofit or for-profit ventures, get sage advice from a range of experts, and recruit potential partners, investors and clients.
From the beginning, the PwC Charitable Foundation has been there – a founding sponsor of the accelerator and its largest, having invested $1.8 million in the program with PwC executives also participating on the Advisory Panel and selection committee for the cohorts, reviewing cohort applications, acting as mentors and coaches to some of the entrepreneurs and as faculty to the program.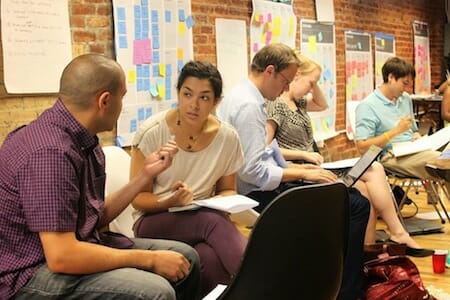 Laura Weidman-Powers, center, CEO and co-founder of Code2040, participates in a session of the Civic Accelerator.
On November 19, the inaugural Women's Entrepreneurship Day – which honors women entrepreneurs globally, the Foundation deepened its commitment to the Civic Accelerator and to female entrepreneurship. That day at the United Nations, Shannon Schuyler, Principal and Corporate Responsibility leader at PwC and President of the PwC Charitable Foundation, and Ayesha Khanna, President of the Civic Accelerator, announced that the spring 2015 cohort of the Civic Accelerator would focus on women and girls.
The question posed to potential participants: How might we create greater opportunities for women and girls to succeed in today's economy?
"We want to support entrepreneurs – most of whom will likely be women – who are leading breakthrough solutions to better enable women and girls to fully and successfully participate in our global economy," Khanna said.
By design, the Civic Accelerator was created to attract and support diverse entrepreneurs, including women and minorities, as well as founders from various places, backgrounds and sectors. Out of 61 participating ventures since 2012, nearly half were founded by women. Half of the $500,000 awarded to date to accelerator graduates went to ventures founded or co-founded by women.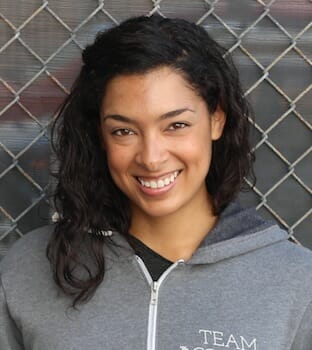 Laura Weidman-Powers
While more women are starting businesses at younger ages, more than 87 percent of top management posts in American companies are held by men, Schuyler said. By helping to support a community for these women leaders, Schuyler hopes to encourage even more women to step onto the entrepreneurial path.
"It is immensely important that women are not only given opportunities to lead social ventures, but that they understand that they have a very important seat at the table in solving the problems plaguing our world," said Schuyler. "The business community has an extremely important role to play in helping pave pathways for women to embrace their innovative spirits."
Code2040 shares that sentiment. The San Francisco-based nonprofit works to increase the representation of African-Americans and Latinos in the technology sector through its fellowships for college- and graduate-level students and other programs.
The organization's CEO and co-founder, Laura Weidman-Powers, said the Civic Accelerator connected her "with an inspiring group of fellow social entrepreneurs in a scenario where we weren't just socializing or supporting one another but actively working to improve each other's ventures."
Weidman-Powers added, "It was an amazing opportunity to get honest feedback from smart folks who know that just because you don't have something figured out now doesn't mean you won't down the line and who are willing to help you grow."
Since launching Code2040, Weidman-Powers has appeared in USA Today, Fast Company, Forbes and on NPR. More than 1,000 students have applied to become CODE2040 fellows, and more than 200 companies have expressed interest in hosting fellows for summer internships.
For Marshall, the Project Scientist founder, participating in the accelerator brought new ideas, validation and some much needed "building dollars" during the early stages of the nonprofit, based in Charlotte, N.C.
"It was a lot of work," Marshall said. Participation included three weeklong stints in various cities over three months, with intensive work sessions. Marshall brought a team member to each session to benefit from the experience.
"It certainly gave us some confidence, but then some days, we lost all that confidence depending on the exercise," she said. "Those days, we were able to poke some holes in our model. We left (as) a stronger organization."
The work paid off. Project Scientist won one of the accelerator's $50,000 investments.
Marshall said she's glad the accelerator is working to advance more women's ventures like her own.
"I think it's a great focus and a hot topic right now," she said. "Any organization that's working toward improving the lives of girls and women I want to see succeed."​
Share this post