Join Us Online to Learn the Best Ways to Serve After a Disaster
Have you ever wanted to help after a disaster? There are many ways to get involved – whether you have just one day to volunteer or can commit to a longer stint of service.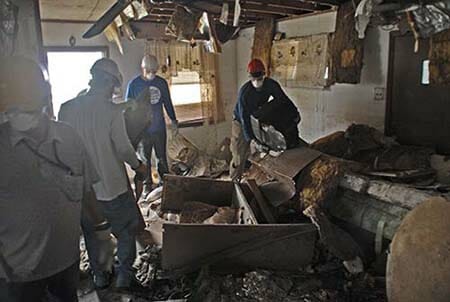 Volunteers remove debris from a house in New Orleans after Hurricane Katrina. (FEMA photo)
In 2005, Hurricane Katrina devastated coastal towns throughout the United States and caused mass evacuations. After the cameras left, residents were still picking up the pieces and reorganizing their lives.
In 2007, Cameron Lewis supported long-term recovery efforts by joining AmeriCorps NCCC (National Civilian Community Corps) for a 10-month term of service. During that time he traveled throughout the Gulf Coast region to support local recovery groups, rebuilding homes and providing education through the Red Cross Masters of Disaster program.
"This experience taught me the importance of becoming affiliated with an organization after a disaster and working through coordinated channels to rebuild communities," said Lewis, now a program manager for disaster response and recovery at Points of Light.
Join us Tuesday, March 17, from 11 a.m. to noon Eastern, for a special discussion on Twitter about disaster volunteerism: #GoodandReady: Disaster Response and Recovery. Points of Light, HandsOn Network and national partners will answer your questions and share professional volunteer tips.
Follow along at #goodandready. Encourage your friends and families to join the conversation by sharing this message: "I'm joining #goodandready 3/17 at 11am ET to learn more about supporting disaster volunteer programs and so should you!" We look forward to chatting with you.
Share this post