See How This Sixth Grader Is Tackling Child Hunger as a FROG
This post is by Will Lourcey, a sixth grader at Trinity Valley School in Fort Worth, Texas. Join Will, who is participating with generationOn and The ConAgra Foods Foundation in the Make Your Mark on Hunger campaign to stamp out child hunger.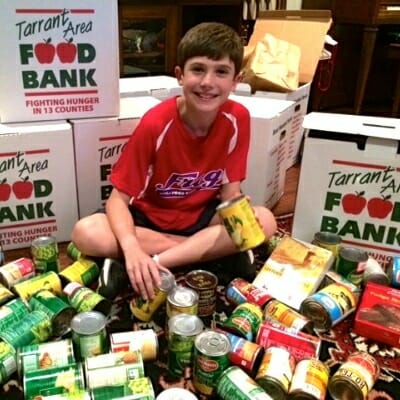 Will Lourcey
A grumbling stomach. Headache. Hard time paying attention and focusing. Low energy and motivation. Poor academic performance.
This is hunger. Hunger is here, and it is hurting children.
Childhood hunger is a pressing concern in this country and around the world. In the U.S. alone, nearly 17 million kids are at risk of hunger, which is more than the populations of New York City, Los Angeles, and Chicago combined.
This is unacceptable. If our nation's next generation is going to bed with empty stomachs, then what does mean for our future? The world's future?
This is how I got involved and what I am doing to make my mark on hunger through service. When I was 7, I founded Friends Reaching Our Goals, FROGs. It's a kid-run service organization with the mission of inspiring youth to make a positive difference in their community.
Our motto is: "Having Fun While Helping Others." We design fun events to get kids involved in fighting hunger. These activities range from lemonade stands to laser tag parties to enormous baseball tournaments.
In order to participate in these fun events, kids make a monetary or food donation, which go to the local food bank. The kids have fun while helping others. They learn that there are children just like them in their community that don't have enough food.
Our mission is to spread the message that hunger doesn't discriminate. Hunger affects kids of every race, religion and education level.
Kids who are hungry are more likely to become sick, less likely to become productive citizens. Kids who do not have enough nutritious food don't focus well in school, and their grades can stumble. Proper nutrition is critical to the physical and mental development of a child. It is critical to the future of the child and to the future of our nation.
This is what I am doing, but my challenge is for anyone reading this to step up to the plate and take action. It is simple to make an impact. All you need to do is: See a need, make a plan and change the world! In other words, look for a need or problem and then put your talent and efforts towards making an impact.
Over the last four years, FROGs has provided over 175,000 meals to the hungry, helped pack 50,000 backpacks with food for hungry kids and helped distribute meals to over 10,000 families through the mobile food pantry. Of all FROGs accomplishments, I am most proud of encouraging over 1,000 kids to join the fight against hunger.
Fighting hunger has affected my life and has inspired me to put an end to hunger. FROGs is fighting hunger this spring by participating in the generationOn Make Your Mark on Hunger youth service campaign. For every youth engaged in service March 15 through April 30, The ConAgra Foods Foundation will donate the monetary equivalent of one meal to Feeding America, up to 20,000 meals!
If we all pitch in just a little bit, we can destroy hunger for our country, for our world… for our future.
We all have the ability to make a mark on hunger. Join us! No matter how tall or how small you are, you can make a big difference!
This post originally appeared on the generationOn blog.
Share this post