Here's What Your Kids Can Do About Child Hunger
Think about this: 16 million kids in the United States aren't getting the food they need. Help your kids become part of the solution by joining generationOn and the ConAgra Foods Foundation for the Make Your Mark on Hunger campaign.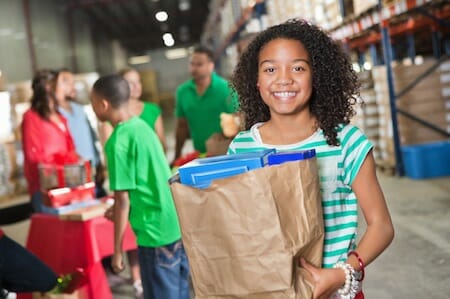 The campaign challenges kids and teens to take action to address the issue of hunger in the U.S. through meaningful hands-on service in their communities. For every youth engaged in service through April 30, the ConAgra Foods Foundation will donate the monetary equivalent of one meal to Feeding America – up to 10,000 meals.*
The goal is to engage 10,000 youth volunteers in service to their community.
Here's how to get involved:
Sign up on the generationOn website. Kids and teens can sign up on their own, or teachers, administrators, parents or youth workers can sign up their groups, organizations or students to take part.
After signing up, youths are asked to complete a volunteer service project addressing the issue of hunger.
To inspire others, kids can share their stories.
By signing up, you and your kids will receive access to project guides, media tools, reflection activities and lesson plans, all designed to support youth in learning about – and taking action to address – the issue of child hunger in the United States.
For more information, visit the Make Your Mark on Hunger website.
The campaign is brought to you by generationOn with the generous support of presenting sponsor ConAgra Foods Foundation and additional support from the National Turkey Federation and C&S Wholesale Grocers.
* For each youth engaged in service recorded on www.generationon.org/hunger from March 15, 2015 through April 30, 2015, the ConAgra Foods Foundation will donate 10 cents, the cost for Feeding America to provide one meal through its network of local food banks. Maximum donation of 10,000 meals ($1,000). Valid in the U.S. only.
Share this post