A Global Movement for a Global Decade
It's a new year, a new decade with a new sense of purpose. I, like so many of us, feel refreshed and excited for all that lies ahead of us. As we move into a new decade, we're seeing more people than ever before getting involved and the multiplying effect of the positive change they're making.
As a society – despite what the headlines might portray – we're more connected to each other than ever before. We largely have instant access to information, and to each other. Because of this constant connection, we're reminded all the time that we have so much in common, despite the miles or borders or oceans that may separate us, and that people are always looking to lead and to bring about change.
We see a young climate change activist in Greta Thunberg, who was named Time's Person of the Year. In her we see a part of the next generation, ready to get involved. We see celebrities taking a stand, but more importantly, taking action. For example, Shakira splits her time performing on stages around the world, (including next month's Super Bowl) and building schools for children in Colombia. By using her voice, time and resources to really make change, hopefully we're inspired to help in our own communities, too.
Every day, people are changing our world for good. But the reality is, unlike Greta and Shakira, most of them don't make the news.
There are teenagers like Crystal Chan, who, as a senior in high school, started a nonprofit organization called Space 4 Us to help first-generation American students explore job options and gain access to opportunities to help them build fulfilling careers. Your circumstances today don't define your tomorrow and Crystal is certainly proving that! Read more of her story here.
Liam Hannon is another inspirational change-maker. At just 10 years old, he started making lunch for homeless men and women in his native Cambridge, Massachusetts, turning it into an operation called Liam's Lunches of Love. Liam has fed thousands of people and raised more than $40,000 to fight hunger. Incredible. You can read more about Liam's work here.
Naveen Prathapeneni, from Hyderabad, Telangana, in India, works as a cloud solution architect with IBM India and also supports rural education. He holds STEM workshops, mentors high school and college students, and has developed a mobile application to help small-scale farming businesses. Read more about Naveen's impactful work here.
At Points of Light, we want to continue to uplift and celebrate these kinds of stories – because, as a society, what we celebrate reflects what we value. This year, in addition to National Volunteer Week, we are going to expand our celebration worldwide and will celebrate Global Volunteer Month throughout the month of April.
We see this as an opportunity to expand our collective work, joining in celebration with the affiliates, corporate partners and others who've helped us along the way. We're going to highlight the work that is done all year long and that makes our communities and our world stronger, better, and even more full of light and promise.
Will you join us? Submit a story of an amazing volunteer you know; we may highlight them during Global Volunteer Month. We can't wait to see your submissions and to hear your stories!
---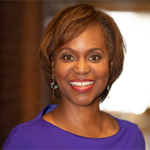 Natalye Paquin was the president and chief executive officer of Points of Light from 2017–2022. She is a visionary and results-oriented leader, with more than 20 years of experience providing strategic, operations and fiscal leadership in the nonprofit and public sectors.
Share this post