Hands On Manila Enables Corporate Volunteers to Become Stewards of the Environment
From extreme heat waves to Australian bushfires to Hurricane Dorian, the strongest hurricane on record to strike the Bahamas, 2019 was a year of devastating natural disasters. 
Scientists say that natural disasters are becoming more frequent and intense because of climate change. With increasing global surface temperatures, more water vapor is evaporated into the atmosphere, which becomes fuel for more powerful storms to develop, according to the United States Geological Survey. Hotter air and warmer ocean temperatures can lead to stronger winds in tropical storms.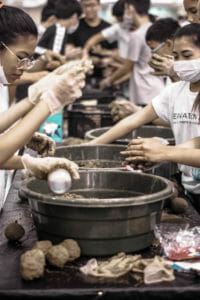 The Philippines got to experience the effects of climate change first hand when a tropical depression triggered deadly landslides and floods last January. More than 100 lives were lost, according to Phys.org.
Knowing that if the world continues on this trajectory, there won't be a habitable world for future generations, Points of Light's Global Network affiliate Hands On Manila decided to dedicate last year's SERVATHON to the environment.
For the past 18 years, Hands On Manila has organized its flagship program, SERVATHON, to make volunteering easily accessible for different corporate companies and organizations around the Philippines.
"In our country and other parts of the world, there are many things that the government is unable to do," said Gianna Montinola, co-founder and president of Hands On Manila. "There's just too much that has to be done, so we mobilize the private sector to try to fill in the gaps and do service projects in different areas."
With the theme of "Hands on, Hearts out for the Environment," last year's SERVATHON brought together 1,018 volunteers on September 28 to produce $2.4 million worth of goods and services.
By partnering with the World Wildlife Fund (WWF) and the Asian Social Institute (ASI), Hands On Manila was able to ensure that the three volunteer projects were innovative and help create a sustainable environment.
In one corner, volunteers worked on putting together soil booster mixes that would be used for the enrichment soil and for composting. Volunteers filled over 2,000 bottles with the soil booster mix that would later be distributed to gardeners and farmers of ASI.
In another section, volunteers created educational kits that included interactive books and other teaching materials focused on the environment. The materials were placed inside a canvas string bag that was painted by the volunteers. In the end, 210 of these kits were made to be distributed by WWF to teachers and students at local schools.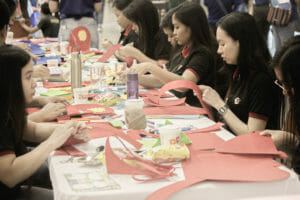 Lastly, volunteers also worked on making Mabuhay Balls. Derived from Japan's Bokashi Ball technology, these balls of mud are packed with effective microorganisms. When thrown into polluted lakes, rivers or streams, Mabuhay Balls help rehabilitate the water by preserving the vitality of fish, promoting the breakdown of organic and inorganic compounds, and preventing any foul odors. The volunteers produced 13,260 of these balls.
As people reflect on what they can do to help the environment this Global Volunteer Month, it's easy to become discouraged that one's actions won't make a lasting difference. But from simple acts like recycling to bigger volunteer projects like SERVATHON, these efforts add up and will spark even more positive acts to save the environment. 
"If we continue to do what we're doing and are not conscious of the shape the environment is in at the moment, we only have ourselves to blame," Montinola said. "It's our responsibility to leave the Earth in a better place for our children and our grandchildren." 
In light of COVID-19, nonprofits, companies and individuals are adapting the ways in which they serve their communities. Visit www.pointsoflight.org/global-volunteer-month to find creative ways to make a difference and be a #LocalLight in your community during Global Volunteer Month.
Share this post