Through Kindness Walks, Community and Trust is Built for Hong Kong's Homeless Population
Colette Aw is no ordinary assistant teacher. After hearing about the weekly Kindness Walks that ImpactHK hosts, Colette experienced her first walk, and was committed to fulfilling the needs of her community. She has become a monumental volunteer in building trust and friendship with those in need, and continues to create opportunities of change each week for more than 500 homeless individuals.   
Kindness Walks provide support for people experiencing homelessness throughout Hong Kong, and are a large part of ImpactHK's mission of addressing the issues that homeless populations face across the country. Colette reflects the organization's belief that kindness is always important, and that one act of kindness has the power to grow far beyond one could imagine. With a partnership alongside HandsOn Hong Kong, a Points of Light Global Network affiliate that empowers Hong Kong residents to serve and mobilize together, Colette has access to numerous willing volunteers who are ready to meet the needs of their neighborhoods.
Colette often leads the Tai Kok Tsui and Fortress Hill Kindness Walks by mobilizing groups of volunteers to spread kindness and generosity as they distribute daily necessities – including food, water, toiletries, clothing and free laundry supplies – to homeless individuals and those in need. To date, Colette has played a role in serving more than 2200 meals, housing 62 homeless individuals and helping 42 people experiencing homelessness find employment. It's one of her favorite ways to make a difference, and these walks allow her and other volunteers to show people how much they care.
According to Colette, there are others in need who also deserve assistance from Kindness Walks, like street cleaners, the elderly and the poor. She also believes that volunteers aren't a part of Kindness Walks to force conversation and interventions, but are a resource to counter loneliness, fear and isolation. If an individual in need is open to receiving help, volunteers can then direct them to the resources that ImpactHK has prepared to assist them in leaving the streets.
"One of my favorite things about the Kindness Walks is that you get to physically be there and reach out to the less fortunate. It's very hands on, and I always feel connected to the individuals that we serve," said Colette.
"It's important to remind each other to help the less fortunate," she continues. "Yet, it's hard to convince someone that they should be doing volunteer work. It needs to come from the heart."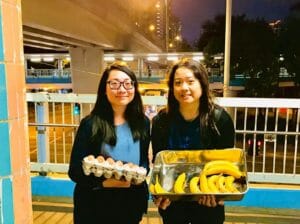 Colette has personally experienced seeing volunteers improve the lives of communities across Hong Kong. She has seen previous individuals experiencing homelessness eventually join committees that help organize Kindness Walks, and knows many parents who bring their children along during weekend walks. To Colette, this helps the younger generations understand the value of helping others and understand the needs of people experiencing homelessness. She also values the leadership of ImpactHK, where the founder continues to organize speeches at schools around Hong Kong to remind teens and teachers the importance of helping others.
One meaningful moment that Colette has experienced as a Kindness Walk volunteer was during the protests in Hong Kong in the summer of 2019. Volunteers continued weekly Kindness Walks, but to Colette's surprise, the homeless population began to worry about the volunteers' safety more than themselves. One of the homeless individuals even offered his umbrella to Colette while it started raining heavily on a walk.
According to Colette, volunteers are just ordinary and local people who keep the greater good in their hearts and minds. "To me, its people from all over the world celebrating and raising awareness at the same time of the importance of helping each other through volunteering," Colette said. When volunteers from around the world share a passion for empowering their community, there is always a reason to celebrate.
Colette wants others to feel encouraged to seek out ways to make a difference. To her, "everyone is busy with their lives, but we all have a daily invitation to show gratitude and care for others."
In light of COVID-19, nonprofits, companies and individuals are adapting the ways in which they serve their communities. Visit www.pointsoflight.org/global-volunteer-month to find creative ways to make a difference and be a #LocalLight in your community during Global Volunteer Month.
Share this post