HandsOn London Fights Against Poverty and Inequality by Warming Hearts of Those in Need One Coat at a Time
During the holiday season in London, carols and twinkling lights will light up the streets, bringing a sense of cheer to both the locals and tourists. They say Christmas is the most wonderful time of the year, but for those who are homeless or struggling to make ends meet, the holidays can just amplify their hardships. 
Knowing how harsh the winters in London can be, Points of Light Global Network affiliate HandsOn London has been bringing a bit of warmth to the hearts of those in need by offering them a coat.
For what is now its 10th year, HandsOn London has been collecting thousands of coats and distributing them to local charities through its Wrap Up London campaign. The program started off small, with 2,700 coats being collected by about a dozen volunteers.
But now, about 1,400 volunteers lead the effort to collect about 30,000 coats each year. The coats are then donated to over 100 charities that help refugees, victims of domestic violence, those who are at risk of poverty, and especially, those who are homeless, according to CEO of HandsOn London Jon Meech.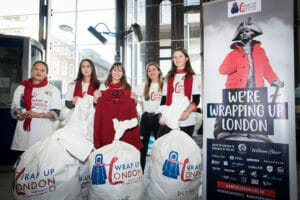 "Clothing doesn't last very long when you're on the street," Meech said. "It gets worn; it gets damaged really quickly. So over the course of one winter, a homeless person may need more than one coat. What we hope to do is ensure that the homeless charities have enough coats to hand out and have enough in stock to give somebody a replacement when they need it." 
The main coat collections are held at London's six major subway stations for three days in the beginning of November. Before the morning rush hour hits, volunteers will set up donations sites to collect coats from the millions of commuters passing through the stations.
Collections are also held at offices, shops and churches around the city so a person wanting to donate their coat wouldn't have to travel far.
While Meech expressed his gratitude to the thousands of Londoners who have donated their coats, he said that Wrap Up London wouldn't be where it is today without the dedication of the volunteers who collect, sort and arrange distribution of the coats.
One volunteer even travels 400 miles to London to drive around in the city's rush hour traffic to help pick up the bags of coats other volunteers have collected, according to Meech.
"I asked him, 'Why are you doing this?'" Meech recalled. "And he said, 'I just love the atmosphere. It's like you're a part of something.' And he lives on the other end of the country!"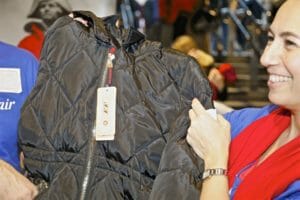 After seeing the impact Wrap Up London was having on the city, HandsOn London decided to expand the campaign to other cities across the United Kingdom. Now, from Glasgow to Birmingham, a total of 24 towns and cities are joining in the fight against poverty and inequality by collecting warm coats for those in need.
In a world where no less than 150 million people are homeless, according to Yale University, donating a single coat might not seem like a grand enough gesture to impact change.
But as people around the world reflect on what they can do help better society this Global Volunteer Month, Meech said the first thing people should remember is this:
"No act of kindness is too small. Every act of kindness is important."
In light of COVID-19, nonprofits, companies and individuals are adapting the ways in which they serve their communities. Visit www.pointsoflight.org/global-volunteer-month to find creative ways to make a difference and be a #LocalLight in your community during Global Volunteer Month.
Share this post