Help a Charity Win $10,000 With Two Clicks
They've fed hungry families; brought toys to kids who had no gifts to open on Christmas; given shoes to homeless children; donated books to schools, foster programs and shelters; and assembled toiletries and clothes for victims of domestic violence.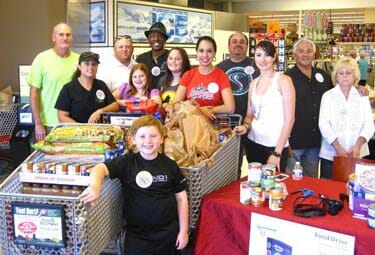 These Make A Difference Day honorees have come together help people in their communities, and now you have the chance to help reward one of their charities with the $10,000 All-Star Award from the Gannett Foundation. Click here to vote for one of the five honorees up for the award, who were initially chosen by the voting public. It takes just two clicks to cast your vote.
For more than two decades, Points of Light has joined with USA WEEKEND magazine to sponsor Make A Difference Day, the largest national day of community service. On the fourth Saturday of October, millions of volunteers around the world to volunteer.
Check out the All-Star Award nominees below, and vote at www.makeadifferenceday.com/vote-now by March 4!
Mary Vail, Las Vegas – The recession hit Las Vegas hard, leaving many families unable to buy enough food. Vail's 15th Make A Difference Day food drive at a local supermarket collected more than 4,700 pounds of nonperishables for the Salvation Army food bank – enough to feed 235 families for a week. (Her 15-year total: 27 tons.) Vail, a publicist, led 20 volunteers in inviting shoppers to donate just one item.
Wen Marcec, Geneva, Ill. – Last year Marcec's Project SANTA delivered 2,203 new toys and books to Appalachian communities to brighten Christmas for kids whose parents couldn't afford gifts, besting the 2,100 collected in 2012. In a weeklong drive, more than 140 student "elves" at seven Geneva-area schools purchased board games, puzzles, dolls and more. Marcec, 63, and her husband trucked eight hours south to Estill County, Ky., to deliver the toys, which schools distributed to the county's neediest families in December. "If it weren't for these toys," says Sara Stringfield of West Irvine Elementary School, "Christmas wouldn't happen for a lot of our kids."
Nick Lowinger, Cranston, R.I. – Nick Lowinger, 16, has put 15,000 homeless kids in new shoes in the four years since he created the Gotta Have Sole Foundation. Last year on Make a Difference Day 86 volunteers gathered at a garage that stores shoes donated by manufacturers or bought with donations. In six hours, they filled shoe orders for 467 kids in 22 shelters in 15 states, packed up shoe store gift cards for 300 veterans and readied a shipment of 200 warm pairs of boots for children on an Indian reservation.
Assistance League, Burbank, Calif., and nationwide – After rounding up 113,000 books for at-risk children on their first Make A Difference Day, the women of the Burbank-based Assistance League surprised themselves by nearly copying that success last October: 2,666 members of the service organization led 93 communities in donating 103,036 books to schools, foster programs and shelters. "For many of these kids, it may be the only book they own," says book drive chairman Kathy Youngman.
Royal Neighbors of America, Rock Island, Ill., and nationwide – For the nonprofit insurer's 17th Make A Difference Day, 806 volunteers in 21 states tackled projects from helping seniors to filling 1,482 "Baskets of Hope" with toiletries, books and clothes for women in need. Turnout was highest in the Quad Cities of Iowa and Illinois, where 101 volunteers from Royal Neighbors' Rock Island headquarters cleaned and painted a Dress for Success center and created 222 Baskets of Hope.
Share this post