How to Run a Successful Startup: Change By Being Exactly the Same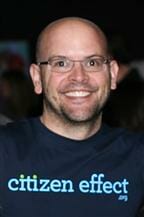 Today's second blog for the Investing in Innovation series, is written by Dan Morrison, founder and CEO of Citizen Effect.
The Investing in Innovation blog series highlights world-changing ideas and startups and is made possible by the Civic Accelerator, a Points of Light and Village Capital venture. If you would like to have your civic-focused startup considered for inclusion, please inquire here.
The Investing in Innovation blog series highlights world-changing ideas and startups and is made possible by the Civic Accelerator, a Points of Light and Village Capital venture. If you would like to have your civic-focused startup considered for inclusion, please inquire here.
There are businesses you start because you see a hole in the market and a chance to make a buck. Then there are nonprofits you start because there is a social problem you need to solve. With Citizen Effect, it was both. I guess that is why they call us a "social enterprise."
Starting an organization from scratch is like being a chef without your own recipe. You have your own ideas but are constantly Googling and talking to others about ideas and examples of how to make it work. The issue in the new and booming social enterprises space is that there are not the tried and true success stories everyone can follow. You have to beg, borrow and "steal" from aspects that worked across different organizations. Being a nonprofit has its advantages and disadvantages. We were never able to go out and raise a large first round of investment to cover start-ups costs. But living in a bootstrap environment forced us to operate efficiently and experiment along the way.
Which leads me to the point of this post. There are two things I always say about Citizen Effect. First, Citizen Effect does the exact same thing today as it did back in December 2006 when I came up with the idea. Second, the key to Citizen Effect's success has been modifying it based on new and better ideas from team members and the random person on the street. Those two points sound contradictory. They're not. Here's why.
When you strip away all the messaging and branding we use to market Citizen Effect, the nuts and bolts of what we do are the same. We find community-based projects that need money to get done. We find a passionate person to step up and lead and fundraise for the project. We give the person the tools and help they need to market and promote the project to their friends, family and social network. We did that at the beginning. We do that now. Nothing has changed.
However, the real question and challenge is HOW we deliver that mission. That is where all the innovation and tweaking comes in, and there have been three major tweaks as Citizen Effect adapted over the years.
Tweak 1: The original name of Citizen Effect was 1Well. I fundraised for a well in India – our first project – and saw the impact one well could have on a community. The second project we did was an irrigation project. It wasn't a well, but we thought 1Well spoke to broader issues and how everyone was connected. Then Charity Water came along. We found ourselves competing against someone we didn't see as a competitor and this gave us the excuse to rebrand as Citizen Effect and signal we were about empowering citizen leaders, not just about raising money for water projects. It was a critical move for us internally and externally. Internally, we realized the passionate citizen who was fundraising was at the center of our business, not the cause or project. Externally, it signaled that we were not a water- or cause-focused organization but a citizen-focused organization. We were more of a movement than a cause.
Tweak 2: At the beginning, we were very hands on. Our original website was a glorified online brochure with a donate button. It had static content that we would make look dynamic by updating it often through Expression Engine. We did a lot of one-on-one recruiting of users, phone calls to help people who had never fundraised develop their fundraising strategy, and event appearances when we could. Clearly not a scalable model. But the human touch became part of our DNA. As we developed a more robust technology platform, we didn't expect technology to do it all. We knew that community development and fundraising was personal and it was our personal touch that became our differentiator. While other models focus on high volume, Citizen Effect focuses on high quality. We screen all of our fundraisers (or Citizen Philanthropists as we call them) and work with them because we want to make sure they complete their goals and become better community leaders through the process.
Tweak 3: We have always been seen as an international organization, both internally and externally. Our first partner was the Self Employed Women's Association (SEWA) in India. The second was Coprodeli in Peru. We then partnered with groups across Africa and Asia. We developed a few partnerships in the U.S., but they were never the focus. Then the John L. and James S. Knight Foundation asked us to bring our model to the U.S. We are running Detroit4Detroit and Philly4Philly, initiatives that will connect 150 passionate citizens to 150 critical projects in each city. Our domestic portfolio will account for more than 80 percent of our projects and donations this year. And we are looking to expand to other cities across the country. That is a huge change for us.
Many ask if the domestic work is the right decision. I go back to the two things I know are true about Citizen Effect and any start-up. What we do in the U.S. and do internationally is exactly the same – empower passionate citizens to complete critical community projects – no matter where they are. Our operations and how we manage those users are exactly the same. And for Citizen Effect to survive and thrive, we need to adapt. Don't get me wrong, you can adapt your way out of your business model and that is death. But you need to adapt within your model. Everyone at Citizen Effect knows who we are and what we do. But we are still learning how to do it better. And that will never change.
Share this post