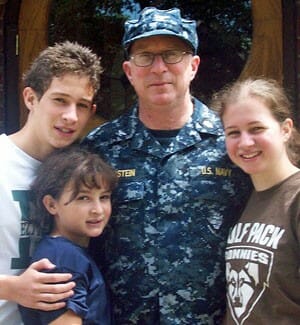 Simone A. Bernstein is a junior at St. Bonaventure University in upstate New York. She is a summer intern at generationOn, an active volunteer in her hometown of St Louis, Mo. and in her college community. Simone co-founded VolunTEENnation.org, an online resource for youth to easily find volunteer opportunities.
As military dependents, my brother and I appreciated the generosity of our community when our dad was sent overseas. Friends, neighbors and the kindness of strangers helped us get through the long and challenging months of our dad's deployment. My brother and I wanted to pay it forward and find ways that we could give back and support our community. We were both active in scouting and in our religious school service projects, but we wanted to do more. Unfortunately, many nonprofit agencies required volunteers to be 18 years or older to volunteer on site.
When my dad was deployed, the community jumped in to help my family. It meant the world to my mom that our community was there to help if we needed something. I was very touched by the kindness and outpouring of support we received. I wanted to volunteer at the local veteran's medical center to show my appreciation for those who served our country, but I was too young. I also wanted to volunteer to understand the problems that exist in our community, so I found other ways to get involved in supporting our troops overseas and the veterans at home. With the help of generationOn, there are lots of military project ideas now online for youth of any age to get involved and start making a difference. Find projects online here.
I am fortunate that I have a roof over my head, food on the table and an opportunity for an education. Not everyone is as fortunate. I wanted to step away from my neighborhood and see if I could try making an impact in the surrounding community. With the Community Action Hero campaign, youth can create there own service projects. With generationOn, youth of all ages can get involved in a project this summer, reflect on it and even receive a Hasbro gift for participating.
Volunteering offers youth the opportunity to connect with their community. The Community Action Heroes campaign unites and connects youth with a common goal and desire to engage and unite through service. It is a powerful message to recognize youth volunteers around the world focusing on some of our many critical global challenges: supporting the military, helping people gain access to clean water, eradicating hunger and improving literacy rates throughout the world.
What can you as a youth do to celebrate our military and show appreciation for the time and dedication they provide our country? Create care packages for troops, gather used cell phones to exchange for calling cards, preserve a veteran's story for the Library of Congress or check out other project ideas and resources on the campaign site http://communityactionheroes.generationon.org/. Volunteering teaches us that we are all responsible for the well-being of our communities. It is an empowering message to realize that youth around the world can and do make a positive impact and brighten the lives of our military.
This summer's almost over, but there is still time to make a difference!
Make your mark on the world and inspire others to do the same through generationOn's Hasbro Community Action Heroes summer program. Visit communityactionheroes.generationon.org to find out more about the range of youth service projects you can get involved in, as well as the national recognition and prizes that you can win for your creativity and effort.
Share this post