I'll Admit it: I Don't Care for Turkey
This post is by Tracy Hoover, Points of Light's president.
I'm a hopeless cook – so much so that my husband jokes that when the fire alarm goes off "dinner's ready!" I like college football (Go Vols!) but not 24 hours of it. And, despite all of that, I love Thanksgiving.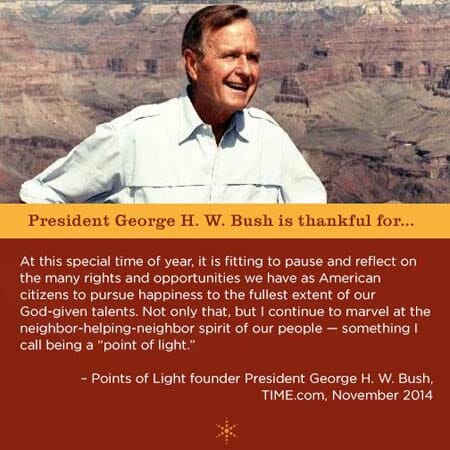 I love the acts and ideals of Thanksgiving – shared harvest, family and community, out-loud thankfulness. For many of us, this is a time of coming together, renewing bonds, celebrating the relationships and people who make our lives meaningful. It's also a time of volunteer service and, for many families, serving together has become an important holiday tradition. And I love that, too!
For my family, the one enduring tradition is list-making. Not shopping lists… or chores lists… and certainly not grocery lists. Ours is a ritual of calling out and writing down what we are most thankful for. It's a fun and affirming exercise and a celebration of what really matters. This year,TIME magazine asked several influential people what they were most thankful for. Not surprisingly, I loved President George H. W. Bush's response, excerpted here.
So, during this season of Thanksgiving, I want to thank you – points of light everywhere – for all that you have done this year.
You helped a child learn to read.
You delivered food to a sick friend. You helped neighbors recover and rebuild after disaster struck.
You cleaned up a stream and built a playground and stocked shelves at a food bank.
You helped a neighborhood nonprofit do more, help more, reach more, change more.
You gave your time, talent, voice and money.
You are points of light.
Thank you and have a great Thanksgiving.
Share this post