iRecognize Volunteers – Free Mobile Application!!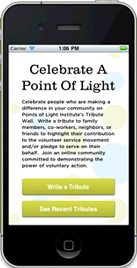 Throughout the past two months we have been highlighting volunteer work showcased at the Tribute event and during National Volunteer Week.  These special days are important to recognize volunteer service, although it is also important to recognize volunteers all year round.  Thus we have created and launched a free mobile application that allows anyone to recognize volunteerism whenever they feel inspired from the palm of their hand.
The new iRecognize Volunteers app for iPhone/iPad/iTouch products provides a unique way to celebrate those who are using their time, talent, voice and money to create change. The free app allows users to share inspiring stories, photos and YouTube videos that showcase how individuals have made a difference.
On the application you can easily write a tribute or pledge service on behalf of family members, co-workers, neighbors or friends to highlight their contribution to the volunteer service movement.  Your tribute will be posted to our existing Tribute Wall on our website where you will become a part of the virtual community of change-makers who are committed to demonstrating the power of voluntary action.
Next week, May 14th-21st is Americorps Week, a week that brings people together to reflect on civic values, recognizes individual Americorps service, and promotes the impact that Americorps have on communities they serve.  By downloading the app you can join us to tribute past and present Americorps members, or pledge service as a future member on our mobile application.
Click here to download iRecognize Volunteers today.
Share this post