A Lego Movie Before `The Lego Movie'
In honor of National Volunteer Week, April 6-12, USA Weekend and Points of Light are recongizing the 2013 Make A Difference Day honorees, who will be celebrated in Washington, D.C., on April 10. Today we tell the story of a California teen using Legos for good.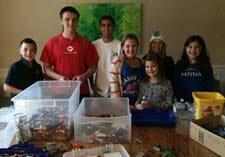 Bailey Snow, center (in white shirt), shows donated Legos alongside BrickDreams volunteers
Bailey Snow is a 16-year-old from Granite Bay, Calif., with a full slate of high school classes, a course at the local junior college, a part-time job at Starbucks, a place on his school's trap-shooting team and a regular round of SAT prep classes on his schedule.
He was too busy to see "The Lego Movie" when it came out, but he has long known the power of Lego bricks. He himself appears in a short movie starring the toys, which has been viewed more than 433,000 times on YouTube.
Bailey's charity, BrickDreams, solicits Lego donations from his community, sorts and packages the bricks in empty tennis ball containers and distributes them to organizations working with children in need.
On Make A Difference Day, Oct. 26, he and eight volunteers packaged 60 to 70 cans for distribution to local police departments, domestic violence organizations and Boys & Girls Clubs.
Watch EvanTubeHD's Make A Difference Day video featuring BrickDreams and Bailey Snow, pictured right.
"Say a kid is a victim of domestic violence," he says. "They have to leave the house quickly and they don't have a lot of things. They can go to shelters and get clothes and toiletries, but they can't get something like Legos to help them escape. I've heard from police who tell me they like Legos for when they go out on domestic violence calls because they can give it to a kid and it helps out during a stressful time."
Trudy Harris, development manager at the Boys & Girls Club of Placer County, says the club gives out the Lego containers as awards for good service or even as Christmas gifts.
"They love anything to do with Legos, and the cool thing about (Bailey's) Legos is he makes sure each one of the canisters has a little character in it for the kids to play with," she says.
Bailey's Make A Difference Day event enticed help from the family behind EvanTubeHD, a prominent YouTube channel featuring family-friendly videos with toy reviews and cool special effects. Participants produced a video of the day's activities, which has generated more than 433,000 views from around the world. (Watch it here.)
Started in May 2012, BrickDreams has so far collected and distributed 936 cans of Legos – that's 468 pounds!
Check out the other Make A Difference Day honorees at www.makeadifferenceday.com/winners.
Share this post