Lowe's: Rejuvenation and Impact in America's Small Towns
When it comes to changemaking, corporations often wield the power to impact communities. And when put into thoughtful, strategic initiatives, this power has the potential to make a world of difference.  
In 2021, as part of the company's centennial celebration, Lowe's partnered with Points of Light to help resource 100 community impact projects across the United States. The program became known as 100 Hometowns, and it ultimately helped 1.3 million people across 36 states from coast to coast.   
Now, as part of its goal to make homes better for all, Lowe's is making its largest-ever commitment to give back to the communities it serves. Over the next five years, Lowe's will invest $100 million in community impact projects – supporting nearly 1,800 communities each year. 
Now through March 28, Lowe's is inviting Americans nationwide to nominate their hometown projects in need as part of a new, annual initiative called Lowe's Hometowns.
Lowe's Hometowns will help repair, restore, or improve the following types of community spaces: 
Neighborhood Housing/Shelters (e.g., critical repairs, renovations, tiny homes) 

 

Skilled Trades Education Facilities (e.g., mobile bus, workshops) 

 

Community Centers (e.g., senior citizen center, youth center, accessible home needs, food pantry) 

 

Parks/Outdoor Spaces (e.g., community playground, greenway, community garden)

 
"Each day, our associates and neighbors come together to help build and strengthen their communities. With this investment through Lowe's Hometowns, we are demonstrating our commitment to make homes – and hometowns – better for those in need," said Marvin R. Ellison, Lowe's chairman and CEO. "We look forward to working with communities across the country to make sure that our investments serve their needs and have a positive impact that lasts for years to come." 
Nominate

a project in your community to be a part

of LOWE'S HOMETOWNS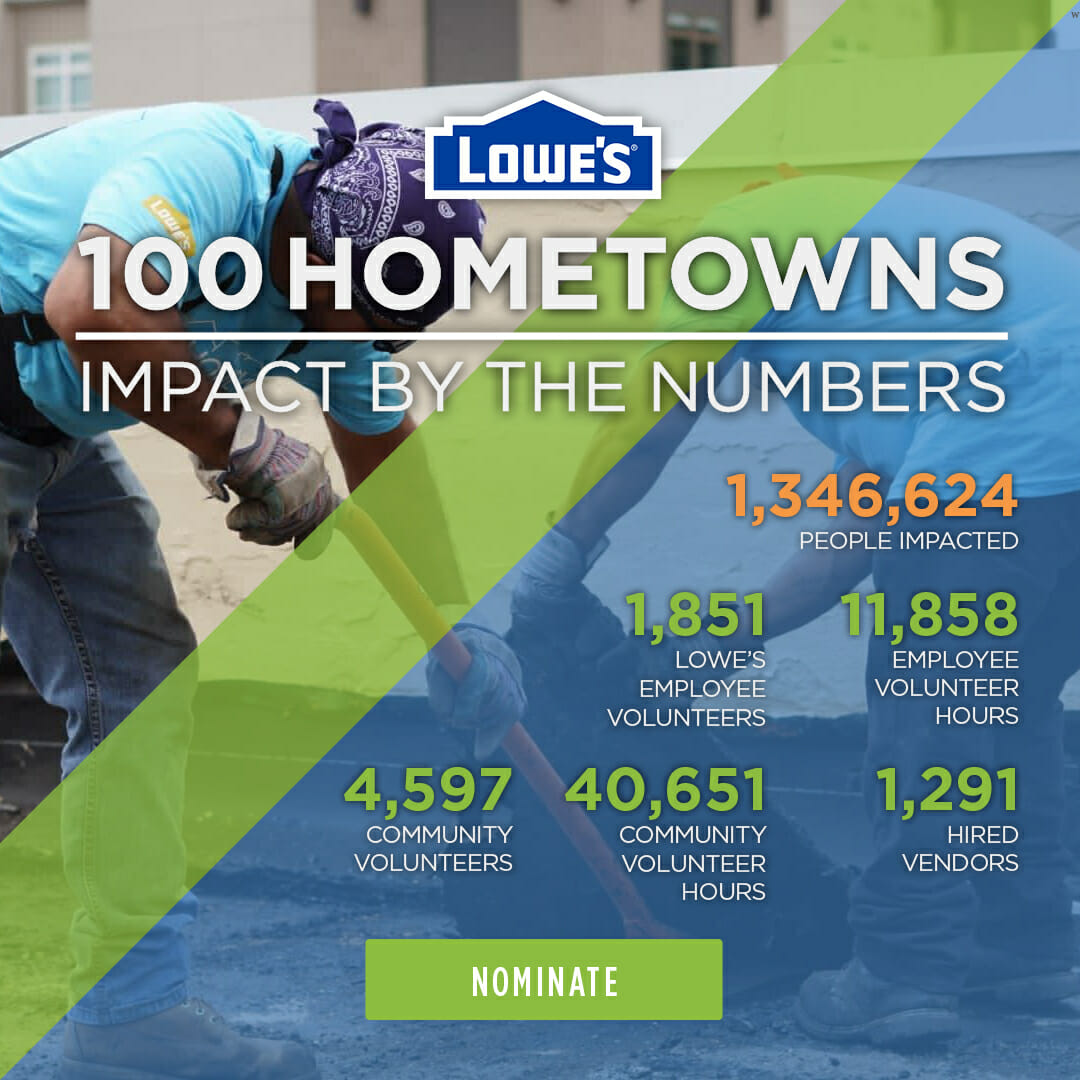 Last year, thousands of projects were nominated, and 100 grant recipients pulled together with their local Lowe's store associates to transform their needs into realities. Many of these recipients simply needed additional funding, skilled workpeople and a handful of volunteers to push a years-delayed project over the finish line.  
Take, for example, the Paintsville Veterans Referral Center in Paintsville, Kentucky. This nonprofit veterans center had been heavily damaged by flooding and needed assistance in completing restorations so that it could continue to provide vital outreach and programs. With a grant awarded as part of Lowe's 100 Hometowns, the center was able to be completely restored. 
"After losing everything, we were prepared to close the doors…. Talk about a change in our veterans' wellbeing. This center has been packed and back to business, and then some," said Stephanie Rodriguez, project manager at Paintsville Veterans Center.  
Mingus Job Accelerator in Mingus, Texas, is a program that provides on-the-job training for adults with intellectual disabilities. Its grant from 100 Hometowns was devoted to finishing a cluster of tiny houses, a cornerstone of its program. Without these houses, participants could only enter a daily program, which left them missing out on the most important aspect of their training, learning how to live independently.  
"The largest impact, next to the beauty of the project, is the inclusiveness and awareness our project brings to the general public," said ​CEO Jan Underwood​.  
A fallacy for corporations is thinking that their contribution to bettering the world exists only in monetary resources. While fiscal funding is absolutely crucial for nonprofits and under-resourced groups, companies can also use multiple assets, including their people power, material goods and in-kind donations.   
During the Lowe's 100 Hometowns program, local Lowe's store associates got involved on "Red Vest Days," named after the hallmark Lowe's uniforms. These workers teamed up with folks at nonprofit organizations and within the communities to provide additional labor on the specific projects being completed.   
Bringing supplies and much-needed skill sets, Lowe's associates helped further these projects while completing nearly 12,000 volunteer hours. This approach allowed community members, nonprofit workers and volunteers to get help with troubleshooting issues and build valuable connections with local Lowe's stores. 
Nominate a project in your community to become part of Lowe's Hometowns in 2022. And to learn more about how your company can support employees and communities by fostering stronger civic engagement, visit Points of Light's corporate partner page.  
Share this post