HandsOn London and HandsOn Greenville Excel in Capacity Building During the COVID-19 Pandemic
Points of Light's Global Affiliate Network comprises 177 innovative volunteer-mobilizing organizations across 38 countries around the world. Day in and day out, these organizations are actively responding to the planet's toughest conflicts. 
While the COVID-19 pandemic left nonprofits across the globe short of resources, many developed new services, programming or partnerships in response. In fact, our Affiliate Annual Report showed that 91% of affiliates took this route in 2020 and 2021, pivoting in the face of immense challenge and finding ways to continue to support their communities.
HandsOn London made great strides in supporting two strands of work responding to community needs around the pandemic. The first was using grant funding to support capacity-building for a Westminster-based food bank.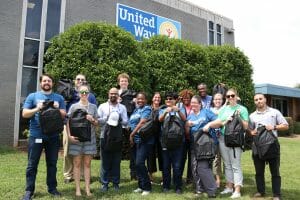 Over the course of two months, 1,300 volunteer applications and 6,000 inquiries were processed. Six administrative volunteers were trained and worked tirelessly to deliver food parcels and handle the flow of volunteers.
HandsOn London's second initiative involved developing a remote entertainment program for older people within two separate organizational projects. Not only did the team successfully achieve this outcome, they expanded their reach to two additional groups, or four weekly sessions.
One such group is The Crusoe Club, a club for visually impaired older members of the community. The group usually meets every Friday in person and has a hot meal prepared for them by volunteers. They play games, socialize, have a sing-a-long and even take part in a yoga class. However, these activities had to be put on hold during the pandemic, making this group more isolated than ever before. HandsOn London quickly pulled together volunteers to organize a weekly virtual video call, featuring activities like music quizzes and trivia games.
The calls were so successful that even after The Crusoe Club was able to start gathering in person again, they opted to keep the additional weekly virtual meeting.
"You are all magic. We are not worrying about Crusoe Club now, because you and your team are keeping them well connected." – Tina Johnston, Coordinator, Positive Aging at Blackfriars Settlement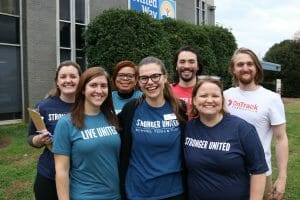 United Way of Greenville County (HandsOn Greenville) also stepped up to the plate during the stresses of the COVID-19 pandemic. They utilized funding to expand existing programs and create new ones that responded to pandemic-specific needs.
Through the HandsOn Greenville 2020 Series and the COVID-19 Relief/Response program, the organization activated over 1,600 volunteers who completed almost 2,000 hours of service through food drives, educational workshops, back-to-school supply drives and virtual and in-person volunteer opportunities.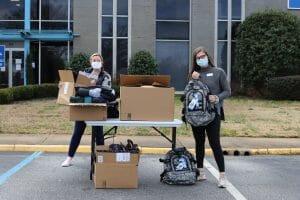 New programs that were supported with the aid of Points of Light and Center for Disaster Philanthropy funds included supporting food banks and supplying direct-service agencies with essentials like first-aid kits and other household products. An essential school supply drive was another big success.
And the 2-1-1 Greenville Community Resource Line was also established, connecting people with the services available to address their needs. Through fielding these calls, HandsOn Greenville was able to learn firsthand what and where the highest number of people in need were living throughout the county. One-thousand-nine-hundred-twenty individuals and families were able to hear a reassuring voice on the other end of a phone call in moments of crisis, connecting them to critical services.
Both organizations' work was done with new and ever-changing protocols, like contactless collection drives and mask-mandatory volunteer events. Learning new technology has been a challenge for many throughout the pandemic, but volunteers, communities and organizations are walking away with new knowledge and skills that could propel them for years to come.
Points of Light is proud of HandsOn London, HandsOn Greenville and all of our global affiliates for demonstrating what capacity building looks like in trying times. It's clear that nonprofits around the world have ample opportunity to serve their communities, and we salute all who put forth effort and make great strides as a result.
Share this post