Meet Lawrence E. Bathgate, II, a Man of Service and Civic Engagement
Lawrence E. Bathgate, II, has lived a life of service, from his earliest days. In fact, although his social impact work predates the Points of Light Civic Circle®, he has upheld an impressive record of civic engagement that spans many of its pathways, from service to donate to vote and much more. 
Mr. Bathgate is a longtime supporter of Points of Light, even serving as chair-emeritus of The George H.W. Bush Points of Light Awards. The awards honor individuals who demonstrate the transformative power of service and who are driving significant and sustained impact through their everyday actions and words that light the path for other points of light. The power of recognition resonated with Bathgate. 
It's his success in his professional life that propelled him into his service. As an accomplished lawyer and co-founding partner at Bathgate, Wegener, and Wolf P.C., his practice areas include real estate, business transactions, municipal law, mergers and acquisitions, wills, trusts and estates, patent infringement litigation and class actions. But his proudest accomplishment may be one of his quietest. His firm offers scholarships to children of staff. When the COVID-19 pandemic shut down the court system, and no revenue was coming in, he continued to support the students he had committed to. 
"If a person has been blessed, then they have an obligation to contribute, to share their time and energy and resources and ideas," said Bathgate.
Bathgate's impact has been far and wide, reaching across the aisle and the country through his roles on several boards of directors, including the Board of Visitors at the University of Texas M.D. Anderson Cancer Center, Houston; a Council Member of The Woodrow Wilson International Center for Scholars, Washington, D.C.; the National Committee of the Arts of the Kennedy Center, Washington, D.C.; The Board of Boy Scouts of America, New York Council; and the Board of Directors of the New Jersey Performing Arts Center, Newark. When asked how he became involved and what motivated him to stay engaged, he had a simple answer. 
"I've always said yes to things," Bathgate said.
He recounted the story of getting out of law school and starting his first job in his hometown. The phone rang, and an assemblyman from Ocean County asked him to be the driver for the assemblyman and a gubernatorial candidate. Bathgate said yes, and the trio ended up in a picture on the front page of the newspaper.
He went on to get involved with the Boy Scouts and his local community college. He became president of the animal shelter in Ocean County and worked to raise funds for it. He helped raise campaign funds for gubernatorial candidates by rallying donors. All those efforts led to his becoming parliamentarian of the New Jersey State Assembly when he was just 29 years old.
Twelve years later, he would host a fundraiser for presidential candidate George H.W. Bush. Bush was a champion of volunteerism and community service, and Bathgate recognized something in him that he knew would resonate with people. Bush's values and approach to service stood out, and Bathgate knew Bush was poised to serve the country. And he was right because, not only did Bush become America's forty-first president, but he later went on to found Points of Light, with a mission that champions civic engagement around the world.
"One of the best things Points of Light does is shows, on the international stage, how much American volunteerism is alive and well," Bathgate explained. "In other countries, the government might pay for arts centers, hospitals, museums. In America, philanthropic support is the architecture of these places, and volunteers give their time to operate them."
With the backbone of philanthropic support and giving his time to causes he cares about, Bathgate has built a legacy of service throughout his lifetime. When asked how he measures the impact of service and ensures his efforts are making a meaningful difference, Bathgate pointed to perseverance.
"It's a continuum," he said. "You don't get to a goal and then you're done. You move on to the next one. There's always a new goal to reach for. You donate time, energy, resources."
And when it comes to his best advice to share with someone who is interested in getting involved in community service, he had three tips.
"Number one, be polite and be kind. Number two, always be on time," he advised. "Number three, say yes to things. Get involved."
---
Lawrence E. Bathgate, II, is a prime example of someone who drives real sustainable change using the various pathways of the Points of Light Civic Circle: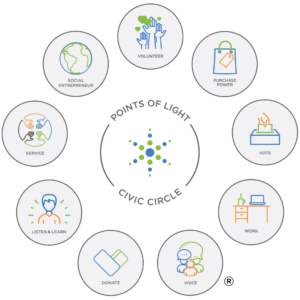 Voice
Mr. Bathgate's involvement in civic and political activities, including serving as the Parliamentarian of the New Jersey State Assembly, demonstrates his engagement in public discourse and advocating for causes close to his heart.
Volunteer
His work with the animal shelter in Ocean County and the Boy Scouts of America exemplifies Mr. Bathgate's dedication to hands-on volunteerism and the importance of working with his community.
Donate
Mr. Bathgate's involvement in raising funds through large-scale fundraisers for political campaigns highlights his commitment to contributing money, time and resources to causes he supports, ensuring they have the necessary financial backing to succeed.
Social Entrepreneur
As a co-founding partner at Bathgate, Wegener, and Wolf P.C., Mr. Bathgate leverages his legal expertise to make a significant impact within the business realm, contributing to the economic growth and development of his community.
Listen & Learn
Participation in various boards and committees, such as the University of Texas M.D. Anderson Cancer Center and The Woodrow Wilson International Center for Scholars, reflects Mr. Bathgate's dedication to staying informed and continuously learning, enabling him to make more informed decisions and contribute to the greater good.
Service
Active engagement in civic and philanthropic activities, including his involvement with The George H.W. Bush Points of Light Awards, exemplifies Mr. Bathgate's commitment to celebrating the power of recognition and making a tangible positive impact in the lives of individuals and communities.
Vote
As a longtime political fundraiser, Bathgate understands the importance of facilitating the political process and supporting candidates who champion cause areas he values.
Share this post