Michelle Nunn's Cross-Country Trip to Discover People at the Center of Change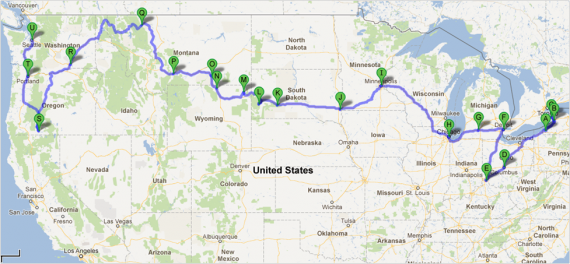 For a month this summer, Michelle Nunn, CEO of Points of Light, is taking a cross-country trip to learn from the people across the country who are rolling up their sleeves and tackling the critical issues before us. Across the nation, she will search out and share the stories of change agents – people who are creating new ways of using their time, talents, voice and money to address the problems they face in their communities. While the political parties are talking about the things that divide us, Points of Light will be identifying the enormous common ground that unites us – our patriotism and embrace of the responsibilities of citizenship, willingness to help our neighbors and desire to leave the world a better place than we found it.
Along the way, Michelle will be visiting HandsOn Network affiliates, AmeriCorps Alums, corporate leaders and civic innovators to check out citizen-led projects across the country. Her goal is to place a spotlight on people taking action and unearthing innovative solutions that leverage the power of individuals.
Michelle kicked off her trip by delivering a speech in the historic Amphitheater at the Chautauqua Institute on July 9. Chautauqua is a forum for big ideas and conversation, inspiring audience members to commit those ideas to action.
Click here for The Chautauquan Daily news article on Michelle's speech.
Michelle, joined by her family, will head west though Columbus, Ohio, and Minneapolis, ending her tour in Seattle. She plans to be in Buffalo, N.Y,, July 10-11; Columbus, Ohio, July 12; Cincinnati, July 13-14; Detroit, July 15-16; Minneapolis, July 22-24; Portland, Ore., Aug. 6-7; and Seattle, Aug. 8-9, with lots of stops along the way.
Share this post