Points of Light Tribute: Honoring Extraordinary Individuals Who Take Action to Improve the World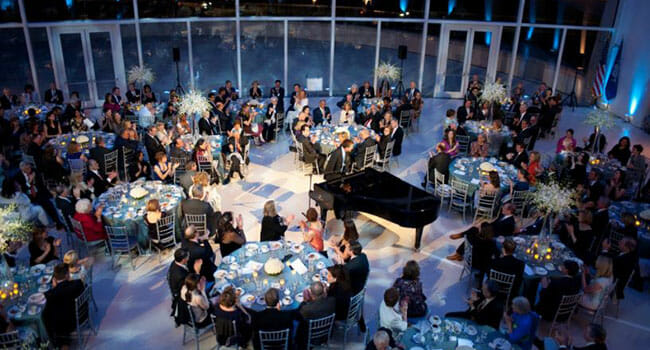 "Any definition of a successful life must include service to others."
– President George H. W. Bush
From the White House more than 25 years ago, President George H. W. Bush gave voice and direction to a movement that's steadily grown ever since — changing countless lives in communities across the country and around the world. No president in American history has advanced with greater clarity and consistency this belief: that voluntary action to help others is inseparable from human freedom and America's pursuit of what is right and good.
Each year, Points of Light honors individuals who embody the vision of "a thousand points of light" that President Bush first invoked during his acceptance speech at the 1988 Republican National Convention. Their extraordinary contributions to volunteering and service have made their communities, and the world, a better place.
The 2017 Points of Light Tribute Awards will be held on Thursday, Oct. 19, at the Embassy of France in Washington, D.C. CNN anchor Wolf Blitzer will serve as master of ceremonies for the event, where 300 corporate, nonprofit, and community leaders will gather to recognize and celebrate the power of the individual to spark change and improve the world.
"Strength, resilience and kindness flow from simple acts of service," said Natalye Paquin, CEO of Points of Light. "The individuals honored tonight are shining examples of what it means to be a point of light. They represent the great humanitarian spirit that binds us together."
This year's honorees are:
| | |
| --- | --- |
| | Wildlife advocates Jack and Suzi Hanna, co-hosts of the Emmy-award winning TV series "Jack Hanna's Into the Wild," and ambassador for the Columbus Zoo and The Wilds. Passion for animals, dedication to teaching, and a great sense of humor – that's the recipe that made Jack and Suzi Hanna two of the most well-known, well-respected and well-loved conservationists ever to grace the national stage. Jack and Suzi have had the privilege to travel to Africa more than forty times and have visited each continent at least twice. They are proud to support a number of Rwandan wildlife and humanitarian organizations, including the Gorilla Doctors and Partners In Conservation. The Hannas' unique and moving experiences led them to initiate the Columbus Zoo's strong commitment to wildlife conservation efforts in 40 countries worldwide. |
| | Former California Governor Arnold Schwarzenegger, founding chair of R20: Regions of Climate Action, and founder of the USC Schwarzenegger Institute for State and Global Policy. This world-famous athlete and actor was born in Austria, and became the youngest person ever to win the Mr. Universe title. Later, he would go on to earn a college degree from the University of Wisconsin and proudly became a U.S. citizen. As the 38th governor of California, Schwarzenegger ushered in an era of innovative leadership and extraordinary public service. But it is his commitment to giving something back to his state and to his country through public service that gives him the most satisfaction; donating his time, energy, and personal finances to serving others all over the world. |
| | Pittsburgh Steelers cornerback Coty Sensabaugh and his wife Dominique Sensabaugh, founders of Sensabaugh Mission Moon. In lieu of wedding gifts, the Sensabaughs asked guests to donate shoes or money to Soles4Souls. Accompanied by friends and family, the newlyweds traveled to the Dominican Republic and distributed more than 500 pairs of shoes to impoverished adults and children. Through the Soles4Souls partnership, the Sensabaughs have helped collect more than 11,000 pairs of shoes. Coty has also partnered with Food for the Hungry to help provide fresh water systems to communities in Haiti. He also runs an annual free youth football camp, now in its fifth year, which has served more than 2,000 children in his home community of Kingsport, Tennessee. He is also a recipient of the President's Volunteer Service Award and the Daily Point of Light Award. |
| | A special Points of Light Lifetime Service Award will be presented to Ambassador C. Boyden Gray for his public service, volunteer leadership on the boards of numerous charitable, educational, and professional organizations, and his longtime support of the Points of Light vision and mission as established by President Bush. Ambassador Gray has held several diplomatic appointments, and served as White House counsel during the Bush Administration, 1989-1993. During his time in the White House, Ambassador Gray took a special interest in clean air issues; he became one of the principal architects of the 1990 Clean Air Act Amendments and was also involved in the creation of the Energy Policy Act of 1992. |
"Points of Light continues to lift up one of the legacies that is most important to my dad, and one that continues to have enormous ripples and impact in communities around the world," said Neil Bush, chairman of Points of Light's board of directors and son of President George H. W. Bush. "These extraordinary individuals bring leadership, innovation, and energy to bear on some of the toughest challenges we face as a nation. It is our privilege to recognize them."
The 2017 Tribute Award honorees are representative of the more than 62 million Americans who volunteer their time, talent and resources every year in service to others. The value and impact of volunteering is particularly relevant today, on the heels of numerous natural disasters, including three catastrophic hurricanes. In the coming weeks, months and years, the people of Houston, the Gulf Coast region, Florida, Virgin Islands and Puerto Rico will continue to recover and rebuild from the devastation caused by these storms – and these efforts will be most effective and successful with the ongoing support of volunteers.
This weekend, in recognition of the critical role volunteers play in disaster relief and recovery, Points of Light will present Daily Point of Light Awards to five volunteers who performed outstanding work in the aftermath of Hurricanes Harvey, Irma and Maria. The volunteers will be recognized on Oct. 21 during the "Deep From the Heart: The One America Appeal" concert benefitting communities hit by recent natural disasters; they will receive their awards from Points of Light Chairman Neil Bush and be recognized on stage with the five living former U.S. presidents, including Barack Obama, George W. Bush, Bill Clinton, George H.W. Bush and Jimmy Carter.
Do you know a volunteer who is lighting the way for good, creating meaningful change in their community, or taking action that improves the world? Nominate them for a Daily Point of Light Award.
Share this post