The Power of the Youth Voice with 2021 Time Kid of the Year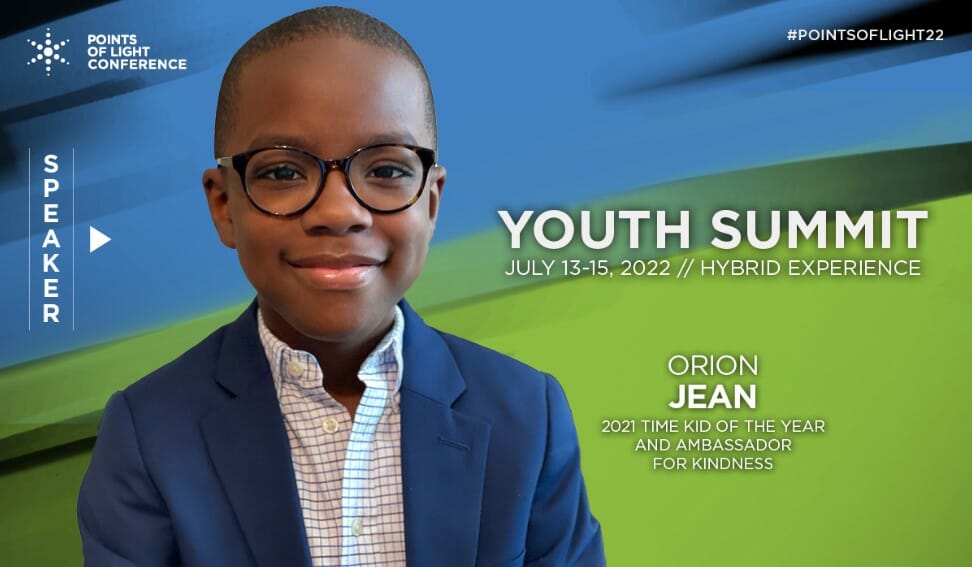 The Points of Light Conference is a rich experience for civically-minded folks of all ages and with all levels of experience. 
We value the voice of youth, which is why we host a special Youth Summit as part of our overall conference experience each year. This summit is an all-conference session that will feature inspirational stories from young civic leaders who demonstrate that age has no limit in addressing the issues facing our world. 
KPMG Foundation President Anita Whitehead will open the session with a discussion with Orion Jean, 2021 Time Kid of the Year and Ambassador for Kindness, about his story and what guidance he has for other young people. 
This young man is on a mission, sharing the gift of reading with hundreds of thousands of kids. At only 11 years old, Orion has already created waves in his community with his involvement and advocacy. He has used his $500 in prize money from a kindness contest to donate toys to a local children's hospital. He has also hosted food drives and partnered with a relief group to collect 100,000 meals for Texas families. And now he's focused on spreading the gift of literacy to local households that may not have access to books.  
Following the keynote, four members of the Points of Light Youth Council – Esha Venkat, Chase Hartman, Eleanor Ann Schoenbrun and Adom Appiah – will participate in a moderated panel discussion around the theme that youth are a powerful force for change. They'll discuss listening and learning, mindful engagement, finding your "why" and "how" and much more.
Esha Venkat is a 16-year-old global changemaker, ambitious servant leader and groundbreaking "girlpreneur" passionate about advancing social progress across the globe. She is the co-founder and COO of NEST4US and a junior at Broad Run High School. In 2020, Esha and her sister, Shreyaa, were recognized with The George H.W. Bush Points of Light Award for their servant leadership. 
Chase Hartman of Tampa, Florida is a 16-year-old community changemaker, youth leader and "kidpreneur" dedicated to finding solutions to some of the toughest challenges in our country. Chase co-founded a nonprofit called Eco Brothers and an award-winning book distribution project called "read.repeat."
Eleanor Ann Schoenbrun is from El Paso, Texas, and is the founder of Pennies FUR Pets and Kans for Kids. She is a member of the Yale College Class of 2025 with prospective majors in economics and global affairs. She joined the Points of Light family at eight years old when she became a National Make A Difference Day Winner for Pennies FUR Pets, benefiting homeless pets in her border city.
Adom Appiah is an author and the founder of Ball4Good – a nonprofit that supports communities through sports, volunteering and grantmaking. The Ball4Good team has fostered partnerships with community-based organizations to address homelessness, childhood cancer, child abuse, autism awareness, cultural representation and public health.
Youth ages 13 to 18 from local organizations will be in attendance, but Youth Summit content isn't just for young people. The session is appropriate for attendees representing nonprofits, national service, government, social entrepreneurs and businesses that work with youth or who consider youth a target audience. 
Be sure to check our agenda for other workshops with sector experts that highlight youth-focused efforts for organizations. And join us for this year's Youth Summit by registering for the 2022 Points of Light Conference, held July 13-15, 2022.
Share this post