Volunteering and Hong Kong, With a Dash of Ginger Rogers
In a nod to the recent International Women's Day and the HandsOn Network affiliates across the globe that make it easier for people to volunteer, we feature this Q and A with Caroline Sprod, executive director of HandsOn Hong Kong.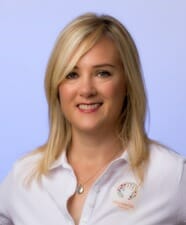 Q. What inspires you about HandsOn Hong Kong, and can you tell us about your work?
A. HandsOn Hong Kong removes barriers that hold people back from volunteering, and enables small grassroots NGOs (nongovernmental organizations) to get the helping hands they need. Hong Kongers want to get involved and make our city a better place for all, but their busy schedules often prevent them from committing to a regular volunteer activity. In addition, many people are not sure where to find volunteer opportunities. Small NGOs are busy with their frontline services, and lack the resources and know-how to recruit and manage volunteers. By having HandsOn Hong Kong in the middle, these two parties are able to come together and both benefit. I know from personal experience how volunteering is not just about giving but about gaining too, so I'm really passionate about facilitating the opportunity to volunteer.
Q: What does leveraging the creative talents, energy and power of youth for volunteer initiatives mean to you?
A: Every journey begins with a single step. When a young person takes their first step to volunteer, it can empower them to journey through life being deeply and actively involved in giving back and making their immediate community and the wider world a better place. And as I've already mentioned, community service is not just about giving, it's about gaining too. Volunteering offers our young people wonderful opportunities to learn new skills, increase their self-confidence and of course have fun and make friends.
Q: Why are women's leadership and empowerment important to you?
A: I've had fantastic opportunities in life. I had a great education, I have traveled widely and I've had a variety of intellectually stimulating and challenging roles in my career so far. I would never have had these chances if my mother's and my grandmother's generations hadn't stood up, spoken out, fought for women's rights and refused to take no for an answer. My generation, and coming generations, need to continue to take action to ensure that future generations of women will be defined only by their abilities and how they choose to use them, not by their gender, or other circumstances of their birth.
Q: Are there websites or books that are inspiring you right now about gender equality, women's empowerment and education?
A: I actually love some of the memes that are popping up online at the moment. They make us stop and think, and smile at the same time. This morning I saw one quoting Sheryl Sandberg: "I want every little girl who is told she is bossy to be told she has leadership skills." Another I enjoyed was, "Who's behind every great woman? That's right – no one. She has to get there by herself." And of course there's, "Ginger Rogers did everything that Fred Astaire did, except backwards and in high heels."
A longer version of this interview posted originally on the website of Women LEAD. If you are looking for volunteer centers in your area, search the map on the HandsOn Network website. If you're looking for specific volunteer opportunities, search AllforGood.org
Share this post