What Do You Get a President on His Birthday?
This post is by Tracy Hoover, president of Points of Light.
President George H. W. Bush started Points of Light with a single, disruptive idea: that every single person can change lives.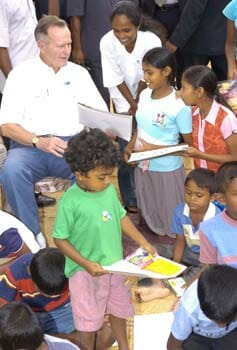 President George H. W. Bush reads to children during a visit to Sri Lanka. (Photo by Joe Reilly)
President Bush "didn't call for one blinding light shining from Washington," as President Obama said at Points of Light's 20th anniversary celebration a few years ago. "He didn't just call for a few bright lights from the biggest nonprofits. He called for a 'vast galaxy of people and institutions working together to solve problems in their own backyard.'"
President Bush inspired millions to serve, who in turn inspired millions more. "Think of all the people they touched and the lives they changed – and all those who were helped who went on to help others," Obama continued. "That's the extraordinary ripple effect that one life, lived humbly, with love for one's country, and in service to one's fellow citizens, can have."
Whenever I see President Bush, he asks me about points of light. And I know he's not asking about the organization. He's asking about the volunteers who are tackling tough community problems and finding lives of purpose and meaning through serving others.
On June 12, President Bush will celebrate his 90th birthday. Starting today, you can give him the one present he's sure to love: your pledge to serve.
Go to BeOne.PointsofLight.org and make a pledge to volunteer in honor of President Bush's lifetime of service. Let us know that you'll tutor a child, plant a community garden, serve at your local food bank – whatever you feel passionately about. When you pledge, a point of light will appear on a national map.
Please make your service pledge today and join this very special happy birthday chorus.
Click here to read about The Joy of Sox – an organization that will receive a Daily Point of Light Award on President Bush's birthday. President Bush, who founded the award during his presidency, made a special contribution to help The Joy of Sox provide socks to the homeless in Philadelphia.
Share this post