What Can You Learn About Entrepreneurship in Three Days? Plenty.
When you bring entrepreneurs together, ideas fly, networks grow and partnerships emerge. We got to see all three happen recently in New York during a three-day gathering of the spring 2014 class of the Points of Light Civic Accelerator.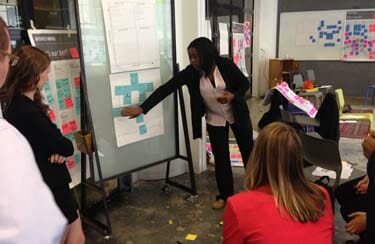 De Nichols of Catalysts By Design brainstorms solutions to gaps in her nonprofit's operations model with peer entrepreneurs in the Civic Accelerator.
Through the accelerator – a 12-week boot camp for entrepreneurs of startup ventures that aim to serve the greater good – 14 fledgling enterprises are learning from experienced leaders in various fields, and each other. Here's a taste of what happened in New York May 19 – 21.
Day 1: The Value of Collaboration
Have you ever seen Jeep drivers flash a peace sign to each other or motorcycle riders acknowledging each other with a head nod? If you don't live in their world, you probably wouldn't understand the rituals. The same is true of people who lead startups.
Obvious challenges, such as the development of company culture or the brand, are sometimes overshadowed by questions like, "Who's taking out the garbage this week?" or, "Can you expense that Uber ride?"
On this day we saw ventures working together, not only in offering their feedback and constructive criticism (which isn't always easy) but actually partnering on projects. Take Accountability Lab and tinyGive. Accountability Lab was looking for a way to generate a small amount of funding, while increasing digital awareness. Coincidentally that is what tinyGive does, so the two decided to launch a collaborative campaign.
Day 2: The Growth of a Network
The next day, the teams prepared for that evening's Investor Cafe at The Blackstone Charitable Foundation – one of the Civic Accelerator's significant partners. There, the ventures worked on their pitches and receive feedback from investors and industry connectors.
During a session with Alex Neckles of Impact Assets, participants learned about managing funder relationships. It's one thing to be able to comfortably talk about your passion with your supporters, but entirely different when it comes to investors and potential partners on the 40th floor of a Park Ave. high-rise.
It started off a bit awkward, almost like speed dating, but by the time it was over, the entrepreneurs all walked away with new, valuable connections and great, candid advice. Some were able set up a few meetings.
Day 3: Telling the Right Stories
Most of the workshops and breakout sessions revolved around the art of storytelling. On this day, the Civic Accelerator hosted an intimate talk with Michael Haberman, managing director, northeast region, global philanthropy, at JPMorgan Chase, on how to develop a brand that tells a story.
Haberman talked extensively about Chase's recent commitment to invest $100 million in Detroit over the next five years. The idea of doing the right thing, and finding the sweet spot between good business and good community investment, brought everything full circle.
Most of the ventures participating in the Civic Accelerator were started because committed entrepreneurs wanted to make a difference. Large or small, these startups began with an idea to make their communities and the world better, and that's a story worth telling.
What's Next
The Civic Accelerator now shifts its attention toward the conclusion of the 12-week program, during the Points of Light Conference on Volunteering and Service in Atlanta June 16 – 18. On June 17, the startups will show what they learned – and you can learn about what makes them special.
We invite you to join the country's most innovative civic startups and network with celebrity judges, local and national entrepreneurs, investors, and business and community leaders. For more information and to purchase tickets to this exclusive event, click here.
The Points of Light Civic Accelerator was launched in 2012, in partnership with Village Capital, and receives generous support from PwC Charitable Foundation and Starbucks Foundation, both founding partners, and from the Blackstone Charitable Foundation, SAP and the accelerator's official hotel sponsor, Hilton Worldwide.
Share this post