What the 2020 Civic Engagement Research Reveals for Businesses
"What's next?"
How many times have you asked yourself that question since March? Planning for social and civic engagement has become an art of "if-then" scenarios as companies and their employees, nonprofits, and communities respond to the pandemic and the mental health and economic damage it continues to create for so many people in neighborhoods around the world.
What if the answer to "what's next" was hope and action?
Perhaps we see a glimmer of that already. People are helping each other – whether it's marching for racial justice, showing up to food banks and food pantries, helping to bring internet connectivity to communities and gathering laptops for at-home learning, or making masks and lasagna to give to those in need.
To better understand the future of civic life and identify a path forward for businesses, nonprofits, and individuals, Points of Light and partners Carol Cone and Hart Research conducted a study, with generous support from AT&T, surveying adults in the United States about their attitudes, behaviors, barriers and motivations for civic engagement. In September 2020, Points of Light shared the results in a new report entitled "Civic Life Today: A look at American Civic Engagement Amid a Global Pandemic." This research offers the most current and comprehensive look into the state of civic engagement today, a universal desire to do more in the future, and how we can help convert good intentions into positive action.
How will businesses step up?
The research reveals the potential of this global health crisis to serve as a catalyst for a new era of civic engagement. It's an era where businesses like yours are expected to lead and serve in partnership with nonprofits and communities. Your Gen Z employees come with expectations for engagement and social action that is outpacing any living generation.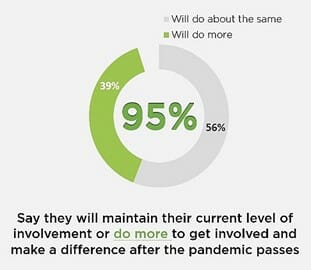 Business, organizations, and governments must prepare to meet this generation's high expectations for social responsibility. Not only is Gen Z the most likely to have decided about purchasing a product based on a company's social responsibility, but they are also most likely to consider a company's social responsibility when applying for or accepting jobs. Businesses stand to lose both customers and talent without robust civic engagement and social responsibility.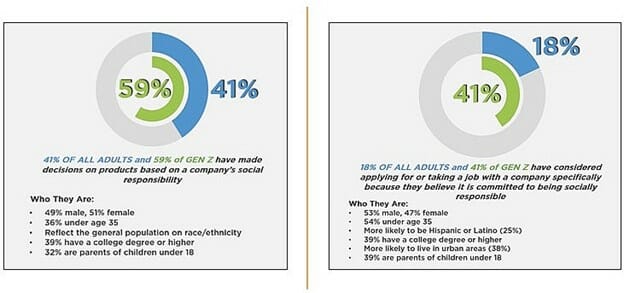 But, what does robust corporate civic engagement and social responsibility look like? In today's age of corporate social justice, employee welfare and empowerment are top priorities as presented in the chart below. Providing opportunities for interested employees to volunteer in their communities, perhaps alongside top executives, and offering matches to employees' donations of time and money are also important actions for any company that wants to promote civic engagement while also attracting and retaining talent and developing strong, positive relationships with their customers.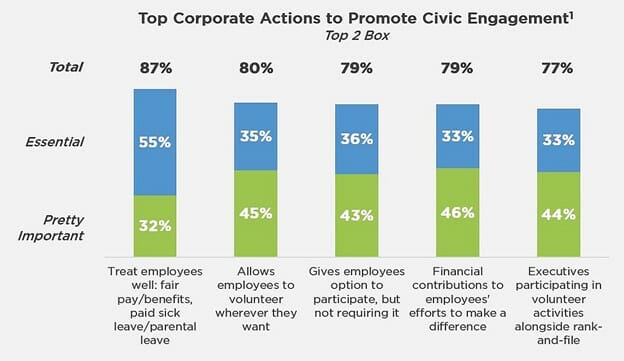 For 20 years, Edelman, a global communications firm, has studied the dynamic shifts in trust in the four major societal institutions: government, business, media and NGOs. The 2020 Edelman Trust Barometer indicates that 68% of respondents agree that companies can take actions that both increase profits and improve conditions where they operate. There is no longer any doubt that doing good can help a company do well – and this "if-then" statement is a clarion call to all business leaders.
Share this post