For the Win: Pennies FUR Pets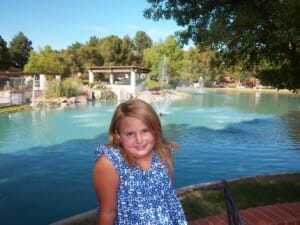 Today's post is written by Eleanor Schoenbrun, an 8-year-old from El Paso, Texas, who founded Pennies Fur Pets in October 2011.  Eleanor's goal is to help rescue animals find homes.  This story is republished from the White House For the Win series.
"Nineteen-Thousand Homeless Pets Killed in El Paso" is what the newspaper said. I read this in mid-September and could not believe that this many animals were killed in El Paso each and every year. I decided that I wanted to decrease that number. That's how Pennies FUR Pets was created.
Being only 8-years-old had some challenges. I could not drive myself or do things on my own. So I partnered my project with Make a Difference Day. My mom and I talked about how every penny could count towards saving an animal's life. We also talked about how I had to set a goal and how this was my project and I had to do the work and do it without giving up.
I set my goal for $2,500 and went to work. I asked my classmates to make posters since my school could not raise money and then I called the people in charge of Fall Carnivals, Dog Extravaganza and my local farmer's market, and I asked if I could go collect money at these events. Everyone said yes!  My aunt set up a Chip-In account online and got friends to support it through Facebook and Twitter – that was super! El Paso Times found out through a friend's parent and they wrote an article that really helped.
On October 22, 2011 I got up early and was at my local Starbucks Coffee where I stood for seven long hours in the hot El Paso sun. But I did it! I reached my goal of $2,500 and even went over and collected $2,705.26.
When I found out that I was a Make A Difference Day winner and that the award came with a $10,000 donation to my charity, I was so excited. I could help save 2,500 animals from being killed!
I am planning on keeping Pennies FUR Pets going as long as I can and making it bigger and better for next year. We already started a Facebook page and Twitter account to let more people know about it. Look out October 27, 2012, here comes Pennies FUR Pets year two!
Finally, I have decided that even the smallest person can make a big difference. Now if an 8-year-old can make a difference, what can you do?
Eleanor's Make A Difference Day efforts received national recognition in April and she was awarded a $10,000 donation for the Animal Rescue League of El Paso. USA WEEKEND'S Make A Difference Dayis proudly held in partnership with Newman's Own, Inc.and Points of Light.
Share this post