Jeff Hoffman
President
Jeff Hoffman & Associates, Global CSR, Philanthropy and Civic Engagement
Jeff Hoffman is an accomplished corporate executive who has served on the global stage. Through board and commission leadership roles, he has a distinguished history working with business, non-profit, civic and government agencies on strategic direction and innovative programs.  Jeff has a professional portfolio made up of four components:  His consulting business, Jeff Hoffman & Associates; Founding Leader of the Institute for Corporate Citizenship & Philanthropy; Corporate Governance; and Pro Bono Volunteering/Service.  
The Corporate Citizenship & Philanthropy Institute is part of the ESG Center at The Conference Board. Through convenings and research the Institute globally produces and disseminates timely, relevant, and thought-provoking content as well as actionable and trustworthy insights.  As part of his role leading the Institute, Jeff regularly moderates webcasts and podcasts, speaks, and writes on the evolving role of the corporation in society. 
Jeff Hoffman & Associates is a global corporate citizenship, philanthropy and civic engagement firm that enables businesses, organizations and individuals re-imagine a world full of purpose, hope, promise and opportunity while strengthening their own enterprise.     
Working at The Walt Disney Company for 31 years, Jeff most recently served as Vice President of Disney Worldwide Outreach.  In this role, he had global responsibility for Disney's philanthropy, community relations and cause marketing activities including its award-winning employee volunteer program, Disney VoluntEARS.   
Jeff's board memberships include Points of Light, California Commission on Service (California Volunteers), and the Center on Philanthropy and Public Policy at USC. He is a Leadership Fellow of the National Association of Corporate Directors.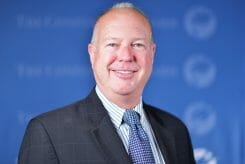 Get Involved & Light the Way