Advancing Social Impact Today: How Employee Champions Drive and Scale Social Impact Success 
Our Panel of Engagement Expert Answers Your Social Impact Questions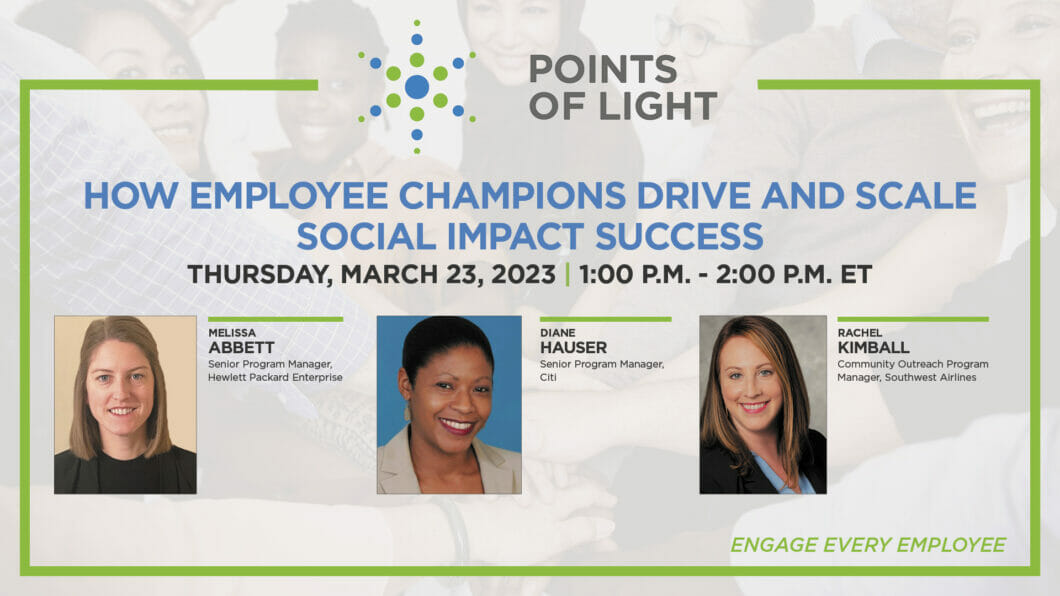 Register now for Points of Light's upcoming webinar, "How Employee Champions Drive and Scale Social Impact Success," on March 23, 2023, at 1:00 – 2:00 p.m. ET.  
As a leader in corporate social responsibility, you have likely experienced significant change since 2020, particularly when it comes to engaging your hybrid or remote workforce. Despite these changes, the importance of driving and scaling employee engagement programs across your organization has remained constant. There are many factors to consider when striving to promote and increase engagement. This webinar will provide valuable insights and strategies from industry experts so that you can strengthen your employee engagement program. 
Our Panel of Engagement Expert Answers Your Social Impact Questions 
Diane Hauser, senior program manager, Citi 

 

Melissa Abbett, senior program manager, Hewlett Packard Enterprise 

 

Rachel Kimball, community outreach program manager, Southwest Airlines

 
You may have wondered how effective the people-powered support mechanisms that companies implemented before 2020 are in reaching the social impact and business goals of today. Find answers to this and other pressing questions. Plus, you'll learn: 
Why people-centric models matter – especially in today's hybrid and remote working environments.

 

How to keep participating employees engaged and empowered.

 

Pitfalls to avoid and lessons learned.

 
BONUS! Download our new white paper to learn the answer and all the considerations that come with it. Plus, get eight best practices you can implement today with strategies including: 
How to establish expectations and role clarity.

 

Effective ways to support employee champions.

 

How to foster a sense of community.

 
For All Points of Light Media Inquiries