"GLOBAL VOLUNTEER MONTH" Celebrates Volunteers Throughout April and Shines a Light on the Importance of Civic Engagement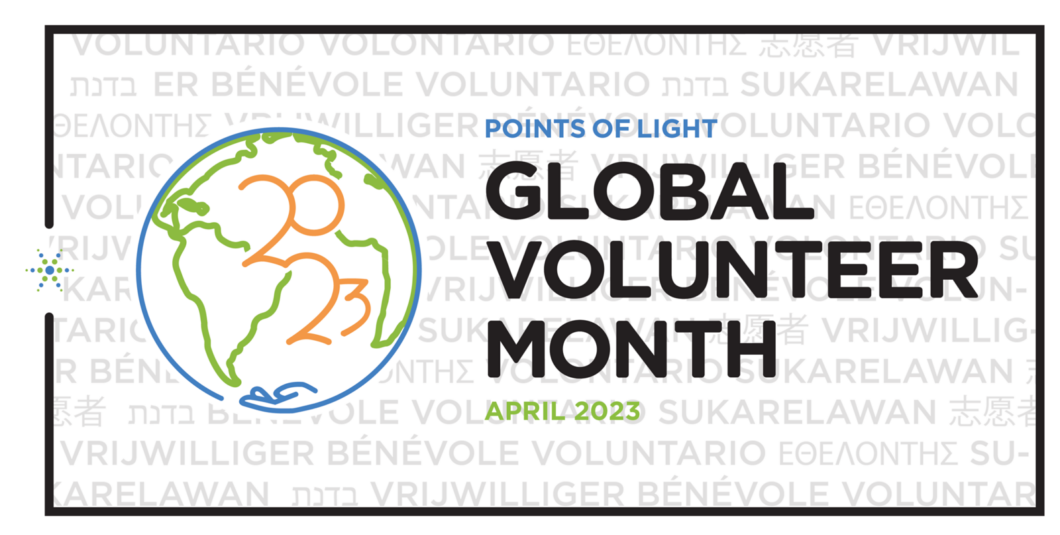 Global Volunteer Month, from April 1 – 30, 2023, is a time to recognize volunteers and people who actively support their communities, whether through volunteerism or other pathways to active civic engagement. There are many ways to live a full civic life. Now is the perfect time to make a plan to join the celebration, today and every day.
"Global Volunteer Month is an opportunity for companies and nonprofits to inspire individuals to action, share stories of those doing good, and create a pathway for continued engagement," said Diane Quest, Interim President & CEO, Points of Light. "Over the past four years since our inaugural Global Volunteer Month, we have seen people increase their commitments to doing good in their community and wanting to find ways to live a fully engaged civic life to create a just and equitable world. Points of Light continues to support companies and nonprofits in utilizing the power of people to do good and to shine a light on the individuals who creating change."
Points of Light research shows that 73% of people believe that volunteering is more important than ever, yet 66% think they can't make a big impact in their communities. To help address this challenge, individuals, nonprofits, companies and government officials can access a range of resources from Points of Light, including free toolkits with creative ideas to make the most of Global Volunteer Month. They can also visit Points of Light Engage, the world's largest digital hub of virtual and in-person volunteer opportunities, to discover what their local communities need and how they can help.
"I love volunteering because I get a lot of enjoyment out of being able to help anyone in need. Yes, there is a lot of hard work, but you know in the end, you're helping people and you're doing good work," said Daily Point of Light #6804 Chase Hartman, co-founder of read.repeat.
This year, Points of Light is partnering with leading sponsor Phillips 66 and supporting sponsor UPS to encourage individuals, nonprofits and corporate partners to recognize the power of volunteerism and inspire more people to engage in their communities. The campaign will also recognize individual action and celebrate inspiring stories of people who have stepped up to support their neighbors and communities.
Courtney Meadows, senior advisor of Social Impact for Phillips 66, said the company is proud to sponsor Points of Light and its mission to encourage volunteerism and civic engagement.
"Phillips 66 strongly promotes volunteerism and giving back to the communities where we live and work," she said. "It is a core value in our company and key to our mission of providing energy and improving lives."
Points of Light is also inviting everyone around the world to join the social surge to kick off Global Volunteer Month on Monday, April 3. This is a global effort on social media to create a buzz around volunteerism. It's easy to participate — anyone can join. Just use #GlobalVolunteerMonth and tag Points of Light on social media to become part of the movement.
Those who wish to participate in Global Volunteer Month are encouraged to use #GlobalVolunteerMonth on social media throughout April to share their experiences and inspire others to get involved.
About Points of Light 
Points of Light is a nonpartisan, global nonprofit organization that inspires, equips and mobilizes millions of people to take action that changes the world. We envision a world in which every individual discovers the power to make a difference, creating healthy communities in vibrant, participatory societies. Through 145 affiliates across 39 countries, and in partnership with thousands of nonprofits and corporations, Points of Light engages 5 million volunteers in 16 million hours of service each year. We bring the power of people to bear where it's needed most. For more information, visit pointsoflight.org.
About Phillips 66 
Phillips 66 (NYSE: PSX) manufactures, transports and markets products that drive the global economy. The diversified energy company's portfolio includes Midstream, Chemicals, Refining, and Marketing and Specialties businesses. Headquartered in Houston, Phillips 66 has employees around the globe who are committed to safely and reliably providing energy and improving lives while pursuing a lower-carbon future. For more information, visit phillips66.com and follow @Phillips66Co on LinkedIn and Twitter.
For All Points of Light Media Inquiries