Global Nonprofit Points of Light Announces Fifth Annual Awards Celebration to Recognize Mike and Jacquelyne Love, Condoleezza Rice, Robert F. Smith and Rebecca and Christyn Taylor and Honor President George H.W. Bush's Legacy of Civic Engagement
The George H.W. Bush Points of Light Awards Celebration will be held on October 26, 2023, at the Ronald Reagan Building and International Trade Center in Washington, D.C.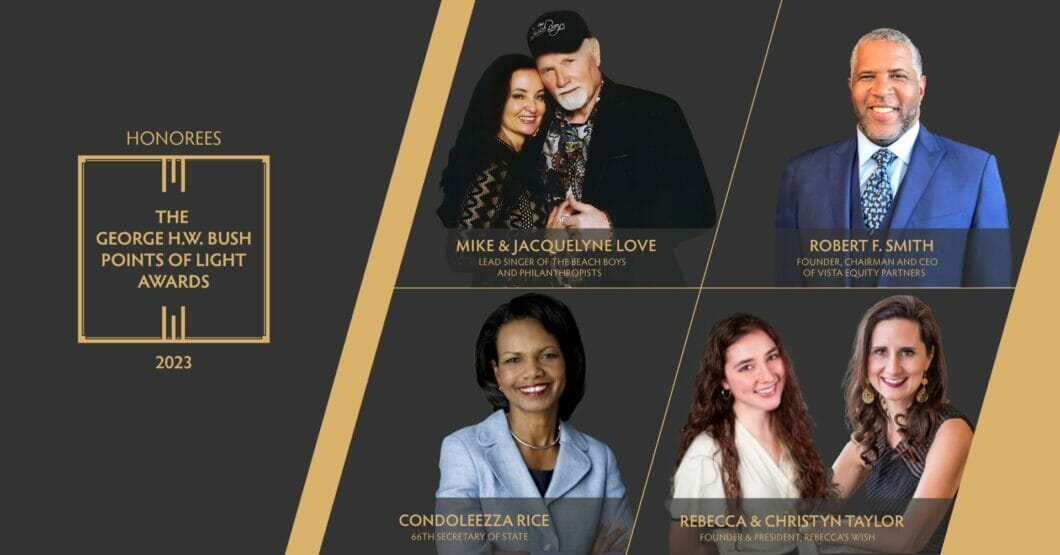 Points of Light announces its fifth annual celebration of The George H.W. Bush Points of Light Awards to recognize Mike and Jacquelyne Love, Secretary Condoleezza Rice, Robert F. Smith and Rebecca and Christyn Taylor. The event honors the legacy of President George H.W. Bush and individuals who have demonstrated the transformative power of service to drive significant and sustained impact through their everyday actions.
"Our honorees this year model what a life of service looks like, from turning challenges into triumphs, using their voice, and becoming leaders who uplift others," said Diane Quest, Points of Light interim president and CEO. "It's an honor to recognize Mike and Jacquelyne Love, Secretary Condoleezza Rice, Robert F. Smith and Rebecca and Christyn Taylor, all of whom are a bright light in this world. We hope their stories inspire others to take action that positively impacts their community."
Former Presidents Bill Clinton, George W. Bush and Barack Obama will once again serve as honorary co-chairs, with Marie and Andy Unanue and Alan H. Fleischmann and Dafna Tapiero serving as co-chairs. Previous honorees of The George H. W. Bush Points of Light Awards celebration include José Andrés; Maurice R. "Hank" Greenberg; Maria Rose Belding; Marc and Lynne Benioff; Garth Brooks; Captain Sir Thomas Moore; Khloe Thompson; Hamdi Ulukaya; Shreyaa and Esha Venkat; Hugh Evans; Francine A. Lefrak; and Bryan Stevenson. The George H.W. Bush Points of Light Awards honors outstanding individuals advancing solutions in ways that demonstrate the extraordinary traits of America's 41st president: integrity, empathy, respect, optimism, conviction in the face of opposition, and belief in the power of the human spirit to create positive change.
ABOUT THE GEORGE H.W. BUSH POINTS OF LIGHT AWARDS HONOREES
About Mike and Jacquelyne Love
Mike and Jacquelyne Love have a long and inspiring history of philanthropy and have incorporated this tenet into every aspect of their professional and personal lives.
Mike Love, a member of the Rock and Roll Hall of Fame, is the lead singer and a founding member of The Beach Boys and longtime supporter of environmental and educational causes. Jacquelyne Love is a businesswoman, accomplished philanthropist, interior designer and fashion designer.
In 1990, Mike Love was the first artist to respond to President George H.W. Bush's call for service as part of the thousand Points of Light initiative. He later performed at the inaugural celebration of The George H.W. Bush Points of Light Awards in 2019 where he and Jacquelyne served on the steering committee.
More than 20 years later, the Loves continue their commitment to a wide variety of causes from youth empowerment to health education to environmental causes. The Beach Boys have served as a pathway to pairing music and philanthropy, bringing resources to historically underserved people and communities.
"President George H.W. Bush has been a tremendous inspiration," said Mike Love. "His legacy will forever shine through Points of Light, which inspires people from all walks of life to improve the lives of others through their personal efforts. Jacquelyne and I continue to be inspired by President Bush's unbounded love for others, and we will carry the torch forward to the best of our ability, recognizing that love is the most powerful weapon we've got. We are honored, humbled and grateful to be among this year's award recipients."
About Secretary Condoleezza Rice
Secretary Condoleezza Rice has led a life of service. In every role she has taken on, her devotion to public service and volunteerism has shone through. She currently serves as the Tad and Dianne Taube Director of the Hoover Institution at Stanford University, where she also serves as a Senior Fellow. She is the Denning Professor in Global Business and the Economy at the Stanford Graduate School of Business. In addition, she is a founding partner of Rice, Hadley, Gates & Manuel LLC, an international strategic consulting firm.
From January 2005 to January 2009, Rice served as the 66th Secretary of State of the United States, the second woman and first black woman to hold the post. Rice also served as President George W. Bush's Assistant to the President for National Security Affairs (National Security Advisor) from January 2001 to January 2005, the first woman to hold the position.
From February 1989 through March 1991, Rice served on President George H.W. Bush's National Security Council staff. She served as director, then senior director, of Soviet and East European Affairs, as well as special assistant to the President for National Security. In 1986, while an International Affairs Fellow of the Council on Foreign Relations, Rice also served as special assistant to the director of the Joint Chiefs of Staff.
A sports enthusiast, in 2022, Rice became a part-owner of the Denver Broncos as a part of the Walton-Penner Family Ownership Group. In 2013, Rice was appointed to the College Football Playoff Selection Committee, formerly the Bowl Championship Series. She served on the committee until 2017.
Born in Birmingham, Alabama, Rice earned her bachelor's degree from the University of Denver; her master's from the University of Notre Dame; and her Ph.D., from the Graduate School of International Studies at the University of Denver.
"It is especially meaningful to receive this recognition that honors the legacy of President George H.W. Bush who taught me the value of relationships and what it meant to be a good public servant," said Rice. "He led a life dedicated to public service and finding solutions to the most challenging problems facing our country. I am grateful to Points of Light for this important celebration."
About Robert F. Smith
Robert F. Smith is the founder, chairman, and CEO of Vista Equity Partners. Since Vista's inception, Smith has supervised over 590 completed transactions representing more than $290 billion in aggregate transaction value.
Smith is the founding director and president of the Fund II Foundation, dedicated to preserving the African American experience, safeguarding human rights, providing music education, and preserving the environment while promoting the benefits of the outdoors and sustaining critical American values.
In 2017, Smith became the first Black American to sign the Giving Pledge. His gift of $20 million was the largest by an individual donor to the National Museum of African American History and Culture.
In 2019, Smith made headlines by announcing in his commencement address to Morehouse College's Class of 2019 that he would cover the entire class's student loan debt. After his Morehouse pledge, Smith founded Student Freedom Initiative to relieve the crushing burden of student debt for STEM students at all HBCUs and other Minority Serving Institutions (MSIs).
Smith also has been a strong advocate for what he has named the 2% Solution, calling on large corporations to commit 2% of their profits for the next decade to empower minority communities. He also co-leads Southern Communities Initiative, a catalytic program for racial equity across six southern communities representing half of the Black population in the U.S.
"It is an honor to receive this award conceived in the image of a generational figure. Former President Bush was a beacon to so many around our country, and the world, of the progress that could be achieved when purpose meets dedication," said Smith. "While he is no longer with us, his spirit continues to guide our sense of social responsibility to one another. I am honored to receive this award for our continued efforts to promote social and economic justice across Black communities. This celebration will be a moment to take stock of how far we have come and recommit ourselves to scaling our individual and joint efforts."
About Rebecca and Christyn Taylor
Rebecca Taylor is a Brown Scholar at Texas A&M University studying biomedical engineering. Upon graduation, she intends to pursue a graduate chemistry degree at Harvard University and then fulfill her scholarship by attending Texas A&M's Engineering 2 Medicine (EnMed) medical school program.
At the age of seven, Rebecca was diagnosed with chronic pancreatitis, a painful, debilitating disease with no known cure. As a result of her medical challenges, Make-A-Wish offered Rebecca a wish to go anywhere, meet anyone, or see anything. With the support of her family, she asked to start a 501(c)3 nonprofit called "Rebecca's Wish" designed to support children with pediatric pancreatitis. With Rebecca as the founder and her mother, Christyn Taylor, as president, the nonprofit has raised over $3,000,000 to date and has started programs to support countless children around the United States. Rebecca continues to live in and out of the hospital with her disease, but her focus never sways from helping medically fragile children in need.
Christyn is on the Executive Board of Directors for the National Pancreas Foundation and has participated for years on the Friend's Board of the Ronald McDonald House. Christyn is a medical advisor and advocate and speaks on behalf of numerous organizations, hospitals and medical schools. In her spare time, she authors medical research papers, curricula and books. Christyn is a 1998 graduate of Texas A&M University with honors. She resides in San Antonio with her husband and three incredible children.
"On behalf of children suffering with pancreatitis around the world, Rebecca's Wish is honored to receive The George H. W. Bush Points of Light Award," said Christyn Taylor. "As Texans, this award is especially meaningful to us given our lifelong admiration and respect for President Bush. This recognition acknowledges that great purpose can evolve from great adversity. It is a distinct privilege to be chosen for this very special award."
For more information on The George H.W. Bush Points of Light Awards celebration, please visit pointsoflight.org/bushawards/bushawardscelebration-2023.
ABOUT POINTS OF LIGHT
Points of Light is a global nonprofit that inspires, equips and mobilizes millions of people to take action that changes the world. Through our Global Network of 145 leading social impact and volunteer-mobilizing organizations operating in 39 countries, and partnerships with hundreds of non-profits and corporations, Points of Light engages 3.7 million volunteers in 16.7 million hours of service, contributing $498.7 million of value in people power into communities around the world. To learn more, visit pointsoflight.org.
For All Points of Light Media Inquiries