After Personal Loss, Teen Founds "Rally" Chapter at College to Battle Childhood Cancer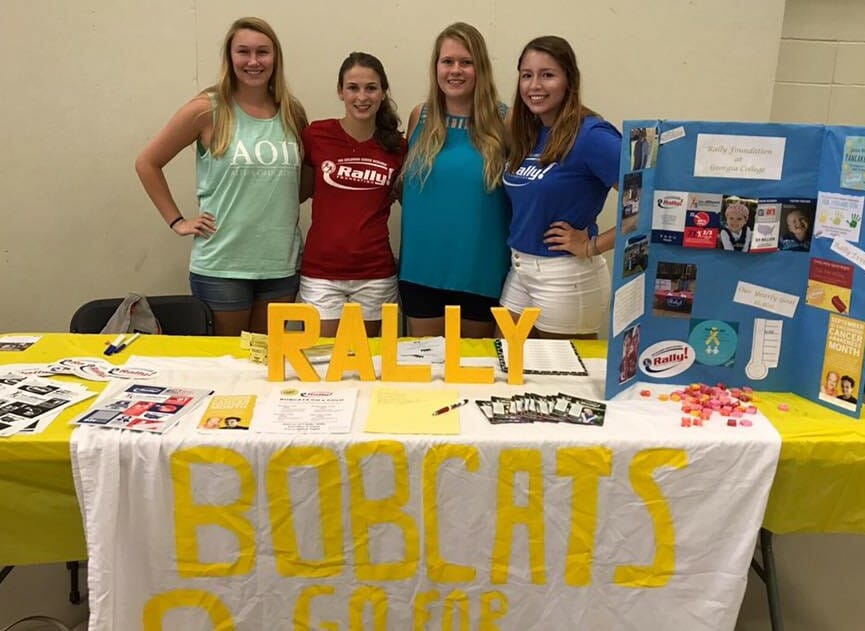 As her babysitter, Hannah Posthauer had a close relationship with a little girl named Hailey. Watching Hailey battle and eventually lose her fight to cancer, the now 22-year-old Hannah realized she wanted to take action on a larger scale on behalf of the 28 children diagnosed with cancer each day.
Launching a chapter of the Rally Foundation at Georgia College, Hannah was able to organize and fundraise on her college campus through Rally Foundation, all in the name of funding research for children fighting for their lives against cancer.
Having raised over $5,000 and hosting over 18 events, Hannah is making a difference in her community by raising money and awareness for pediatric cancer victims and research, and is today's Daily Point of Light award honoree. Points of Light spoke with Hannah to learn more about her work with Rally Foundation at GCSU.
What inspires you to volunteer?
Helping children. I like to be able to serve people in many different ways, knowing I'm making a positive impact.
Describe your volunteer role with Rally Foundation at GCSU.
As I've recently graduated, I handed off leadership of the chapter – they are doing great. I am doing most of my service work through Rally Foundation's young professionals group. Our goal is to raise $50,000 by March of 2019 through a series of events.
What's been the most rewarding part of your work?
Encouraging others to be passionate about volunteerism and fighting pediatric cancer in general. For these individuals, who didn't start off knowing about Rally or the statistics on pediatric cancer, to see them get involved, and begin fundraising, was something I really enjoyed. Not just making a difference myself, but empowering someone else to make a difference as well.
What have you learned through your experiences as a volunteer?
Rally has just made me much more confident and willing to go after things that I wouldn't normally do. I'm super introverted, but Rally has given me the opportunity to take on leadership positions and accomplish more than I ever thought possible.
Are there any future partnerships, programs, or events that you are excited about?
September is Childhood Cancer Awareness month, we'll be planning several events around that month. Please watch our website for more information: https://rallyfoundation.org/.
Why do you think it's important for others to give back?
Any sort of volunteering or getting involved really encourages personal growth. Service makes you a more well-rounded person, and people find strength they wouldn't have seen in other ways.
What do you want people to learn from your story?
We are small but mighty. It doesn't take a ton of money, or people, or energy to start something that you're passionate about.
What does the word "rally" mean to you?
A chance for other treatments. A chance for a cure.
Do you want to make a difference in your community like Hannah Posthauer? Visit All For Good for local volunteer opportunities.
Post written by Marlena Militana.
Share this post