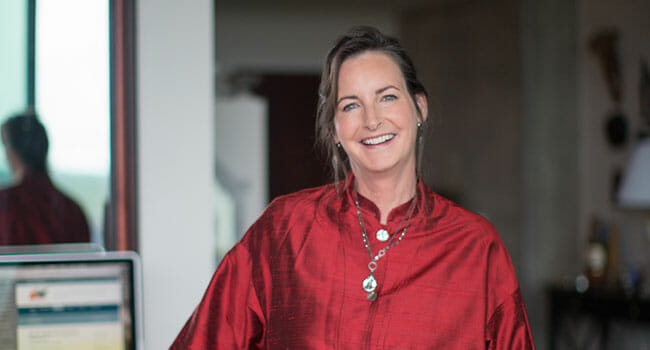 Today's Daily Point of Light Award winner, Alison O'Neil, was recognized by L'Oréal Paris and Points of Light as a 2015 Women of Worth honoree for her extraordinary efforts to ensure that senior citizens continue to thrive. Nominate an inspiring woman who is creating change in her community to be one of this year's Women of Worth.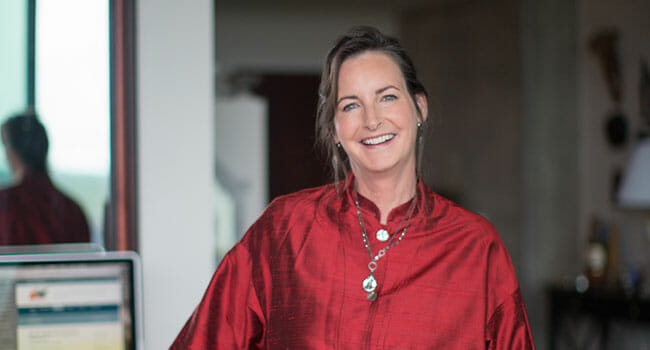 Alison O'Neil, founder of the Beauty Becomes You Foundation.
"My career focus has been the psychology of appearance and how we feel about the way we look when we lose our appearance to trauma, age, or congenital deformity. I've learned a lot about the value and importance of touch – especially among older people from the time I spent with my father when he was in hospice care."
Alison O'Neil provides a variety of cosmetic hygiene services for senior citizens who aren't able to secure these services themselves. In her professional life, O'Neil is considered a pioneer in the practice field of Medical Esthetics and Aesthetic Rehabilitation. She continues to share pearls of clinical & counseling wisdom with lay people and professionals internationally. She is confronting a new aging frontier and developing a specialty called Geriatric Aesthetics© to ensure that senior adults thrive.
When people aren't touched, Failure to Thrive Syndrome sets in – and it's common among older adults.The condition can affect a significant number of senior citizens in a variety of living situations, especially if they've lost a spouse or have had children move away. Alison created the Beauty Becomes You Foundation to combat this issue. Using her cosmetics and beauty industry experience, she provides services designed to maintain and improve appearance, as well as augment self-esteem, self-confidence and personal pride.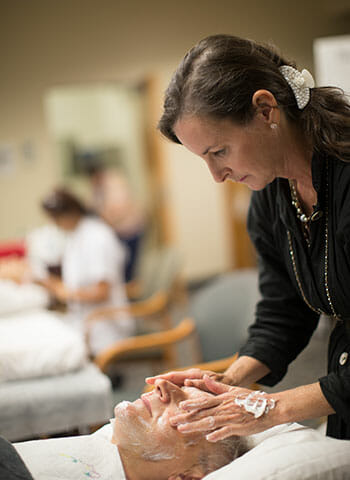 A senior receives a facial treatment from Alison.
Through BBYF, O'Neil has provided, with the help of 25 to 75 volunteers per program, more than 15,000 services, amounting to approximately $750,000, to roughly 7,000 men and women since starting operations in 2006. Depending on the size and location of individual programs, called Days of Timeless Beauty, between 25 and 350 senior citizens can receive services. During these events, seniors can choose to receive three of five beauty services: manicure, pedicure, massage, haircut and facial. Some volunteers also offer ancillary healthcare services, such as blood pressure checks and foot care for diabetics. Photographers often take "after" pictures, and, when possible, seniors attend a cocktail party after receiving services.
Up to 35 percent of senior-community residents experience Failure to Thrive Syndrome, as do up to 40 percent of nursing home residents and up to 60 percent of hospitalized veterans. BBYF provides services in both senior centers and senior communities. Alongside providing beauty services to enhance a senior's appearance, volunteers offer the gift of conversation and touch. BBYF created a volunteer program that allows spa and salon professionals to donate their time and products to enhance the health and well-being of senior citizens.
O'Neil believes BBYF is innovative because it focuses on bolstering self-esteem and confidence among senior citizens – a population that is frequently forgotten. Using her 30 years of expertise in the cosmetics and beauty industry where she has worked as a cosmetologist, aesthetician and educator, she has collected a cadre of spa and salon professionals willing to donate their time daily or weekly to the organization's mission. Together, they offer services that many seniors can't afford on their own while supplying social engagement. Volunteers can also complete a specialized training program to earn a Geriatric Aesthetics© certification and receive local and national recognition as a "BBYF Senior Select® Service Provider."
Because O'Neil learned the importance of touch while caring for her father during his time in hospice, she is focused on ensuring seniors don't live lives devoid of caring, touch and engagement. To her, physical beauty isn't about vanity – it's about identity. Helping seniors feel more like themselves increases the likelihood that they'll feel as though they have purpose and meaning.
"This isn't just about giving these men and women manicures and pedicures and saying, 'Don't you look beautiful?' We're touching them out of kindness. We're building trust and creating a bond between individuals."
"It is a sense of integrity that drives me not only to serve, but also to serve well, and to continue with the passion I originally had to start this. I pay attention to the words that people say to encourage us. So, I'm encouraged and driven by that. I've chosen to devote myself to touch lives in so many different ways – that makes the worthy person I'm trying to be."
Martha Fortson, administrative manager, Dorothy C. Benson Senior Multipurpose Complex, a senior center that frequently hosts BBYF says, "Alison brings together beauty industry professionals to serve seniors who might not have had any person touch them since their spouse died or children moved away. She offers services that many can't afford and many wouldn't think of on their own. She's bringing them back to life."
If you know a woman who works to create lasting and significant change in her community, nominate her to be one of the 2016 Women of Worth.
Share this post