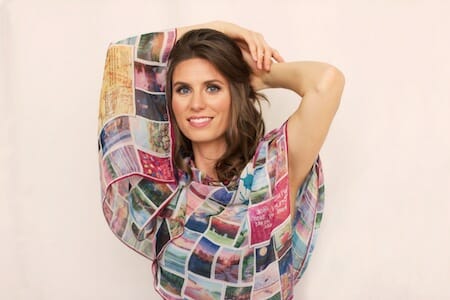 Meet Daily Point of Light Award honoree Anne Kubitsky. Read her story and nominate an outstanding volunteer or organization as a Point of Light.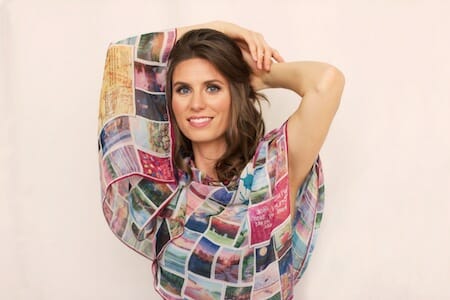 Anne Kubitsky wears the Look for the Good scarf, proceeds from which benefit the Look for the Good Project.
Anne Kubitsky's personal struggles led her to search for life's deeper meaning.
The 32-year-old artist experienced a traumatic sexual assault when she was just 15. She didn't tell anyone.
Instead, she tried to cover up her feelings of brokenness with nonstop activity that included biking 3,600 miles cross country for charity, hiking in the wilderness of Alaska and visiting the sacred places of India.
Her mother, a former Catholic nun and a war refugee, taught her to question the world around her. The problem was – she wasn't finding any answers.
"In a way I guess I was trying to prove that I was tough, but it didn't work," recalls Kubitsky, who has degrees in marine biology and philosophy. "I started having anxiety attacks, questions about God and religion and my belief system. I just didn't know why this was happening to me."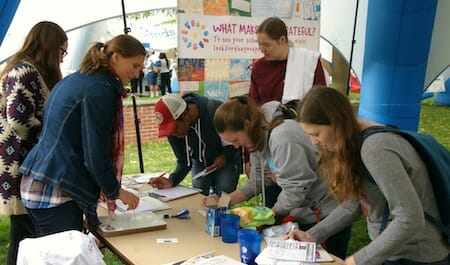 Look for the Good volunteers staff a suicide prevention booth at the Jordan Porco Foundation's Fresh Check Day. (Photo courtesy Corey Hudson)
In 2011 on a whim, Kubitsky started leaving blank postcards around her Connecticut town, addressed to herself, with an invitation for the finder to write, draw, tape, cut, paste or sew onto each card something for which he or she was grateful and to put the card in the mail.
"It was random – I was looking to connect with other people, to find a glimmer of gladness in a bleak world," she recalls.
Counting your blessings and expressing gratitude can improve your life, according to recent studies. From improved physical and psychological health to stronger relationships and a better night's sleep, feeling grateful can make your world a better place.
The flood of response to her postcard project grew into a website to showcase the replies she was getting from all over the country and the world, more than 20,000 as of last count.
Always service minded, Kubitsky formed her own nonprofit, the Look for the Good Project, run on a shoestring budget dependent on volunteers.
Initiatives range from anti-bullying workshops to a photo-driven book series, postcard art installations in hospitals and joining forces with other organizations on service trips to places such as Brazil and Cuba.
The Look for the Good Project has touched some 147,300 lives, through 116 programs, with service to 4,430 students.
Finding gratitude from the stories of others, Kubitsky's despair was replaced with grace.
"I realized that if I wasn't acting out of a place of love, my service was coming from a place of a fear," she says. "This work has helped me heal."
Share this post
---