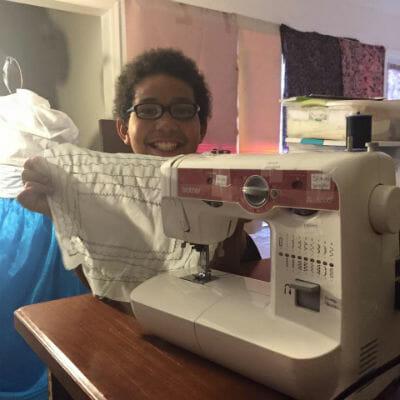 Meet Daily Point of Light Award honoree Xavier Elliot. Read his story and nominate an outstanding volunteer or organization as a Point of Light.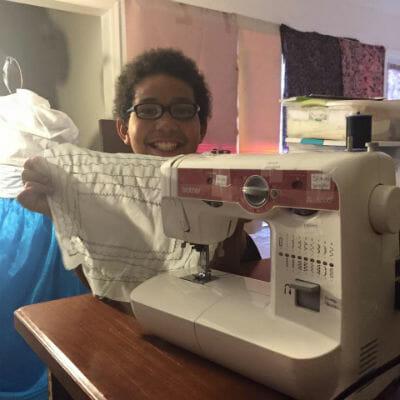 Xavier Elliott shows his stitching after practicing how to sew straight lines.
Xavier Elliott has been through more than most 10-year-olds.
He spent his first five years living in homeless shelters. His father served in Iraq a year before Xavier was born and came home with severe post-traumatic stress disorder. When he couldn't get the help he needed, he turned to self-medicating and the family lost everything.
"On top of that, Xavier had four major surgeries by the age of 8," two of them for a club foot, says his mom, Stephanie. "He knows what pain is. He's lived it."
Although it's been a tough road, the family, which now includes Xavier's siblings Vincent Jr., 6 and Eliza, 3, is now doing much better. The Elliotts have their own place in Phoenix and Xavier's dad has been sober for almost three years.
Both Stephanie and her husband volunteer, he with the Honor Guard and she as founder of Arizona Veteran Families, a nonprofit that helps veterans find the resources and support they need.
Xavier wanted to make a difference, too. This past summer, when he was sitting with his mom as she was sewing some items for veterans' wives, he said he wanted to do something similar.
"He told me he wanted to start saving his allowance to buy fabric and make clothes for homeless kids," Stephanie recalls. "I was in shock."
She taught him the basics of sewing and he's been making shorts, skirts and dresses for homeless kids ever since. He's working on mastering the art of the zipper, which will expand his options. When asked if he might be a "Project Runway" contender when he gets older, Xavier says maybe so.
"I like putting things together," he says.
The clothes he makes go to local shelters, including the Salvation Army, Crisis Nursery and UMOM New Day Center – one of the largest family homeless shelters in Phoenix.
His mom made him a Facebook page, which has inspired donations to his fabric fund.
"What I didn't like about being homeless was not having my own stuff, my own clothes," Xavier says. "I want to help kids who are like me. We have so much stuff now, I want to give to other kids."
Share this post