Arizona Teen Makes it His Mission to Warm the Hearts, and Feet, of Service Members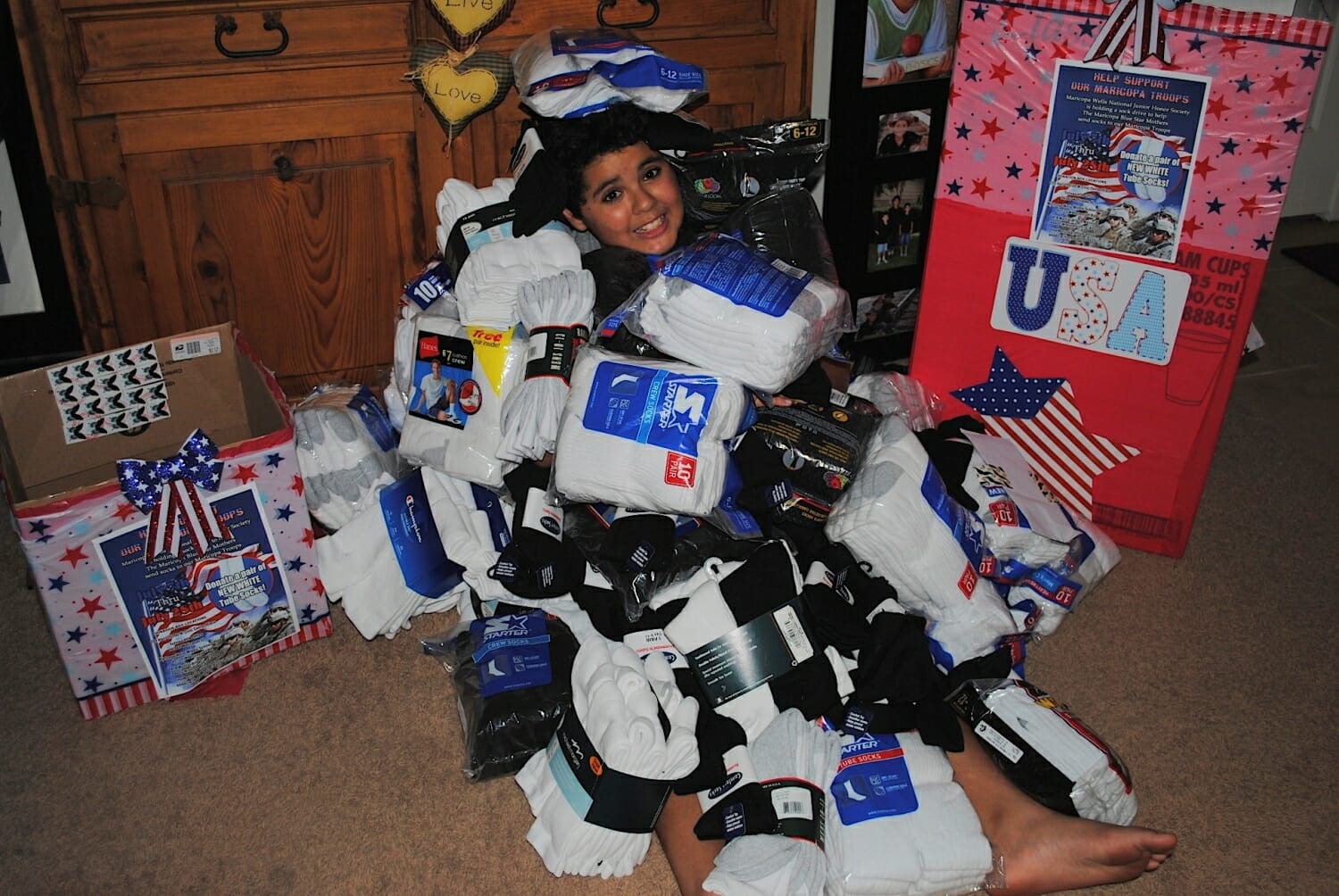 Evan Grace was just 13 when he started volunteering for The Blue Star Mothers, a non-profit organization that supports families with members in the military, troops, veterans and families of Fallen Heroes. Whether it's organizing a sock drive, packaging toiletries or collecting Halloween candy for deployed service men and women, Evan is inspired to make a difference. He also serves on the Arizona Governor's Youth Commission, participates in Relay for Life, has earned the President's Volunteer Service Award twice, and was honored as the local Chamber of Commerce Volunteer of the Year. He just turned 16.
Evan is today's Daily Point of Light Award honoree, and Points of Light spoke with him about his service work and why he feels it's important to give back.
What inspires you to volunteer?
My mom got me started. She took my brothers and I to Welcome Home events run by The Blue Star Mothers for members of the military, and I saw that we really made the troops happy by being there. I like to think about a deployed soldier opening up a care package, about making them smile. I imagine they would be happy they have people supporting them while they're out there supporting us.
Describe your volunteer role with The Blue Star Mothers?
We were at one of the Welcome Home Events and I overheard them saying they needed socks for care packages. So we had the idea to have a sock drive. Since then I have hosted a few drives in my community to collect socks, toiletries, candy and letters.
How successful was your first sock drive – how did you do it?
It was really great, I can't even say how many socks we collected. I think they still have some left and that was three years ago! We made boxes and put them in different locations, at stores that kind of thing. Then I posted about it on Facebook. That method worked, so that's how we do other kinds of drive too.
Why is it important to you to recognize members of the military in this way?
I feel it's the least we can do for them, after all the sacrifices they make for us.
Why do you think it's important for others to give back?
You can't just receive all the time. When I first started volunteering, I thought about all the stuff I have. I'm really lucky to have enough of everything I need, more than enough. But there are more than 7 billion people on the earth, all of them can't have all that stuff. You never know what people are going through. I think it's my duty to give back to my community and work to better my community.
What's been the most rewarding part of your work?
The fact that I know that I am making a difference and making other people happy. I've learned a lot of skills too. Volunteering opens up a lot of different opportunities. I've especially learned leadership, how to help out at events, use social media to get things done.
Has your age ever been an issue as a volunteer?
I have learned, and hope to show others, that age does not matter. You can and should make a difference at any age. When I was 13, there was a program called the Youth Council – I wanted to be involved, but I was too young. I asked them to change the age for me, and they did. That got me involved with doing volunteer work with the city and I was just honored as Chamber of Commerce Volunteer of the Year. This was the first time someone my age had ever been nominated.
Are there any future partnerships, programs, or events that you are excited about?
I am starting my second term serving on the Arizona Governor's Youth Commission. It's similar to Youth Council but on a larger scale. We focus on youth issues in Arizona and are now working on road signs to address distracted driving. I also am looking forward to my fifth year participating in The American Cancer Society's Relay For Life. I want to inspire more young people to join in and participate so we can work towards a cure.
What do you want people to learn from your story?
I hope to encourage more people to be active in their communities and volunteer to make a difference. When we work together, great things can happen. And it makes me feel good to make my mom proud.
Do you want to make a difference in your community like Evan? Visit All For Good to discover local volunteer opportunities.
Share this post