Believing in Food Security for All, New Jersey Volunteer Provides Allergy-friendly Food to Communities in Need
Meet Daily Point of Light Award honoree Shreya Shivakumar. Read her story, and nominate an outstanding volunteer or family as a Daily Point of Light. 
Like many immigrant families who must build a completely new life in a completely new land, Shreya Shivakumar's family often faced financial instability and food insecurity as they worked hard to adjust from their life in India to their new American life in the Washington Heights neighborhood of New York.  
As Shreya saw her parents and neighbors struggle to keep food on the table, she didn't feel defeated. Rather, a fire for food equality was lit inside of her. After moving to Edison, New Jersey, in 2012, Shreya started volunteering at food banks, and after quickly realizing that she wanted to do more, she started her own nonprofit organization called Nourish America at age 15.  
An estimated 2 million Americans live in poverty with food allergies or Celiac disease, according to Allergic Living. Federal assistance programs such as SNAP do not provide enough financial resources for families to afford gluten-free or allergy-friendly foods, which are often higher in price. Shreya, now a  19-year-old second-year college student, is working to solve this problem by hosting fundraising events and food drives for allergy-friendly foods through Nourish America and donating them to food pantries so people in need can easily access them.  
What is Nourish America, and what inspired you to start it?
Nourish America is a nonprofit organization dedicated to providing allergy-friendly and organic food to communities in need. It was really born out of the idea that giving back and fighting hunger needs to focus more on nourishing the people who need it the most rather than simply feeding. We focus on donating to under-resourced communities all across the U.S., and our donations typically consist of nonperishable, organic, nutrient-dense, healthy foods appropriate for multiple cultures, appropriate for children, for people with other food-related conditions such as diabetes, so that everyone who needs food assistance can receive it.
What's been the most rewarding part of your work? 
One of the great privileges of this work is directly interacting with the families that we help and talking to them. They show their gratitude, surprise and happiness once they realize the new options that are available to them. They'll tell me stories about how their child who is allergic to peanuts can now have sunflower butter or how their elderly parent who cannot have that much sugar now has this lower sugar alternative, so these individual stories of how Nourish America is giving these families a little less to worry about. I'm really proud of that.  
What kinds of events do you hold to fundraise money and donations? 
We typically did food drives partnering with community organizations, but with COVID-19, it became kind of a safety hazard to directly collect food, so we transitioned to online fundraisers. Our biggest fundraising event is a youth-led benefit concert called "Notes for Nourish." We had an in-person concert in 2019 that had a great turnout. Many youth musicians volunteered their talents, and we had a great attendance. In the years since COVID-19, 2020 and 2021, we continued to do that same event in a virtual format on YouTube and getting donations from that.  
What has the impact of Nourish America been so far? 
With a combination of fundraising and grants, we've raised about $12,800 so far and donated 4,500 pounds of organic and allergy-friendly foods.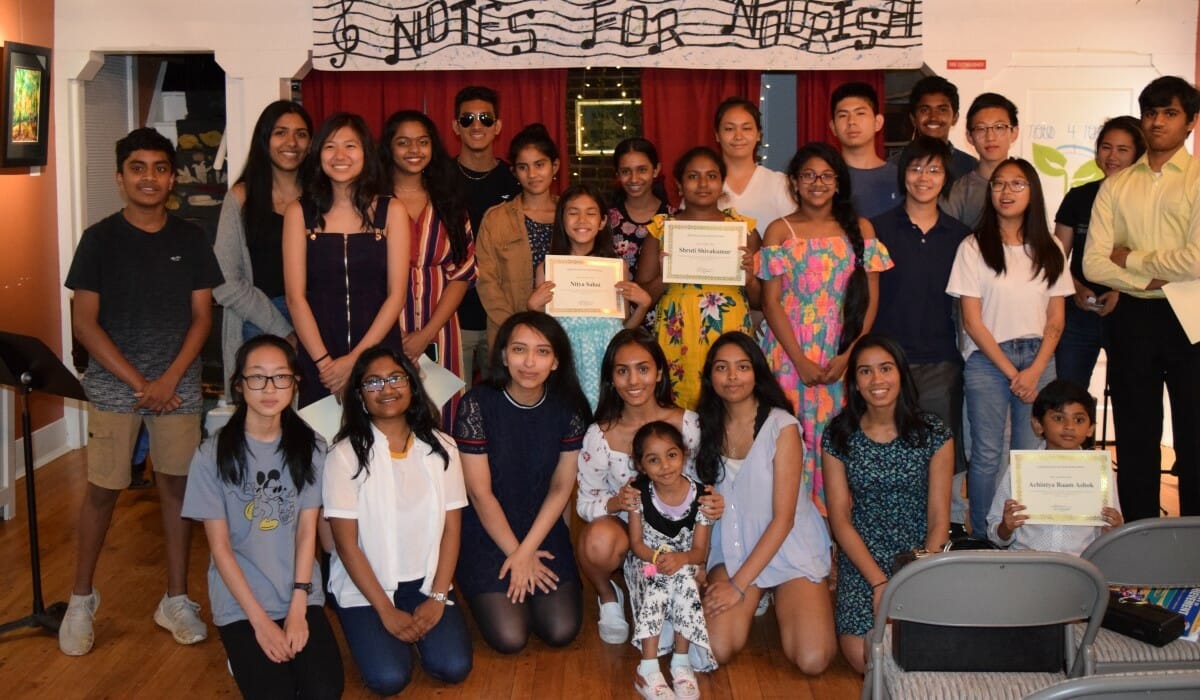 Do you have a volunteer experience that's been especially memorable? 
Before Covid, I was volunteering with a refugee assistance nonprofit in New Jersey, mainly tutoring refugee children English and Math on Sundays. When COVID hit, their families suffered financial troubles due to layoffs and just economic turmoil because of the pandemic, so the president of the organization reached out to me to see if our organizations could partner up to provide food assistance to these refugee families. We conducted our first online benefit concert with other youth organizations in our area and raised enough money to provide 400 refugees with weekly donations over a couple of months in the spring of 2020.  
Are there any future partnerships, programs or events that you are excited about?
Our efforts are typically focused in New York and New Jersey, but recently, we've expanded to Michigan, and this coming year, we're going to partner with food banks in Atlanta, Georgia.  
What do you want people to learn from your story?
I would like people to learn how to give back in a way that stays true to yourself, your roots and your authentic experiences. No one can represent that as accurately as yourself, so I hope that everyone realizes that they have a unique power in their own experience, their background, their lives to make a change in a way that they can only do themselves.  
Do you want to make a difference in your community like Shreya? Find local volunteer opportunities. 
Share this post