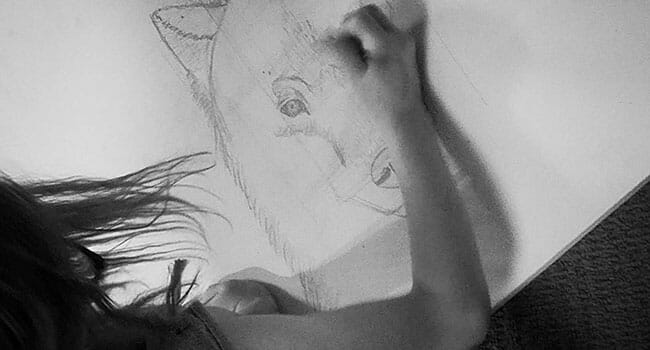 Bria Neff hears voices.
The 9-year-old Sioux Falls resident is tuned into a frequency not everybody wants to hear, a channel powered by a great loss and need, a hue and cry rising up from far flung corners of the earth. "If I was queen of the world, I would give every animal a voice," says the pint-sized artist, who does just that through her portraits of endangered and threatened species.
Bria has been painting penguins and wolves, gorillas and elephants since she was eight. And in less than a year, through Pigtails Art, the website her mom Amity Shay Neff set up, the sale of those paintings has raised more than $1,600 for the International Fund for Animal Welfare, a nonprofit that aims to rescue and protect animals around the world. Her efforts have garnered some 1,400 followers on her Facebook page, inspiring friends and fellow animal lovers in 43 countries to donate or take action of their own.
"Bria has an organic desire to save wildlife whilst spreading awareness about endangered species and habitat loss," says her mom, who home schools all four of her children, who range in age from 6 to 14. "Once she realized how many endangered species there were in the world, there was no stopping her. She felt she had to do something about it, to set an example of environmental stewardship."
This is a little girl who never played with dolls, drawn instead to beasties of all types. "She always liked ponies and had a vivid imagination," says her mom. "She was partial to animals in play, even when she was very young." Although she was aware that her daughter loved to draw, it wasn't until she was in first grade that Bria's single-mindedness really registered. "She came out of her room with a large drawing of a tiger," Amity recalls. "I said it's beautiful – where did you copy it from? And she very clearly said, I didn't copy it, I drew it myself."
Although the only life drawing she's done is of the family puggle Yoda, Bria researches photographs in books and online of endangered critters and draws from what she sees in their faces, making her portraits surprisingly moving. Her favorite animal is the wolf, because of its dire status. "There are only 94 Mexican wolves and 45 Red wolves left in the world," she says. "That's really bad." Currently engaged in painting a grizzly bear, her typical process takes about two weeks. Bria's talent won the IFAW Animal Action Art Contest last year, when she was in second grade.
"We'd love her to train with an artist when she's older, to follow her own organic path," says Amity, who dubs her home school program the Learning Garden Arts Academy, with its emphasis on artistic expression and learning of all kinds. For this family, which includes Bria's siblings Abby, 14, Riley, 11 and North, 6, that learning includes giving back to others.
"We do community service projects as a family," says Amity. "All of our children are raised to think about others and see where there is a need and do something to help.
I feel the one thing anyone can gain from Bria's animal art conservation is that we can all do something to make the world a better place. moreover, we have an obligation to be better and to do more."
Her tender age isn't a factor in what she can accomplish, according to Bria, who is also passionate about Dr. Jane Goodall's Roots & Shoots Program and the Wolf Conservation Center in Salem, New York.
"All children have the power to save the animals," she said. It's as simple as that. To support Bria and her efforts to save the endangered species, visit PigtailsArt.com and learn about these beautiful creatures.
Share this post