Comic Relief: Volunteer Harnesses Power of Laughter for Children with Illnesses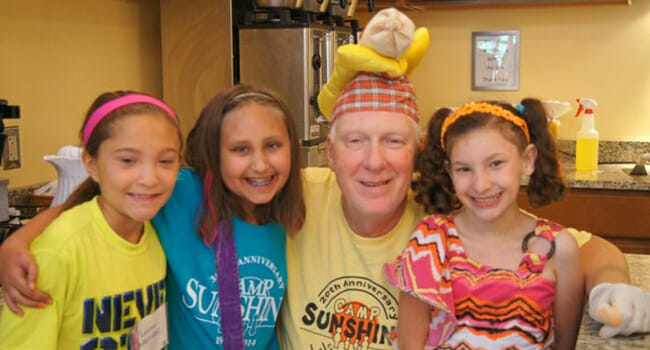 They say humor is the hardest type of entertainment to pull off. Finding the lighter side of adversity – without making light of it – can be tricky. Andy Cesnickas makes it look easy.
For 16 years, he has delighted kids and teens with life-threatening illnesses, along with their worried families, by donning silly hats and creating unexpected fun.
Cesnickas, a retired correctional officer, has been a volunteer at Camp Sunshine in Maine since he learned of the camp from a former student in his church's confirmation class at his Catholic parish in Shrewsbury, Massachusetts.
After watching a promotional video about Camp Sunshine, Cesnickas offered to take his current confirmation students there for community service.
"I only got one kid to come, but as soon as I got there and saw those three doors in the front – the large, the medium and the small, I found a home," says Cesnickas. "I said, 'This place is for me.'"
Camp Sunshine offers week-long retreats for children ranging in age from infancy to 18 who have a terminal or life-threatening illness. Unlike other children's camps, this one invites the entire family to come, so parents and siblings can have some fun while sharing camaraderie and support.
Mike Katz, the camp's executive director, says a physician is on the premises 24/7, and when Camp Sunshine holds special sessions for kids with a specific illness, the on-site physician has specific expertise in that illness.
Katz says that the "three doors" reflect the camp's ability to serve different age groups.
"We have a nursery for children under 2; we have a tot lot for ages 3 to 5, we have volunteers who oversee 6- to 8-year-olds, as well as 9- to 12-year-olds and teens," says Katz. "We even have camp counselors for the adults, as they have their activities as well."
Activities resemble those at typical camps for healthy children: boating, swimming, mini golf, tree climbing, volleyball, shuffleboard, archery and Frisbee golf in summer; sledding, skating and snowshoeing in the winter. Arts and crafts and talent shows provide therapeutic benefits as well as fun.
Cesnickas mostly volunteers in the kitchen and dining room – serving meals, cleaning up and helping the kitchen staff. His most exciting contribution as a volunteer, though, is when he makes himself the center of laughter at meal times.
Campers and parents alike are startled into giggles when Cesnickas unexpectedly emerges from the kitchen dressed as an old lady. Another day, he might appear as Olaf from Disney's "Frozen."
"I wear a different hat for every meal," he says. "I wear costumes. Some people thought I was a priest at first, so one day, I came out dressed like a priest. I try to give them the best vacation possible. That's my goal. I try to go above and beyond," he says.
Although he normally avoids the spotlight, Cesnickas joins in camp skits if it will entertain campers and encourage them to participate.
"It can be a lot of work, but Andy's equal to the task," says Katz. "He gets up first thing in the morning, he's at breakfast and he's here late in the night. Even in the areas that are more family-based, he comes and participates in it just so he can be involved with the children and the families, whether it's masquerade night or getting up on stage to do a song with the 6- to 8-year olds."
Perhaps the best gift of all over the years has been Cesnickas's ability to recruit other volunteers to Camp Sunshine.
"We need 80 volunteers for each session," says Katz, who notes that Camp Sunshine has only 15 employees. "Andy is one of our pied pipers – he's instrumental in getting other volunteers to follow him to camp. He's a motivator and a mentor for many of them. His energy and his aura gets others up and active."
One volunteer who Cesnickas inspired used to attend the camp with her family. Alessandra Di Mercurio and her family attended Camp Sunshine year after year because her brother, Fabrizio, now 17, has Fanconi anemia.
"I have known Andy since I was 5 or 6 years old, and I'm 19 now," says Di Mercurio. "Every year, he says, 'You've got to volunteer when you turn 18.' I finally thought maybe it's time not to be a camper and to experience something from a different angle. I thought it might actually be cool to see what other people get out of it – the people who volunteer.
"This year," Di Mercurio says, "I got to see camp in the light that they see it in. I got to see how Andy interacts with the other volunteers and the support system he brings to camp."
Di Mercurio is now studying to become a nurse, a career choice she credits to Camp Sunshine.
As for Cesnickas, he has no plans to stop volunteering a few times a year, despite living more than three hours away from Camp Sunshine. A divorced father of two grown children and four grandchildren, he says "If it weren't for my grandchildren, I'd probably be up here all summer long. We get paid with love."
Share this post
---