Detroit News Anchor Creates Advancement Opportunities for Teen Girls
Meet Daily Point of Light Award honoree Rhonda Walker. Read her story and nominate an outstanding volunteer or family as a Daily Point of Light.
Rhonda Walker, a native of Detroit, has been working as a broadcast journalist for 25 years and is currently an anchor on her hometown's NBC affiliate. Even as a kid, she was an inquisitive person who loved reading, writing and telling stories. It was a natural fit. She also grew up with a family that valued helping others.  
"My parents were always mentors and involved in different community causes. It was an important pillar for our family. And when I started working in TV news, I often got invitations to come out and speak and emcee as a professional speaker for a lot of different community causes," Rhonda recalls. 
As she spent more and more time with people who were working behind the scenes to make such events happen, she began to question if she could make more of an impact by directing her efforts towards a specific cause rather than spreading her time amongst different organizations. 
In the early 2000s, she was visiting different underresourced schools to speak to teen girls about believing in themselves and being leaders. One middle school assembly changed her future and that of many others. In the middle of a conversation, one student asked what to do when you don't have the encouragement and support of your family but you're motivated to achieve. 
Rhonda reflected on her good fortune of having two college-educated parents who built up her confidence and cheered her on. How many other kids out there were lacking the support system they needed to succeed? 
"As soon as I left that day, I just had a clear vision of what I needed to do for kids: to inspire, to empower, to give my time, my love and attention to help them reach their greatest potential. And that was the beginning of the Rhonda Walker Foundation (RWF)," she says. 
That was in 2003. As the foundation's 20th anniversary approaches, RWF has funneled hundreds of girls in 8th through 12th grade through their Girls into Women program, a five-year program that focuses on instilling confidence and preparing students for college and beyond through mentoring, workshops, retreats, summer camp and more. They provide tutors, college test prep classes, scholarships and college tours to the 65 to 75 kids that are in the program at any given time. The Dress for Success program and exposure to summer jobs teaches participants about appropriate work attire, professional etiquette, networking and public speaking. 
"To see the kids come into our program as incoming eighth graders, shy and not sure of themselves, and to watch them grow and blossom in our program to become leaders and great big sisters to the kids that have come after them, it's just been incredible," Rhonda says.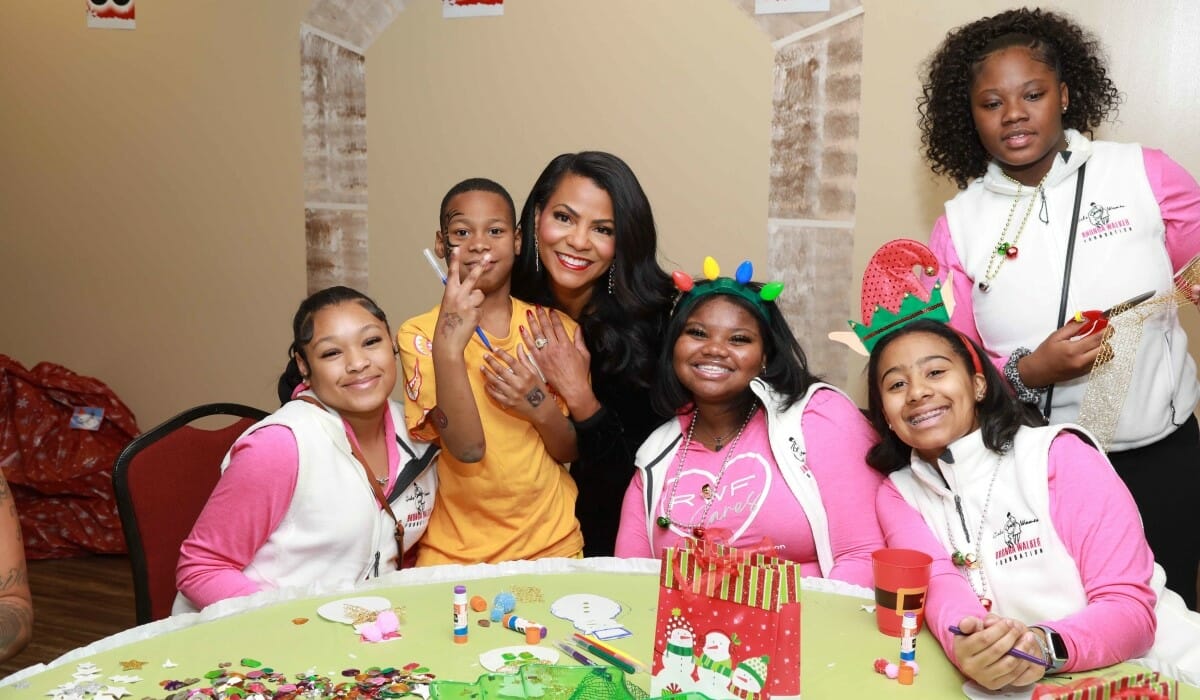 And the program works. 100 percent of Rhonda's girls have graduated high school, mostly from Detroit Public Schools. 100 percent either go on to college or the military, and 98 percent have graduated from college. Many from the alumni network return as volunteers, and one even works as a program manager for RWF.  
Ruselda Villanueva Johnson, the foundation's CEO, joined the team in the fall of 2019. She has had many companies in the area mention how much a resume with the Rhonda Walker Foundation listed makes a candidate stand out.  
"They'll hire them, because they know they're poised and polished, educated, confident, empowered…all of that," she states. "Not only are the girls well-rounded by going through this five-year program, but they also are giving back to the community. Every December, we go to the homeless shelter, and we provide services, especially for the Detroit Rescue Mission. 
The girls aren't the only ones who have learned from the experience. 
"I didn't have any background in program management or development and running a nonprofit organization, but I just had a love and a passion for kids and a determination to use whatever resources and time that I had in order to create empowering opportunities for them," Rhonda says. 
Learning on the job wasn't—and isn't—the only challenge. Securing funding for sustainability is key to any nonprofit. Rhonda notes the unpredictability of situations like major donors from the automotive industry declaring bankruptcy.  
"It does create a sense of stress and pressure knowing that you have to deliver and that nothing is guaranteed or promised," she notes. "You do really well one year, and you have to fight off the anxiety of whether we do as well the next year."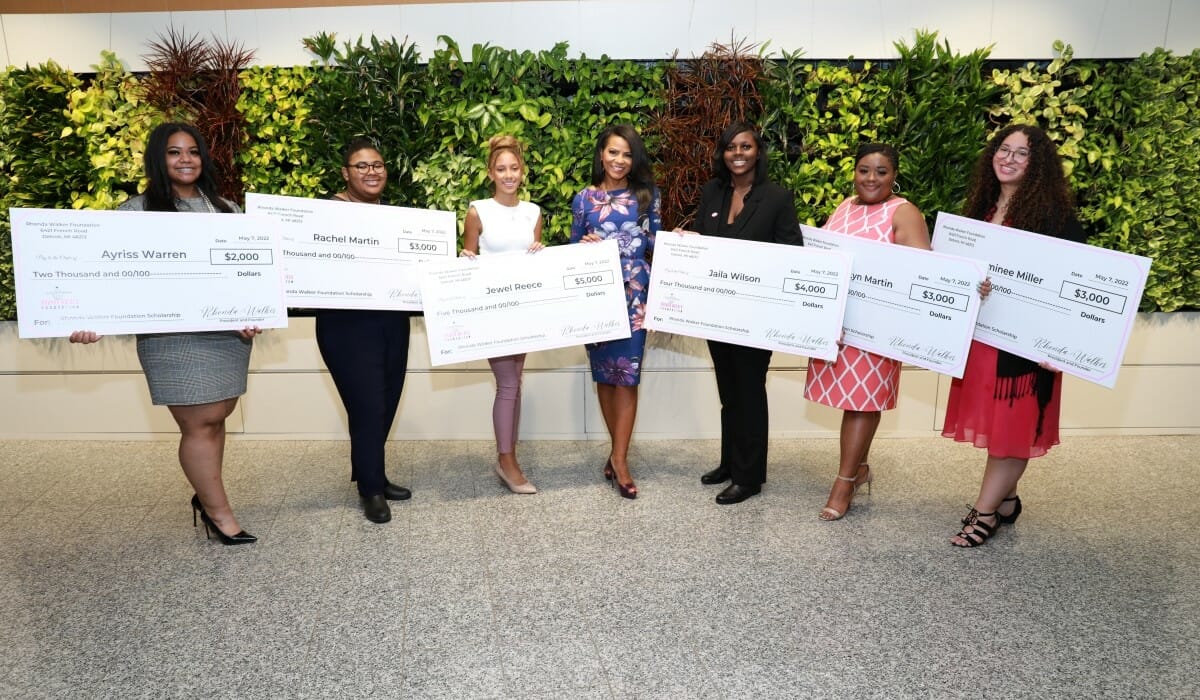 Rhonda's strategy for securing finances has evolved over the years. For the first 16 years of its existence, RWF only had one employee. Since they've began to gain donors offering multi-year support, committing to support a certain number of students through the full 5-year journey, they've added seven to the staff. 100 percent of donations still go towards programming. 
When the COVID-19 pandemic arrived, RWF changed the way they did things. Moving from doing mostly in-person events to virtual ones reduced costs and increased the number of events they could do. 
"Our expenses were cut down, but we still brought in about the same amount of money. When the pandemic hit, we'd already gotten commitments for a couple of our major summer fundraisers," Rhonda reflects. "We just had to deliver on the events, and thankfully they were outdoors. We never halted our fundraising." 
The outdoor charity golf outing went off without a hitch. They were also able to host a 5k and 10k run/walk. Rhonda volunteers around 20 hours each week planning and leading programs and events, fundraising, staff meetings and general management. Her commitment to her work inspires everyone around her. 
"She's really fearless. She doesn't like for anyone, whether it's a teen or adult to say, 'I can't do something.' She's solution-based. She would like everyone to have some confidence to figure it out and to move forward. With her drive, she drives others to do better. To be better," Ruselda adds. 
In October, Rhonda and her team will celebrate 20 years of making an impact with an International Day of the Girl-themed gala to celebrate their accomplishments and to honor community members who uplift and empower women. After that, the sky is the limit. Rhonda aspires to expand her work beyond inner-city kids in Detroit to other cities in Michigan and even across the US. 
"I just think that that's what we're on this planet to do, to make the space around us better. And whatever passions that we have, that we're giving of our time to help make a difference," she says. "It has brought so much to my life. I have made new friends, people that I would otherwise never have known and that I have so much in common with, because they share this passion and interest to help others and to make a difference in the community." 
Do you want to make a difference in your community like Rhonda Walker? Find local volunteer opportunities. 
Share this post