Former College Lacrosse Player Destigmatizes Mental Health In Honor of Fallen Teammate and Friend
Meet Daily Point of Light Award honoree Katherine Zempolich. Read her story and nominate an outstanding volunteer or family as a Daily Point of Light.
Content Warning: Points of Light is proud to share the following uplifting and inspiring story. However, we acknowledge that a small portion mentions suicide and may be difficult for some readers. We encourage you to please care for your own well-being above all.   
Kat Zempolich, 27, is a friendly, outgoing businesswoman who works in strategy and operations at a startup. This northern Virginia native and second youngest of four majored in public policy while playing lacrosse at Duke and followed with a Master of Management Studies at the same school. Her experiences have led her into retail and e-commerce; they have also led her to address mental health challenges of student athletes with a nonprofit she co-founded in 2020, shortly after graduation.
During undergrad, she and her teammate Morgan both suffered injuries that took them away from the sport they loved and led them to a dark place. While Kat was able to reach out for help, Morgan struggled to. The loss of her friend in 2019 led Kat, along with teammates and Morgan's mom, Dona, to create Morgan's Message, a nonprofit that works to eliminate the stigma surrounding mental health within the student-athlete community and equalize the treatment of physical and mental health in athletics, in hopes of saving others who hesitate to ask for assistance.
Aside from being the Vice-president of the Board of Directors, Kat hosts, edits and produces the Mental Matchup, an interview-style podcast and blog series sharing the stories of others addressing mental health issues. Using her grief to amplify a message that saves lives, Kat has begun to heal and, as a self-professed homebody, now enjoys spending her days with her dog Bronco working on projects around the house.
What inspires you to volunteer?
Morgan was one of my teammates. We both went through our own mental health struggles, especially when it came to being injured. I watched her go through so much, and when I was struggling, I was able to get help. So, when she passed, it really hit me hard. I didn't realize she had never really left that place of hurt, and I wish I could have done more.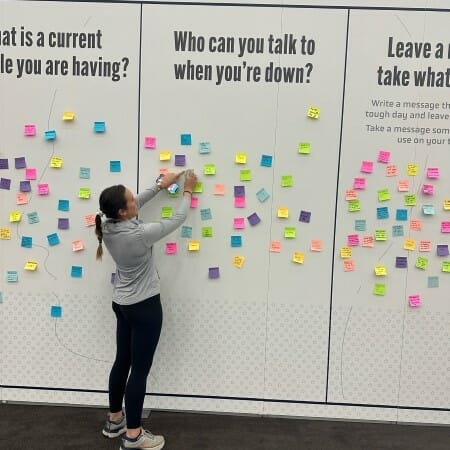 I don't want anyone to feel the way that Morgan or I have felt. That has inspired me to push for change and to help get these student athletes more support in feeling loved and less alone. How do we prevent losing someone else's Morgan? That's really where my drive and passion comes from. I get a lot of joy from helping other people. That's how I've also dealt with my own mental health, really getting outside of myself. 
What about your environment made you feel comfortable asking for help when you were struggling?
When I asked for help, I was really scared about going home to my apartment, because I didn't know if I was going to be there the next day. I was in this really low spot, and I just picked up the phone and called my mom. I said, "I don't know how we're going to get me to someone, but I need to come home right now. I'm not okay."  
Thankfully, my mom took me seriously and was like, "Book a flight. I'll pick you up. I'll get you an appointment with whoever we need to get you with." Having that support person who was unconditionally ready to help, instead of minimizing how I was feeling, made all the difference. 
Describe your volunteer role with Morgan's Message.
I'm the director of podcasting, which means I run and oversee our podcasting efforts and our written blog. We have an audio channel where we share people's stories. This week is the 89th episode over the course of two and a half years. I help identify and screen guests, schedule interviews, edit and produce. I create social media graphics and posts for our stories and do speaking engagements as well as working with outside partners. 
Last year, we also launched a stories platform to share written stories from guests. We hope people from all different backgrounds can see themselves in at least one of them. And if they're struggling, they can identify with someone who went through a similar situation and see how they got help. 
As a member of the board, I am always trying to continue figuring out how we spread this message and what's going well with what we're doing, and what could be better in the high-level strategy and initiatives. 
What's been the most rewarding part of your work?
We got an email from a parent that said, "My daughter recently got involved with Morgan's Message and heard about her story. She realized that she was really struggling and found the courage through listening to the podcast and being a part of this ambassador program to ask for help and talk about what she was feeling." 
That's the most rewarding part, feeling like we're truly helping people advocate for themselves when they might not have had that courage to do so before. It all goes back to the core idea of helping someone else's Morgan. That's what makes it all worth it and makes losing her a little bit easier. 
What have you learned through your experiences as a volunteer?
It's really easy for me to go down a rabbit hole with ideas for things I want to do with the podcast. I've learned to know when to invest time versus pull back because there are other priorities in life. 
Also, sports were always very fulfilling, but when I graduated and sports were no longer there, I didn't think there was going to be anything that really felt like that. But working for Morgan's Message has been uplifting. It's truly my passion project, and I'm very grateful to have it in my life. 
Are there any future partnerships, programs, or events that you are excited about?
Our ambassador program has been growing the mission and getting more student athletes involved. I'm excited to see more Morgan's Message games where they put stickers on their sticks or helmets and make T-shirts. It's always incredible to watch. 
Podcast-wise, I'm just excited to close out season five and launch season six in the late summer or early fall. We're going to hit 100 episodes this year, which feels surreal. But mostly, I'm looking forward to continuing to drive our mission forward in whatever way pops up. 
Why is it important for others to get involved in causes they care about?
There's something to be said for gratitude and helping other people. In volunteering, you get more back than you give. It's incredible. I have my health. I have total use of my arms and legs and brain. Some people aren't as lucky, and I think it's so important to give back, especially to things that have given to you and made you who you are. 
I'm still involved in coaching lacrosse, because I feel like lacrosse truly helped form me into the human I am today, and I'm so grateful for the opportunities I've had and friends I've made  playing at Duke and part-time coaching. It really fills your cup helping other people. I'm so lucky to be able to do something and give back in a way that's meaningful. 
What do you want people to learn from your story?
It's really easy to sit in tragedy and ask How did this happen? Why? I've been able to pull myself out of grief by doing something for that person. Morgan's death was tragic. I don't think it'll ever be less sad, but we've been able to turn that sadness into a mission and hopefully change the world for the better in her honor. You can turn your grief into something beautiful so that it no longer feels as sad. 
If you or someone you know may be considering suicide, contact the National Suicide Prevention Lifeline at 1-800-273-8255, or text HOME to 741741 to talk to a trained crisis counselor through Crisis Text Line. Both resources are anonymous, free and available 24/7. 
Do you want to make a difference in your community like Katherine? Find local volunteer opportunities. 
Share this post