Former Foster Child Now Advocates for Child Welfare and Struggling Families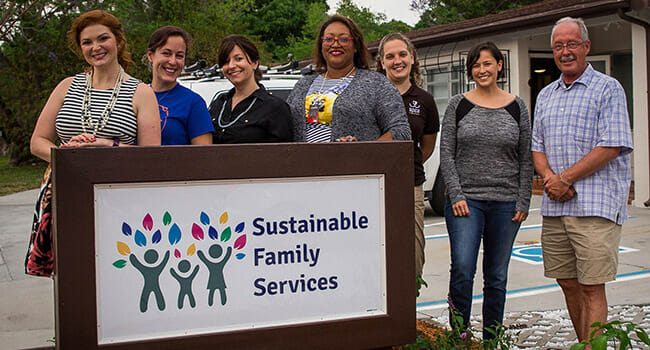 Meet Daily Point of Light Award honoree Ashley Rhodes-Courter. Read her story and nominate an outstanding volunteer, family or organization as a Point of Light.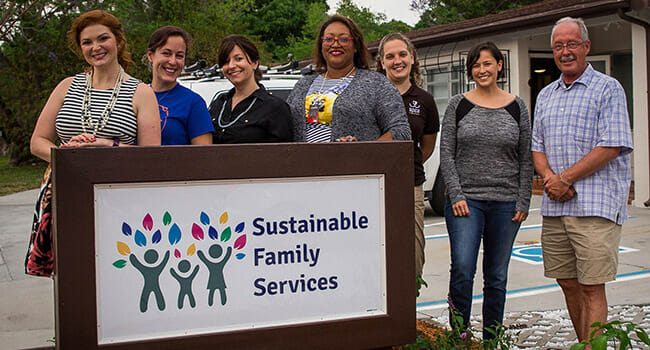 Courtesy: Ashley Rhodes-Courter
Ashley Rhodes-Courter (far left) opened an "experimental care farm" where families can come to seek the support they need.
"You just say yes and you figure it out!" That's the mantra that has led 30-year-old Ashley Rhodes-Courter throughout her life as a college graduate, fundraiser, best-selling author and now the leader of her own nonprofit organization, the Foundation for Sustainable Families.
Ashley and her husband Erick Smith started the foundation in 2013. It focuses on a broad range of services to help educate and rehabilitate families in areas such as nutrition, breastfeeding, adoption services, mental health and more. The goal is to provide preventative care and expertise to stabilize struggling families before things get too bad.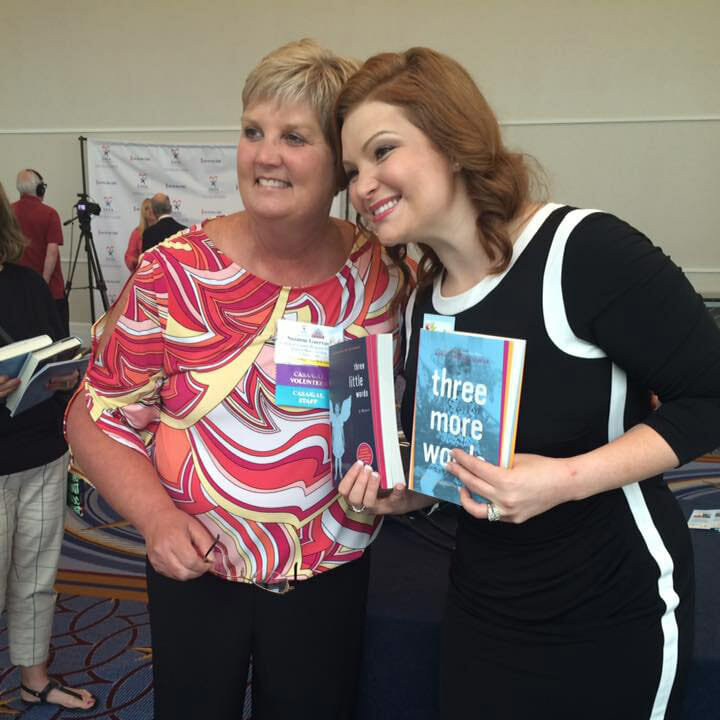 Courtesy: Ashley Rhodes-Courter
Ashley Rhodes-Courter is the author of "Three Little Words" and "Three More Words."
Though Ashley, a best-selling author of the book "Three Little Words," has often been called upon to use her notoriety to help raise millions for other child-welfare organizations, she and husband Erick have bootstrapped her nonprofit – liquidating her savings to help those that need her services.
"I'm actually a really shy person and I tend to be super introverted," Ashley explained. "It's always been so much easier for me to advocate for other people [and] I have found it to be a personal challenge to advocate for myself and my own projects." She's now learning how to put herself and her organization first, to ensure its long-term success.
The Florida-based philanthropist is so driven to provide for others no matter the cost because she knows first-hand the type of pain that the children and parents she helps have experienced.
"I've been an advocate ever since I was a teenager because I grew up in foster care," she shared. "And so I've always been very passionate about child welfare."
After her own teenage mother succumbed to an abusive relationship and drug addiction, Ashley was taken by the state as a young child and spent nearly 10 years in the foster care system. Ashley went through 14 homes – some abusive – before she was uncharacteristically adopted at the age of 12.
"In my foster homes, I was beaten and starved … it was just horrible," she said. Though she lives with scars from her past, Ashley said these experiences motivate her to help others who haven't been able to succeed through it all, as she was.
These days, her motivation not only comes from her own experiences as a foster child but also from her time as a foster parent. Over the course of five years, Ashley fostered 25 children, helping to rehabilitate their families and reconnect them along the way. Ashley and Erick eventually adopted their oldest son out of the group. Ashley says her children fuel and inform her – she has since had two more children of her own and is now the mother of three sons.
"I think about my kids and I think about what their needs are and the kind of world that I want for them," Ashley said.
By noticing the needs of her own family, she has a better ability to help others. She has taken her experiences from both sides of the system and applied them towards building an organization to help promote a rounded view of community welfare.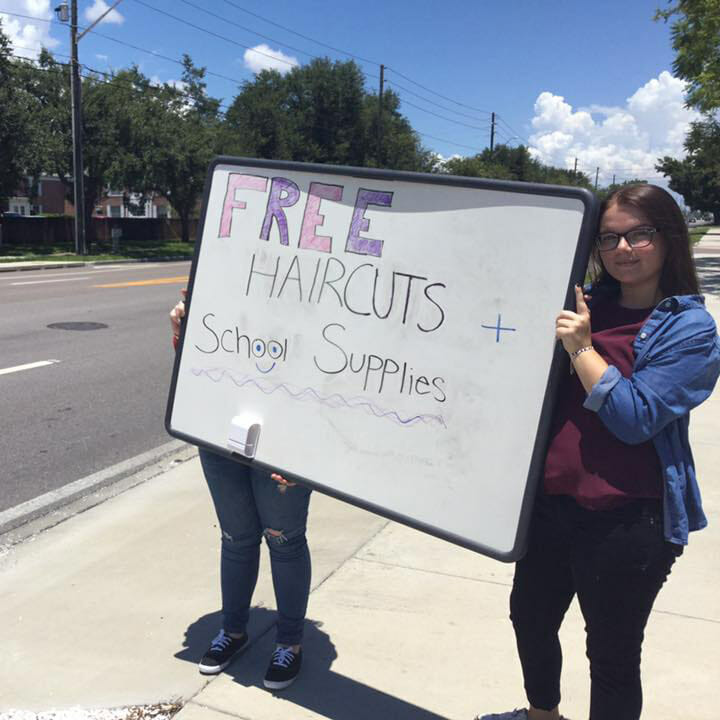 Courtesy: Ashley Rhodes-Courter
Ashley Rhodes-Courter founded the Foundation for Sustainable Families which organized "Haircuts from the Heart," an event where students heading back to school could come to get free haircuts and school supplies.
Ashley said the Foundation for Sustainable Families strives to meet needs that are sometimes overlooked but still necessary. For example, this year during school-supply drives, her organization not only collected pencils and backpacks, but also organized an event called "Haircuts from the Heart," where students could come and receive free haircuts for school.
However, it wasn't just the students who benefited. Ashley said some of the parents also took advantage of the grooming service as well.
Though she has a tremendous amount of motivation and perseverance, Ashley admitted it has been a challenge running a foundation. The biggest challenge simply being a lack of knowledge when it comes to the business aspects of running a nonprofit.
"It's hard to go against the grain sometimes, but I don't think there's anyone who's an advocate that says that advocacy is easy," Ashley said.
Now, her ultimate goal for the foundation is building an "experiential care farm." She said the organization has purchased a one-acre property in Tampa Bay, Florida, with a 3,000 square-foot farmhouse where the foundation intends to incorporate all the different aspects of the couple's philanthropic passions.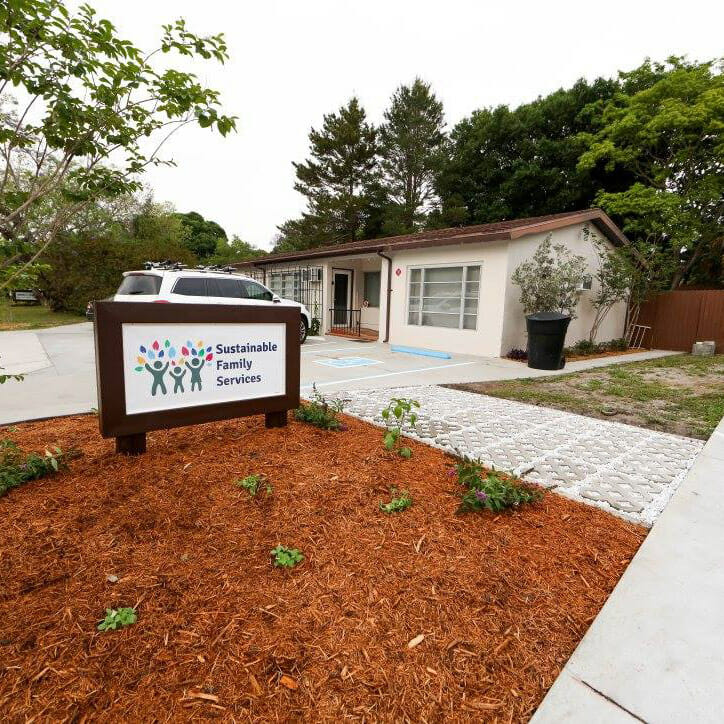 Courtesy: Ashley Rhodes-Courter
The "experiential care farm" Foundation for Sustainable Families will support families in all aspects of their lives.
The yard will be used to grow and donate organic food. The house will have rooms where children can take advantage of therapy and educational services, supervised parental visitation and case management, animal-assisted therapy in partnership with a local animal shelter, as well as a donation center where families can receive assistance varying from school supplies to beds.
Ashley said she knows that it's a broad concept but she feels the community needs a central location for welfare services.
"We have something for people who … have a passion for animals, who have a passion for food and nutrition, who have a passion for mental health and foster children and adoption. This is really going to be a one stop shop for philanthropy," Ashley said.
Share this post