Girls Empowering Girls to Embrace STEM Education
Meet Daily Point of Light Award honoree Ruby Arun. Read her story and nominate an outstanding volunteer or family as a Daily Point of Light. 
Ruby Arun, 15, is a sophomore at William Fremd High School in Palatine, Illinois. The internationally-recognized American classical and musical theater singer also has another passion: empowering girls to be tomorrow's leaders in STEM through her organization, Mission:MathMinds, a 501(c)(3) nonprofit organization. 
Ruby's journey in becoming an active member and leader in her community started at a young age. Her involvement in math competitions, where she placed in the top 5% nationally several times, led to Ruby noticing a serious gap in gender equity. Ruby would rarely see a team with a majority of girls, including her own teams. Ruby also noticed a strong animosity towards math from her female peers, all of whom were more than capable intellectually. She felt increasingly lucky to have a strong connection to math and STEM that had started at home and continued through her education. Ruby felt called to share her passion for STEM with her community and worldwide in the height of the COVID-19 pandemic, when math education looked different for so many students.  
Ruby founded Mission:MathMinds in June 2020, creating a platform for girls to explore their STEM interests with a supporting community of like-minded girls and female role models. Ruby's mission was to ensure that Mission:MathMinds supported underserved girls with time and resources.  
What inspires you to volunteer?
I am inspired to volunteer because of the continued embrace from my local community to empower our mission to reach more girls. The messages I've received from parents — where they've shared how their daughter despised math before but now could not wait for her next mentoring session — are a result of the heartwarming community we have built. This inspires me to work harder to ensure quality STEM education and awareness in gender-equal spaces.  
My inspiration and desire to volunteer started within my family. For years, I chose to have birthday parties at Feed My Starving Children. My family, friends and even other community members would come together and pack meals for children in countries in North, Central and South Americas, Africa, Europe and Asia. The presence and support from the community grew when I founded Mission:MathMinds, as the Palatine community was the first to stand behind and share our purpose and goals. 
Through leading this organization, my love for volunteering has only grown more. My efforts through Mission:MathMinds are now focused on increasing the number of communities active in supporting our mission.  
With our Global Book Drive, the Palatine community single-handedly collected and donated 15,000+ books worth over $180,000 for us to give to children in underserved communities. The sorting, packing and labeling would not have happened without the Palatine student volunteers who attended our events on weekends to help our team. Our Mentoring Program has served over 6,000 girls within Palatine from the several STEM awareness campaigns we support.  
Describe your volunteer role with Mission:MathMinds.
As the founder and CEO at Mission:MathMinds, I have had the privilege of working with female leaders from all backgrounds and journeys. This is inspiring not only for me, but for our organization. I look at what we can do to empower students with our current initiatives. I also seek external opportunities to give our work a platform and partner with other causes.  
I create the vision that Mission:MathMinds takes within our original foundation, and I do not take that responsibility lightly. I look at the issues currently being faced in education and why current solutions are not increasing girls' participation in STEM activities throughout primary, secondary and post-secondary education, so we can better craft our efforts to fill these gaps.  
What's been the most rewarding part of your work?
The rewarding parts of my work span from reflecting on our growth as an organization, to the community messages we receive from girls and women we've helped inspire. After having over 30 conversations with female leaders as part of our Female Role Models initiative, my perspective on the impact that the STEM fields has on all industries globally broadened. STEM needs more female participation moving into the future! 
Since founding the organization, our team has increased exponentially, with over 400 volunteers involved in our various STEM awareness campaigns. Seeing the joy in volunteers and girls after participating in our events is what brings me the most joy.  
I had the opportunity of traveling to Poland in July 2022 to volunteer at several educational centers, spending time with Ukrainian refugee children displaced by the Russian invasion of Ukraine. It was a truly humbling experience to meet the students and hear their stories, and connect with the teachers and administrators, and also displaced children, who volunteer their time to start and run these schools to address displaced childrens' loss in education.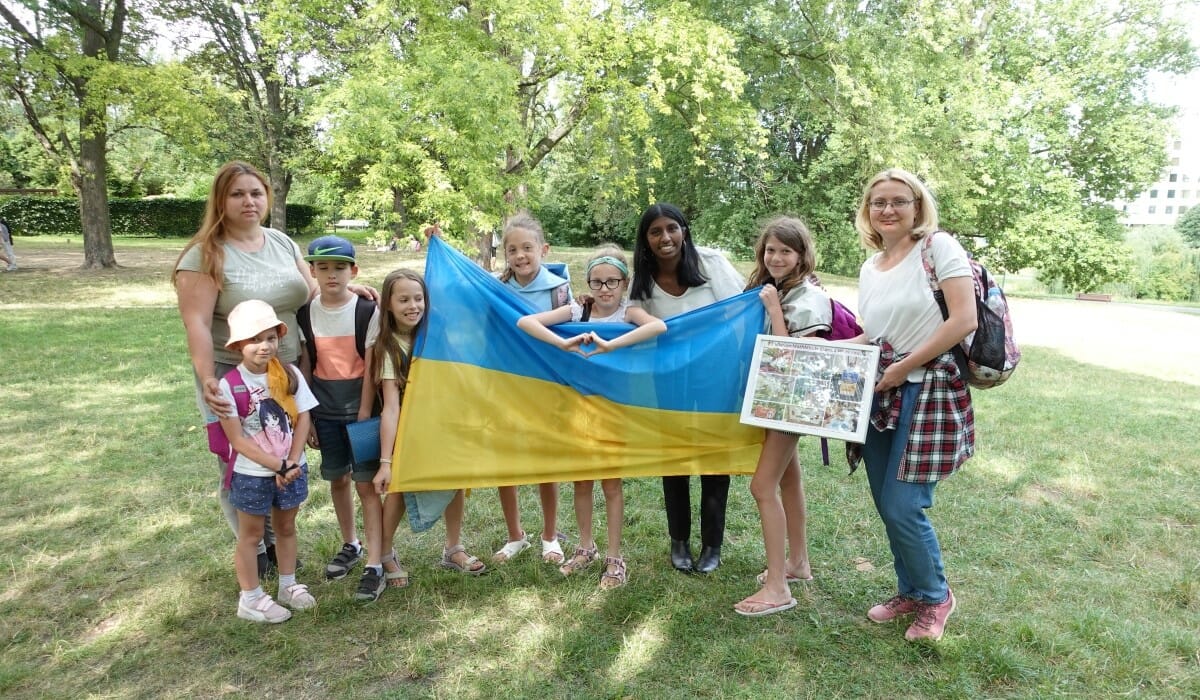 What have you learned through your experiences as a volunteer?
Volunteering has broadened my view of the world. It seems that many do not take the time to understand what different communities, near and far, are going through. My Chicago community is home to underserved students who deserve quality education. Mission:MathMinds has donated over $20,000 worth of educational materials to their students.  
However, if I had not volunteered within the community for years and taken time to listen to people and their stories, I would not have understood the tangible and fiscal needs that were not being met. Volunteering has also widened my professional and personal network. I've had the pleasure of meeting incredible changemakers solely because we have volunteered together.  
Are there any future partnerships, programs or events that you are excited about?
Yes! Mission:MathMinds will be shipping over $80,000 worth of books to Ukrainian displaced children overseas in the coming months. We will continue to be partnering with our local library and community leaders to emphasize the importance of coming together to promote quality education.  
Also, more information about the 2023 Mission:MathMinds Annual National Conference will be coming out soon. This is a great opportunity for girls in middle and high school to network with like-minded peers and female leaders. Girls can visit our website, missionmathminds.org, to learn more about upcoming opportunities including workshops, webinars, volunteering and much more through our Mentoring Program, Female Role Models initiative, and Children's Education Sector.  
Why is it important for others to get involved with causes they care about?
Everybody has a story to share. We need to activate more young changemakers who are passionate about causes and have the will to dedicate themselves to impacting the lives of communities globally. When I founded Mission:MathMinds, having the support of my family and those I looked up to allowed me to be confident in my efforts. Listening to our young people, giving them a chance to vocalize injustice and issues they have seen or experienced — this is critical to creating changemakers and instigating change. 
What do you want people to learn from your story?
My message is for people to see what our youth is capable of when given the opportunities and resources to execute. Society struggles to equip passionate and driven young individuals with the resources they need to activate communities. There is a large community of young people, hard-working and dedicated individuals who are eager to transform the current status quo in various spaces. Mission:MathMinds is a movement that has impacted thousands and will continue to, founded by a (then) seventh-grade female student of color.    
Do you want to make a difference in your community like Ruby? Find local volunteer opportunities. 
Share this post